2022 Xavier vs Seton Hall
Xavier's Luke Franzoni Thrives On Power And Versatility
Xavier's Luke Franzoni Thrives On Power And Versatility
Last season, Franzoni started all 41 games, batting .279 with team highs in homers (nine) and triples (two). He drove in 28 runs while drawing 22 walks.
Apr 8, 2022
by Stephen Kerr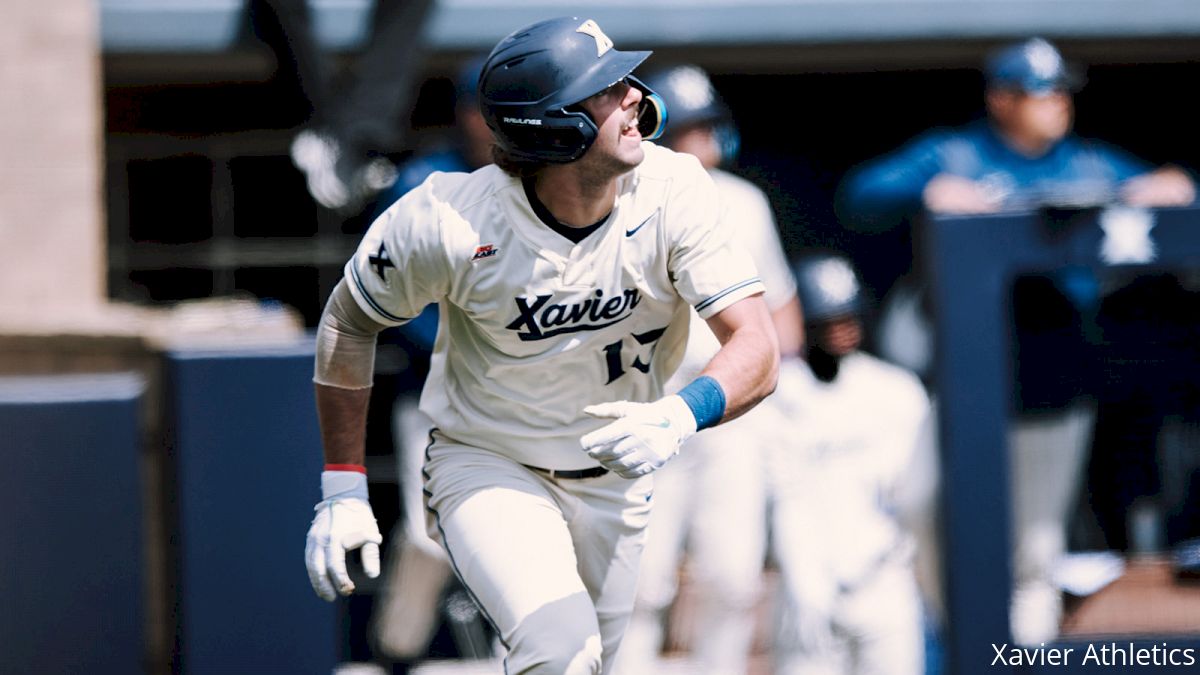 Xavier University head baseball coach Billy O'Conner receives anywhere from 30 to 50 videos a day from potential recruits. He does his best to watch at least a few seconds of each one in the midst of a hectic schedule.
When Luke Franzoni emailed footage of himself during his senior year at Princeton (New Jersey) Day School, O'Conner vividly remembers watching about 30 seconds the first time around. One home run after another filled the screen.
At first, O'Conner wondered about the level of competition Franzoni was playing against and moved on to the next video. But something urged him to circle back and watch until the end. The results were like watching the same at-bat over and over.
"It was home run, home run, home run, home run," recalled O'Conner, a Musketeer alum now in his fifth season as head coach after spending the previous six years as an assistant.
"I don't care what kind of competition level you're playing against. If you hit this many home runs over the course of a season, you've got to be doing something right."
O'Conner happened to be headed to a tournament in Georgia that Franzoni was playing in, so he made it a point to watch him live. His observations confirmed what he already suspected—Franzoni could be a special player at the collegiate level.
Franzoni, a 6-2, 220-pound senior first baseman/outfielder from Robinsville, New Jersey, remembers that Georgia tournament, more specifically the realization he was being closely scrutinized.
"He was watching me hit batting practice in the cage and was standing there, arms crossed looking all tough and intimidating," Franzoni recalled with a smile.
"I was young, and I was like, 'holy crap. This is real, this is scary'. I spoke with him after the game and realized he's a really nice guy, went on a visit two weeks after that, loved the campus, loved the culture here."
A three-year varsity letterwinner at PSD, Franzoni led his team in batting average, doubles and home runs as a junior. He was named Prep Player of the Year by the Trentonian Newspaper, and also lettered in soccer and basketball. His father Paul played soccer at the College of New Jersey. His older brother, Paul Jr. currently plays baseball at New Jersey Institute of Technology.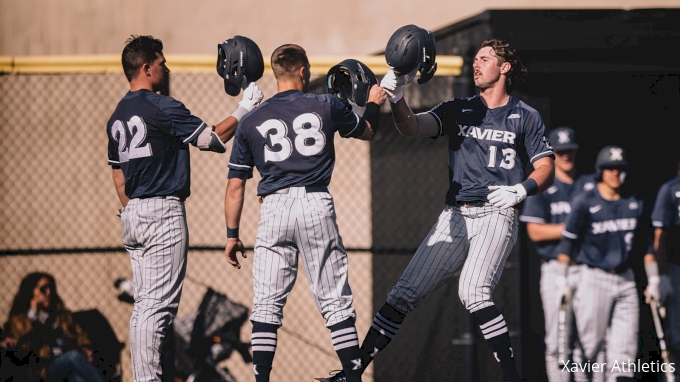 Paul Jr. in particular had a major impact on Luke's love of the game and early development as a player. Several years ago, the boys started a wiffleball league with a group of friends called the Ovaltine Park League, named after the chocolate milk product. They still play during the offseason when they can.
"He's my best friend, we hang out all the time," Luke said of his older brother.
"We're always goofing around, playing wiffleball, basketball, getting in fights, all that stuff. We're each other's biggest supporter. I'm always watching his games, he's always watching my games. Just having a guy that has your back at all times has been huge for me."
After arriving at Xavier, it took some time for Franzoni to establish consistency. He managed one hit in his first 13 collegiate at-bats, mainly in a pinch-hitting role. His breakthrough moment came in the March 22 home opener against Evansville. Franzoni went 2-for-4 with a homer and five RBI.
A big reason for Franzoni's early struggles was his hesitation to swing early in the count. In high school, it was natural for him to jump on the first pitch. But at the college level, it took some time for him to gain confidence and be assertive against better pitching.
"He's grown so much in that regard," O'Conner said.
"As a freshman, there were times when he was a really frustrating hitter to watch just because he was so talented. There would be times he'd go up there and not swing the bat, take three pitches for strikes and the at-bat would be over. I was like, 'Luke, if you'd just swing, it's probably going to be a home run'. He's gotten more comfortable with his approach."
Franzoni eventually played his way into the starting lineup, finishing the season batting .254 with a team-best 11 homers and was third with 35 RBI. He was second in OPS (.901) and led in slugging percentage (.563).
In a Big East Tournament victory over St. John's, Franzoni proved he could deliver big moments in the postseason by blasting two homers. He hit another one later that same day against Creighton.
"That was a huge confidence-builder," Franzoni said.
"Our team fell short in the championship, but it was huge just for motivation for me coming back and for the rest of the guys."
In his pandemic-shortened sophomore season, Franzoni started all 15 of the Musketeers' games, hitting .241 with a team-high three homers, 12 RBI and .407 slugging percentage. Last season, he started all 41 games, batting .279 with team highs in homers (nine) and triples (two). He drove in 28 runs and scored 28 while drawing 22 walks. The team advanced to the Big East Tournament Championship before finishing as the runner-up once again.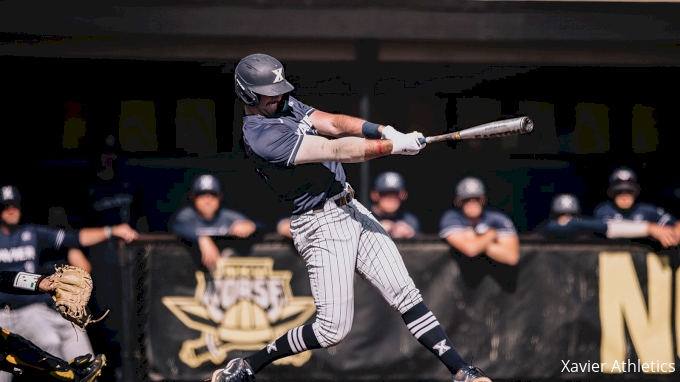 Cutting down on strikeouts is a challenge for many power hitters. Through 27 games this season, Franzoni still has more K's than walks (33-21). But he continues to work hard to improve that ratio.
"I've developed a two-strike approach where I cut down on my load and on my leg kick a little bit so I can see a little deeper," Franzoni explained.
"Our coaches have done a really good job for me and the rest of the team (putting us) in two-strike counts, so we got to work to feel comfortable in those counts and not feel you're in too much of a hole. That's been huge, not being nervous and accepting those moments."
Franzoni is constantly sizing up the pitcher's movements, even in the on-deck circle.
"I want to be ready for the first pitch when I get in there," he said.
"A lot of it is honing in my mental game, being locked in and having that confidence when I step in the box and being in the moment."
Primarily an outfielder before coming to Xavier, Franzoni began playing first base exclusively last season. The switch developed more out of need than a lack of skill as an outfielder.
"When he first started playing first base, he was not good," O'Conner said with a chuckle.
"I felt bad for him because it wasn't his natural position but it was where we needed him to play as a team to get our best guys out there. But in the time he's played there, he's worked hard and become a very good first baseman."
Franzoni isn't a vocal leader, preferring to let his play do the talking. In early March, he earned a spot on the Big East Weekly Honor Roll, collecting four homers and nine RBI following the Musketeers' first series win at USC Upstate. When he does have something to say, the younger players are quick to take notice.
"In the weight room, showing up every day ready to play, just giving 100 percent effort… I think people feed off that type of energy when you bring it every single day," Franzoni explained.
A perfect ending to Franzoni's final season: getting over the hump and winning the Big East Tournament Championship. As for his future, O'Conner sees nothing but promise.
"He's a pro, no doubt," O'Conner said.
"This year has been big for him, to take that step forward. He's really proven himself against one of the tougher schedules in the country. It's not like we're playing cupcakes every weekend. It's easy to translate that and see he can succeed at the next level."