2022 Hofstra vs UNC Wilmington
CAA Games Of The Week: Marquee Non-Conference Dates
CAA Games Of The Week: Marquee Non-Conference Dates
An unpredictable start promises an intense two months to come as the entire CAA looks to be in the mix for the regular-season championship.
Apr 4, 2022
by Kyle Kensing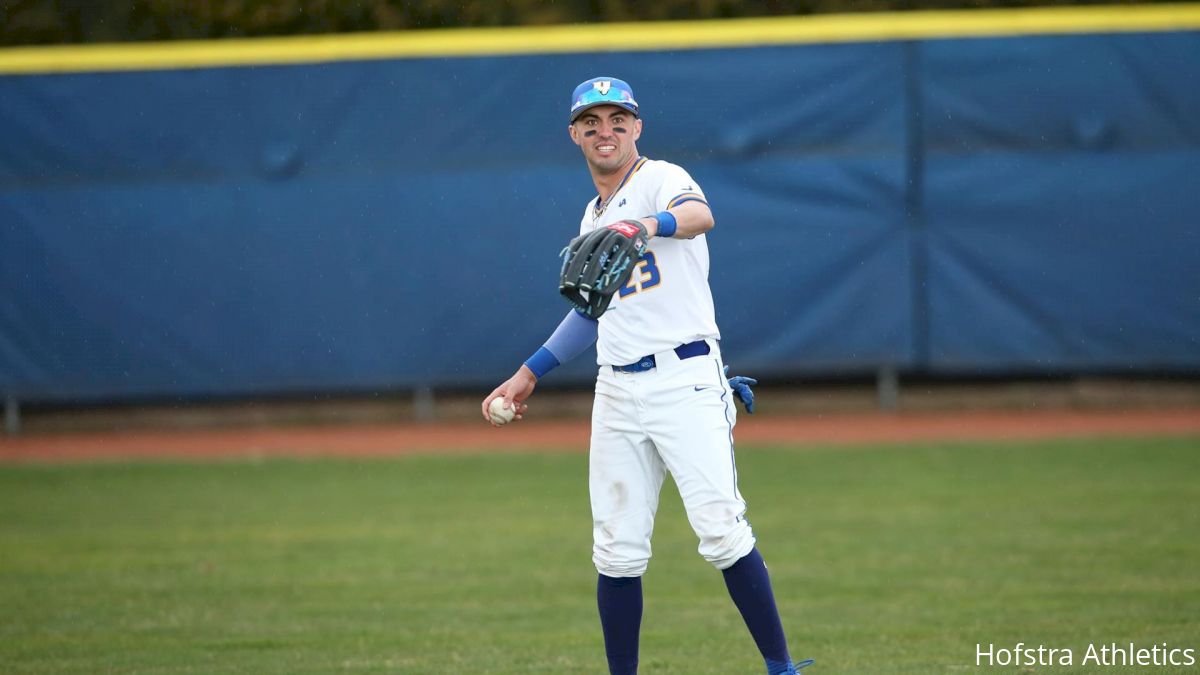 Just two weeks into the Colonial Athletic Association baseball season, the race for the championship is already chaotic.
Five teams—more than half the conference—are tied for the best league record at 4-2. Credit a wild first weekend of April for creating the logjam.
Hofstra took 2-of-3 from previously unbeaten Charleston up on Long Island, Delaware swept Towson to get on track after a 1-2 CAA start, James Madison won the series 2-1 against Elon, and William & Mary claimed the road series at Northeastern.
The unpredictable start promises an intense two months to come as the entire Colonial looks to be in the mix for the regular-season championship.
April continues with more league series in the coming weekend, but first are some high-profile non-conference dates to open an exciting slate.
Long Island Vs. Hofstra
Tuesday, April 5 at 3 p.m. ET
Tuesday's meeting marks the fourth meeting this season between the neighboring programs, with LIU ahead in the series 2-1. Each of the three previous contests were highly competitive, beginning with a 5-4 Pride win on March 2.
The Sharks responded with an 8-4 win less than a week later, and last week, LIU won in extra innings on a bases-loaded hit-by-pitch.
Hofstra seeks to even the score in the final meeting of 2022.
Presbyterian Vs. Charleston
Tuesday, April 5 at 4 p.m. ET
Charleston won the first in this Palmetto State home-and-home series back on March 1, 7-3, thanks to five scoreless innings pitched by Trey Pooser and a three-hit performance from Trotter Harlan.
After a challenging start, Presbyterian has come along in recent weeks. The Blue Hose scored a 9-6 win over perennial SEC powerhouse South Carolina last week behind Brody Fahr's two-hit, two-walk, two-RBI showing.
Wake Forest Vs. Elon
Tuesday, April 5 at 6 p.m. ET
Elon is 0-3 against ACC opponents so far this season, including a loss last month at Wake Forest, but the Phoenix have improved from game-to-game. Most recently, they took 2021 College World Series qualifier NC State to the wire in a 2-1 pitcher's duel on March 15.
The Demon Deacons have the look of an NCAA Tournament lineup, particularly at the plate, where six of the most active batters are .306 or better. Elon pitchers will have to be careful throwing to Brendan Tinsman and Nick Kurtz, who have combined for 16 home runs on the season.
Elon Vs. Northeastern
Friday, April 8 at 2 p.m. ET; Saturday, April 9 at 2 p.m. ET; Sunday, April 10 at 2 p.m. ET
Elon goes from its Wake Forest showdown straight into the furthest road trip on the CAA calendar, when the Phoenix ship up to Boston to meet Northeastern.
The preseason favorite Huskies lost their first five Colonial contests before avoiding a second series sweep last week, claiming the Sunday win over William & Mary, 3-2, and salvaging the weekend.
To get back on course, the Huskies need more support at the plate for Mike Sirota. Sirota has been excellent with a .330 batting average, a .515 slugging percentage and OPS of .932. No other Northeastern batter is hitting above .287, and the next-best OPS is .770.
Hofstra Vs. UNC WIlmington
Friday, April 8 at 6 p.m. ET; Saturday, April 9 at 4 p.m. ET; Sunday, April 10 at 1 p.m. ET
UNC Wilmington returns to CAA competition following a dominant non-conference weekend series against VMI. The Seahawks pounded the Keydets with 33 combined runs over the three-game sweep.
They return to league action after opening the Colonial campaign with a surprising series loss to William & Mary. In the same vein, Hofstra comes to Brooks Field as one of the biggest surprises of an unpredictable season thus far, thanks in part to breakout star Brian Morrell.