2022 Georgetown vs Butler
The Transformation Of Georgetown's Jake Hyde
The Transformation Of Georgetown's Jake Hyde
Without much of a freshman season and no fall ball, Hyde has transitioned to lead-off for the Georgetown Hoyas and started the season at a blistering pace.
Mar 31, 2022
by Stephen Kerr
When Georgetown Hoyas outfielder Jake Hyde first found out he was being moved to the leadoff spot in the batting order, he wasn't sure he'd heard head coach Edwin Thompson correctly.
Hyde, a 6-3, 205-pound sophomore from Darien, Connecticut, had spent most of his playing career near the middle of the lineup. He got the news about the change following the first week of the season.
"Coach Thompson told me in the lobby of the hotel we were in, 'you're playing right field and batting one'," said Hyde, who platoons between right field and first base.
"I've never thought of myself as being a (leadoff) hitter. That first game, I hit a ball hard, and knew I was setting the tone for the team in the one spot. It plays into my strengths well. My job is to get on base, see pitches, and know we have guys who are better at driving in runs more towards the middle of the lineup."
Hyde has certainly been getting the job done since the switch. He went on a 14-game hitting streak and became the first Hoya to win back-to-back BIG EAST Player of the Week honors since 2011. Through March 27, he paced the BIG EAST and was in the nation's Top 25 in hits (43), homers (10), batting average (.439), slugging percentage (.857), doubles (11), and RBI (31).
Hyde had 12 multi-hit games through the Hoyas' first 19. In a weekend series opener against No. 24 Maryland, he went 3-for-5 and fell a triple shy of the cycle, scoring twice.
"Our success when he started leadoff after the first weekend or so… it really has changed the flow of our offense," Thompson said.
"He gets on base, has even strikeouts to walks. For a guy who has some power and the ability to get on base a lot, it's a good quality to have."
It didn't take Hyde long to fall in love with baseball. His father, Jake, pitched for Georgetown from 1989-93, and helped his son learn the art of hitting in the yard of their home.
"He's thrown to me and helped me become a better hitter," the younger Hyde explained.
"He's given me the love for the game I have today. He's always encouraged and supported me. I wouldn't be where I am without him."
Hyde was a three-year starter and two-time captain on the Brunswick School baseball team, which captured two FAA championships. He was named All-FAA Honorable Mention as a sophomore and First Team as a junior. He also played on the school's football team.
Like many athletes, Hyde lost his senior season when the coronavirus pandemic wiped out the 2020 season. When he arrived at Georgetown, the team didn't participate in fall ball, so Hyde had to wait until the start of the 2021 season to get back in action. He started in 13 of the 17 games he played, compiling seven hits, three runs and three RBI. It was Thompson's first season as head coach, and the Hoyas finished 6-25.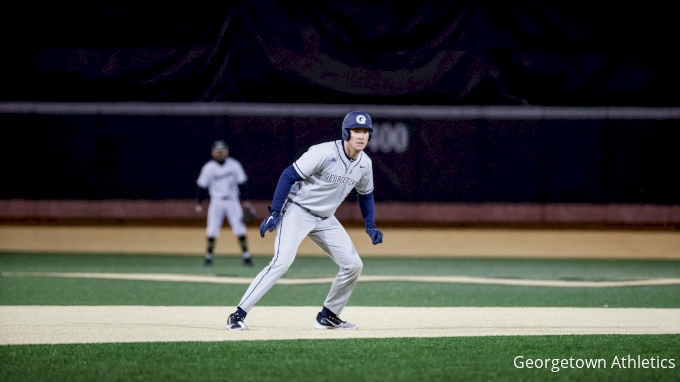 "He was a freshman that hadn't played any fall or preseason, so he was kind of out-matched at times," recalled Thompson, who spent five seasons as head coach at Eastern Kentucky prior to Georgetown.
"Everything was there, he just needed some reps and time."
Hoyas associate head coach Julius McDougal has worked closely with Hyde since arriving as the team's hitting coach last March. McDougal, who worked with Thompson at Eastern Kentucky, helped Hyde develop more of a line-drive approach rather than swinging for the fences.
"It's something we always talk about, that line drives in (batting practice) turn into home runs in the game," McDougal explained.
"He's made a conscious effort at that."
The advice has been another reason for Hyde's transition into a more consistent hitter. He's also launching more home runs. In a 9-8 loss to Delaware on March 22, Hyde went 2-for-4 with a grand slam and a three-run blast. His seven-RBI game was a career high and one shy of tying the program record.
After falling behind 3-0, the Hoyas scored five runs in the fourth. Following a Michael Eze walk with the bases loaded to trim the deficit to 3-1, Hyde turned on an inside pitch and hit the team's fifth grand slam of the season to put GU ahead 5-3. Hyde's three-run shot came in the top of the eighth to put the Hoyas back in front 8-7 before the Blue Hens hit a two-run walk-off homer of their own to win it in the ninth.
"As a freshman, you're trying to show off some things you can do," Hyde explained.
"I remember in BP trying to take these big swings and hit home runs. That doesn't translate to the game. Taking that line drive approach has helped my swing a lot, not just from a power standpoint but also with reducing strikeouts, getting on plane with the ball early and focusing on staying through the middle."
Hyde has also learned to load earlier and slower in order to see pitches better. In batting practice, he concentrated on loading just as the pitcher started his windup.
"I saw the ball better than I ever have," Hyde said.
"I've never been so confident in an 0-2 or 1-2 count. If you really focus on seeing the baseball, it makes the game a whole lot easier."
Last summer, Hyde played for the New Britain Bees in the Futures Collegiate Baseball League. He made the All-Star Team, hitting .296 in 51 games.
"It was a chance to get a ton of AB's and live reps in the field against good college pitching," Hyde said.
"With not having a fall last year and having a shortened spring season, that made a world of difference to me."
While Hyde is more familiar playing first base than the outfield, he has adapted well to the crash course he received earlier this season in right field, which began in a game against Seton Hall.
"I've learned a lot," he said.
"I work a lot in practice with Coach Thompson on getting better reads and improving my footwork in the outfield. But there's definitely a lot more room for improvement."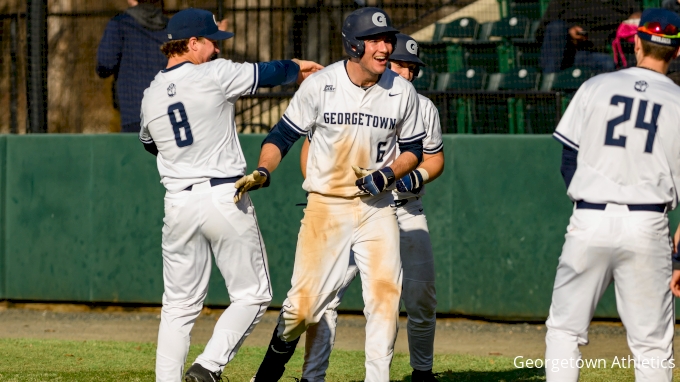 It's no accident that Hyde's success has spread to the entire team. The Hoyas have already doubled their entire win total from last season. They've been in the top 15 in home runs, a far cry from the 1.8 runs per game they averaged last season.
"Last year was such a firestorm," Thompson said.
"We have a good blend of some graduate transfers with some returning players that have experience. We've blended well between the two groups."
While playing pro ball in the future is a goal, Hyde is more focused on continuing the success he and the team are having this season.
"It's always been a dream of mine," he said.
"But when you're in season, all you're really focused on is the next game. It's fun to go 4-for-4 with four home runs, but there's nothing better than winning a game with all these guys. I love this team, and we get along well together. We all want to go out and win a BIG EAST championship and change the narrative around Georgetown baseball."