2022 Texas vs Charleston
CAA Preview: Charleston Hosts CWS Contender Texas
CAA Preview: Charleston Hosts CWS Contender Texas
The matchup offers a tuneup for UT's upcoming Big 12 campaign and a chance for the CAA's Charleston to pull off the improbable.
Mar 15, 2022
by Briar Napier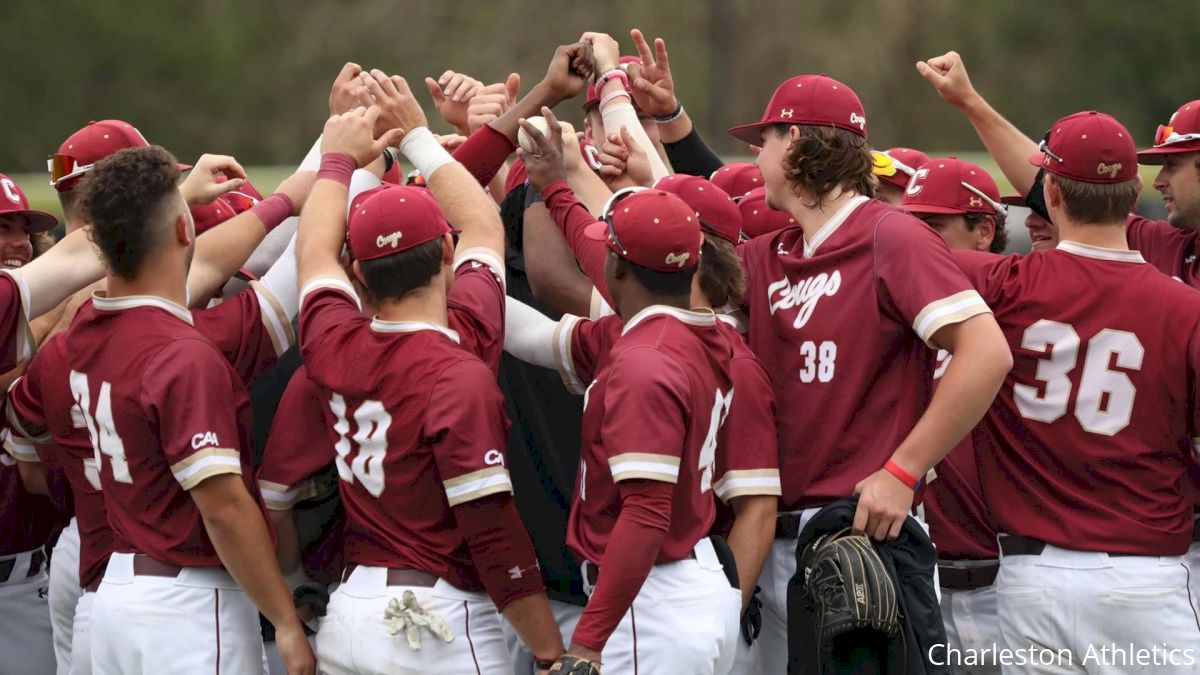 Welcome to the Holy City, Longhorns.
It's a change of pace from the tournaments and non-conference series that Texas baseball has found itself early this season, but the Longhorns are going to visit College of Charleston in a one-night showdown in the Palmetto State. The matchup offers a tuneup for UT's upcoming Big 12 campaign and a chance for the CAA's Charleston to pull off the improbable.
Every one of Texas' many trips to Omaha in school history has featured tricky one-off non-conference matchups like its upcoming one against the Cougars and this one is no different. First pitch is scheduled for 6 p.m. ET live on FloBaseball.
With elite baseball oozing out of the diamond (and a team that is eager to spoil the party despite that), here's a rundown of the Longhorns and Cougars ahead of their clash this week.
No. 2 Texas Longhorns
The record: 13-4
The lowdown: The six-time national champions look primed and roaring to go in the hunt for a seventh crown, which would be the Longhorns' first since 2005. Texas' pitching staff was the best in America by ERA last season (2.93) by a significant margin, and thus far in 2022 has lowered that number (2.48) even more to stick within the current top 10 nationally. Redshirt senior right-hander Tristan Stevens moved to the weekend rotation last season and it worked wonders, with the Missourian named to the All-Big 12 First Team with an 11-3 record and 77 strikeouts. Through four starts this season, Stevens has been spectacular as the Longhorns' ace at 3-1 with a 0.76 ERA and 17 strikeouts in 23⅔ innings pitched, butting his way into the conversation as one of America's top arms. Left-handed sophomore Pete Hansen, a NCBWA Freshman All-American last season, has also impressed in the season's early goings with more strikeouts (27) than innings pitched (23) to make a downright dangerous duo on the mound.
The Texas rotation rarely has an off night, but on the occasion it does, it becomes critically important to take advantage. That's because the Longhorns have a good, but only sometimes great, offense that can sometimes get burned. Just ask about the Texas State game March 8, when the Bobcats—a very good mid-major team in their own right—managed to shock the Longhorns 6-4 in San Marcos. Still, don't think Texas' bats can't hurt programs when they get going. Redshirt junior Ivan Melendez was named a unanimous All-Big 12 First Team pick as a designated hitter last year, and with seven home runs in 17 games in 2022, looks well on pace to smash the benchmark of 13 blasts he set in his first season in Austin. Meanwhile, senior infielder Murphy Stehly—following two years in JUCO and only 24 starts his first two years at Texas—is amid a late bloom with a .426 batting average that ranks among the best in the Big 12.
The expectation is clear for coach David Pierce's team: get back to the College World Series and be in the thick of the fight to win it all. After a three-year absence from the NCAA Tournament from 2018-20, the Longhorns returned to both the postseason and Omaha in 2021 before bowing out in the CWS semifinals to eventual champion Mississippi State. Considering C of C has barely more NCAA tourney appearances (seven) than Texas does national championships, the Longhorns will be the heavy favorite in the teams' one-off nonconference meeting. Games like Tuesday are ones that Texas should be winning under any and all circumstances.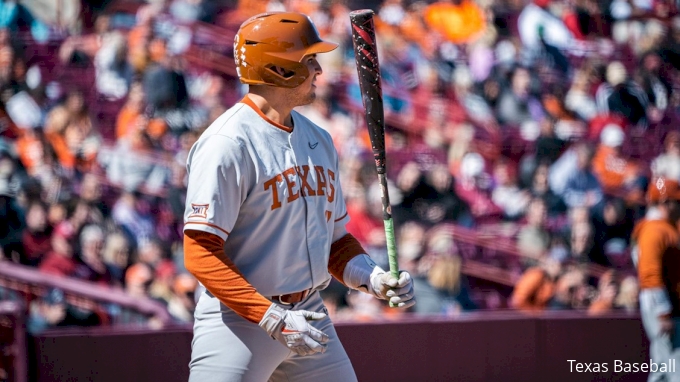 College Of Charleston Cougars
The record: 9-7
The lowdown: The Cougars find themselves hosting maybe the highest-profile opponent in the history of the ballpark at Patriots Point, only rivaled by the time C of C invited a then-top-10 South Carolina for an interstate showdown back in 2012. So, what's stopping the Cougars from shocking the college baseball world on their home field? Well, for one, Texas is very, very good. Two, Charleston has already had some mishaps against weaker opposition than the Longhorns.
Nonetheless, there are things to like about coach Chad Holbrook's squad, most notably the rotation, which could make the meeting with Texas a low-scoring pitcher's duel. Right-handed junior Trey Pooser was an All-CAA Second Team selection in 2021 and looks to be on a start that could snag him a spot on the first team later in the year. He's 2-1 with a 1.08 ERA and 17 strikeouts in 16⅓ innings. In Charleston's toughest matchup of the year so far—in a visit to D1Baseball Top 25-ranked Clemson on Feb. 22—Pooser got the start and allowed just two earned runs in five innings but his team's hitters could back him up in a 2-1 loss. Besides that night against the in-state rival, Pooser hasn't allowed an earned run to an opponent all season. Doing the same against Texas, however, is a tall order.
Charleston's other three All-CAA Second Team selections—catcher Jared Kirven, infielder Joseph Mershon and designated hitter Tanner Steffy—returned for another year, but none have been the stars of the lineup thus far in 2022. That distinction can probably go to catcher/first baseman JT Marr, who has excelled since transferring from the JUCO level in the offseason with a team-high .419 batting average while being just one of three Cougars to start all 16 games leading into Tuesday. Junior infielder Trotter Harlan and freshman outfielder Tyler Sorrentino have been the other two, becoming mainstays in the Cougars' lineup with consistent production.
Assuming Pooser gets the start Tuesday, a similar performance from the program's ace is probably needed to keep Charleston in the fight against the mighty Longhorns. But if it comes, the Cougars must take advantage—or see another chance for a potential epic upset slip through their fingers.