2022 Globe Life Field College Baseball Showdown
State Farm Showdown: Arizona Rolls, Auburn Pitching Shines
State Farm Showdown: Arizona Rolls, Auburn Pitching Shines
The No. 11-ranked Wildcats plated 35 total runs and surrendered just 12 in wins over Kansas State, Oklahoma and Texas Tech.
Feb 21, 2022
by Kyle Kensing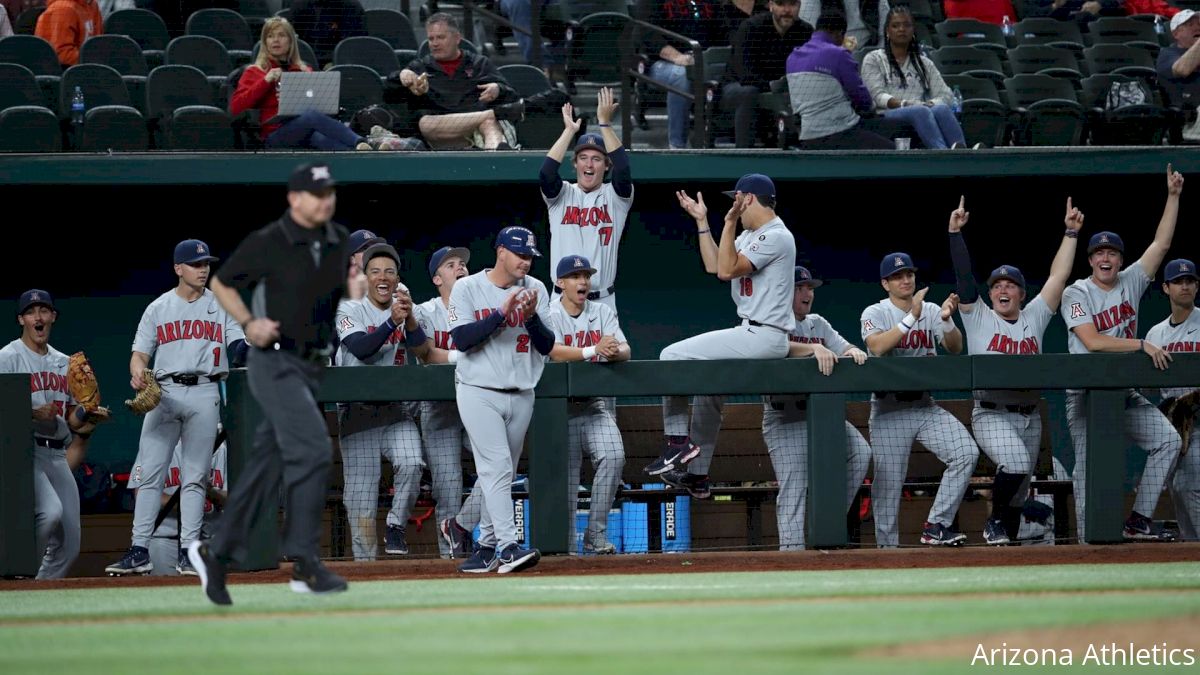 Chip Hale could not have asked for a much better debut than his team's showing at the State Farm Showdown.
In his first weekend as Arizona head coach, the No. 11-ranked Wildcats plated 35 total runs and surrendered just 12 in wins over Kansas State, Oklahoma and Texas Tech.
"I learned what I thought I knew about them," Hale told Michael Lev of the Arizona Daily Star. "They're going to play hard, have fun…I can say you learn a lot, but it's kind of what I expected how these guys were going to play."
Winning and winning big is usually a guaranteed formula for having fun, and the Wildcats were living it up in Texas in every facet of the game. Four batters finished the weekend with OPS greater than 1.000, led by Tanner O'Tremba's whopping 1.777.
We got a dude 💪 #BearDown

📺 @FloBaseball
💻 https://t.co/kQiV041obe pic.twitter.com/Dtb4PaNHoD

— Arizona Baseball (@ArizonaBaseball) February 20, 2022
O'Tremba hit two home runs, drove in seven runs and slugged 1.214. Chase Davis and Noah Turley also hit home runs, with Turley's blast against K-State kicking off Arizona's season.
Aside from a rocky eighth inning against Kansas State that transformed a rout into a nail-biter, UA's pitching was lights out. TJ Nichols allowed just one run and struck out six to open the Showdown, Garrett Irvin struck out five of the 17 batters he faced against Oklahoma, and Dawson Netz delivered arguably the best performance on the mound of any pitcher all weekend.
Netz allowed no earned runs and just three hits with six strikeouts in five innings against Texas Tech. Hale praised the right-handed sophomore as having "proved he can be one of our three starters" throughout the season.
The 13-2 win against a then-No. 14 Texas Tech team to close out the State Farm Showdown was perhaps the event's strongest overall performance. However, Auburn—which enjoyed a stellar weekend on the mound—also wrapped up the Showdown with an emphatic showing.
The Tigers, after scoring just two runs combined in games on Friday and Saturday against Oklahoma and Texas Tech, erupted for 12 in an 11-run win over Kansas State. Auburn scored a remarkable four runs on batters hit-by-pitch and Josh Hall stole home on a wild pitch, all of which were byproducts of Auburn's ability to get batters on base.
Run support gave Trace Bright plenty of cushion—not that he needed it. Bright went five innings with five strikeouts and gave up just two hits.
Between Bright and Joseph Gonzalez, Auburn starters allowed only five hits and no earned runs. Gonzalez earned the win in a 2-1 defeat of Texas Tech. Tommy Sheehan, who started the Showdown-opening loss to Oklahoma, went just one inning, but Jordan Armstrong pitched four scoreless with five strikeouts coming out of the bullpen.
Arizona's Netz and Auburn's Gonzalez gave Texas Tech fits, a program expected to contend in the Big 12 Conference fits at the plate. The Red Raiders dropped to No. 20 in the D1 Baseball Top 25 poll released after their trip to Globe Life Field.
The State Farm Showdown wasn't all bad for Texas Tech, however. Tech rallied from a 6-3 deficit in the sixth inning against Michigan, scoring the tying and winning runs on Dalton Porter's pinch-hit sac fly—then freshman Owen Washburn's two-out RBI single.
That walk-off energy! 🔋#NCAABaseball x 🎥 @TTU_Baseball pic.twitter.com/qx6u5qKVzS

— NCAA Baseball (@NCAABaseball) February 19, 2022
Oklahoma, Tech's Big 12 counterpart, finished 2-1 on the strength of outstanding pitching performances against Auburn and Michigan.
Sooners starter Chazz Martinez allowed no earned runs, struck out five and put together a WHIP of .86 in a 6-1 win over Michigan. Martinez was Oklahoma's Day 3 starter, while Day 1 starter Jake Bennett went five innings allowing just one hit in the shutout win over Auburn.
And Bennett's outstanding showing wasn't just to the plate.
Mid 3 | 0-0

Bennett picks off the runner to end the third.

💻 https://t.co/ZA9Pn6C6Ui@FloBaseball pic.twitter.com/qmHGcY3qgy

— Oklahoma Baseball (@OU_Baseball) February 18, 2022