2022 Karbach Round Rock Classic
Karbach Round Rock Classic: Pitchers To Watch
Karbach Round Rock Classic: Pitchers To Watch
Zebulon Vermillion headlines a group of aces to keep an eye on at the Karbach Round Rock Classic.
Feb 25, 2022
by Briar Napier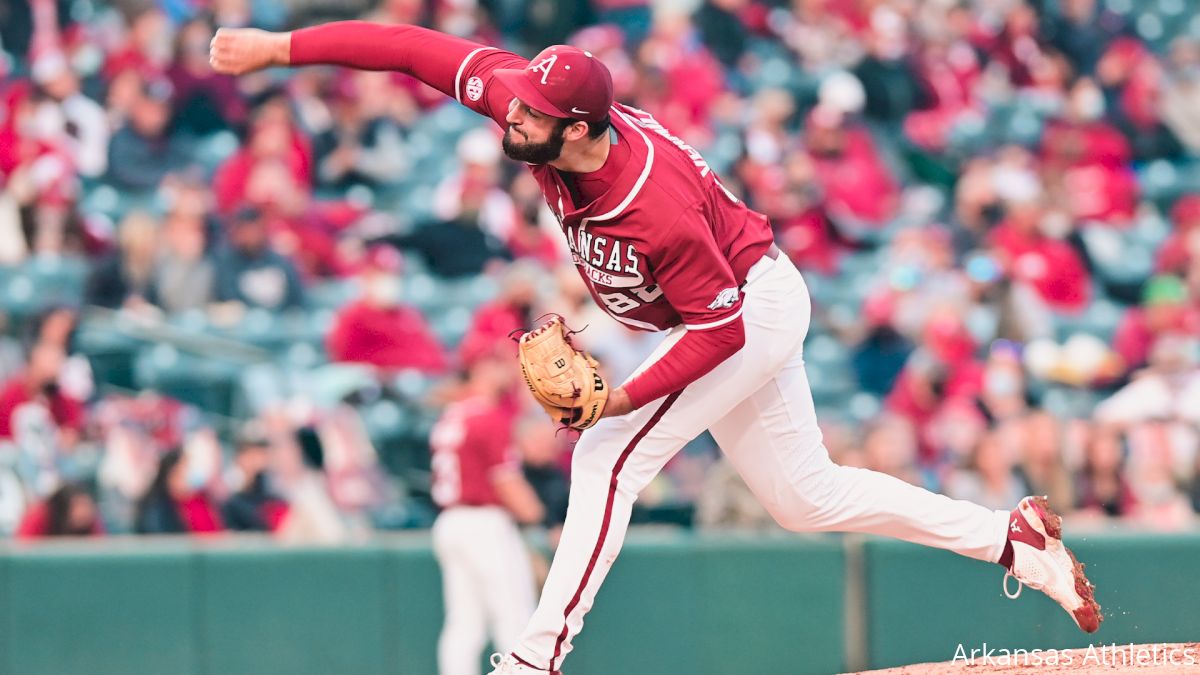 The Karbach Round Rock Classic has an official hashtag that claims it's the #BestOutsideOfOmaha, and with some of the names on display at this year's event, it could be easy to confuse it with the hallowed grounds at TD Ameritrade Park.
The four-team field has a combined 29 College World Series appearances to its credit. The best teams beat the fellow elites, and piling some of them together at Dell Diamond in Round Rock, Texas (home of the Double-A Round Rock Express) will make for a sizzling early-season showdown.
The pitchers on display at the Round Rock Classic, held from Feb. 25 to 27 with all games streamed live on FloBaseball, have high standards to uphold at their schools, and this season, they'll start in central Texas. With that in mind, here are five hurlers that could make a serious difference down in Texas later this month.
Zebulon Vermillion, RHP, Arkansas
The Razorbacks went through a lot of change and bad luck within their rotation in the offseason, so Arkansas may need to turn to some of its veteran arms to establish stability on the mound. Last year's SEC Pitcher of the Year, Kevin Kopps, got drafted by the San Diego Padres, and highly-touted prospect Peyton Pallette is going to miss the 2022 season as he recovers from Tommy John surgery.
Enter Vermillion, a redshirt senior who now finds himself as the Hogs' returning leader in starts (six) after appearing exclusively as a reliever in his first three years in Fayetteville. He's been a serviceable arm for quite some time now, holding onto an 8-1 career record with a 3-0 mark last season in a career-high for innings (40⅓). Vermillion's outing of the year was undoubtedly going eight innings while allowing one hit against a ranked Alabama squad last March, showing that he has the stamina to deal deep into games.
Alex Williams, RHP, Stanford
Williams set the world aflame as a freshman in 2019, earning a plethora of Freshman All-America awards as he went 8-1 in 10 starts while giving up just a 2.56 ERA. When the 2020 season was shut down due to COVID-19, his fiery start (2-1, 0.51 ERA) was suddenly extinguished. It could've very well been the end of what could've been a historic season for the Californian hurler.
His 2021 was good (5-2, 3.42 ERA, 54 strikeouts) as Williams was certainly one of the best arms on the Cardinal's roster, but his season wasn't as eye-popping as the freshman campaign he produced. Now a senior who will be in the thick of the fight for Stanford's ace role—after reigning Pac-12 Pitcher of the Year Brendan Beck was drafted by the New York Yankees—this could be the opportunity Williams needs to be a legitimate destroyer on the mound.
John-Biagio Modugno, RHP, Indiana
A fairly-unheralded recruit out of New Jersey—who was the No. 25-ranked right-handed pitcher in his state's recruiting class—Modugno came onto the scene last season for the Hoosiers in a big way. He earned a spot on the All-Big Ten Freshman Team as he led all IU pitchers in appearances (16). Remarkably consistent as he allowed two earned runs or less in 15 of his outings (including in all four of his starts), Modugno should feature as a key member of the starting rotation in his second full season in Bloomington.
More importantly for his development, he seemed to get better as the 2021 season went along, getting his final win of the season against Ohio State in May when he was part of a two-hit shutout of the Buckeyes. Others outside the Big Ten will get a chance to see Modugno's stuff in a full season, too, as the league did not allow non-conference opposition in the regular season last year.
Joe Moran, RHP, Indiana
Moran hasn't thrown a pitch in a competitive game for the Hoosiers yet—or even ever been on the mound at the Division I level. So why is he on this list? The Anderson, Indiana, native and sixth-year senior is now on his third school in the Hoosier state after four years at D-III Anderson University and a season at Taylor University in 2021, where he was named an honorable mention NAIA All-American and the Crossroads League's Pitcher of the Year.
Designated on the Hoosiers' roster as a pitcher, he can rake and fly, as well, leading Taylor both in home runs (14) and stolen bases (19) last season. Moran got a taste of the opposition he would face in the Big Ten while playing for a portion of the summer in the highly-regarded Cape Cod League, one of the nation's best collegiate summer leagues. He'll now get the best of college baseball in full force for the first time in his college career.
Brandon Talley, LHP, Louisiana
Talley was about as reliable as you could get out of the bullpen for the Ragin' Cajuns last season. The Texan was among the Sun Belt Conference's leaders in both appearances (27) and saves (8), finishing with a 1.59 ERA and fourth on the team with 45 strikeouts despite throwing just 34 innings. He'll be needed for consistency and stability on the bump after Spencer Arrighetti and Connor Cooke—the two leaders of Louisiana's rotation last season—both left the program.
A player who has started at first base and designated hitter in the past, Talley is versatile and a key piece to how the Ragin' Cajuns operate. With his senior season ahead, he'll look to make good on some of the national attention he got last season when he was named to the NCBWA Stopper of the Year Midseason Watch List.