2022 Karbach Round Rock Classic
Through Faith & Family, Arkansas' Robert Moore Stays Grounded
Through Faith & Family, Arkansas' Robert Moore Stays Grounded
During his senior year at Shawnee Mission East (Kansas) High School, Arkansas Razorbacks second baseman Robert Moore had a big decision to make.
Feb 11, 2022
by Stephen Kerr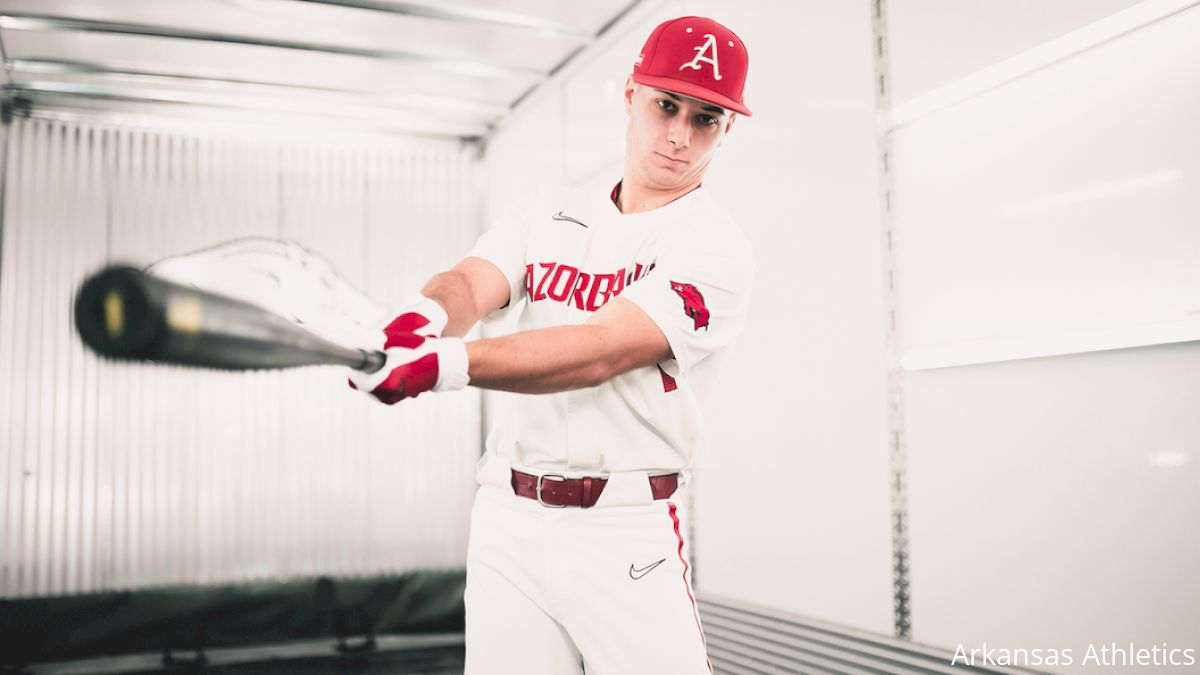 During his senior year at Shawnee Mission East (Kansas) High School, Arkansas Razorbacks second baseman Robert Moore had a big decision to make. The switch-hitting infielder was ranked the No. 1 player in the state and No. 20 in the nation by Perfect Game, and had competed in their All-American Classic.
After graduating a semester early, Moore was torn between joining the Arkansas program after the holidays or play his senior season and prepare for the 2020 MLB draft the following June. He chose to join the Razorbacks before he'd even reached his 18th birthday.
For someone who grew up in a baseball family, it seemed like a no-brainer. Robert's father, Dayton Moore, is general manager of the Kansas City Royals, so Robert was used to being around major league ballplayers. But even that exposure didn't prepare him for the jump from high school to a Division I program.
The first few weeks leading up to the start of the season were some of the toughest in Moore's life. He struggled to make friends in the locker room, and wasn't enjoying going to class.
"I got here in January, and I was like, 'God, why am I here? I don't want to be here'," Moore said during an appearance on the podcast HogPod with Bo Mattingly.
Moore grew up with a strong Christian upbringing, and he credits both faith and family for seeing him through the rough patch during his freshman year.
"If I didn't have my mom, my dad, my sisters, my nana and pap pap, I don't think I would have made it through the first couple of months," he said on the podcast.
Fortunately, his play on the field didn't suffer. He stepped into the Razorbacks lineup right away, starting all of the team's 16 games before COVID-19 shut down the season. His slash line was .317/.444/403 in 63 at-bats with 20 hits, two doubles, two home runs, 17 RBI and 10 runs scored. He finished with the second-most hits by a freshman in the SEC and was third among conference freshmen in batting average and RBI. He became the first Hogs freshman to earn Player of the Week honors from the conference, and was named to Collegiate Baseball Newspaper's Freshman All-American Team.
Moore was thankful for the experience of that first season, aside from the mental adjustment to college and the pandemic.
"I got to play a little bit of a season," he told Mattingly. "I got to meet some unbelievable teammates and coaches. I got to meet a lot of people from this community and make connections."
Getting a full season under his belt in 2021, Moore came into his own. He slashed .283/.384/.558 with a team-high 16 homers and 53 RBI. He also led the Razorbacks in runs scored (59), and had 10 doubles and three triples.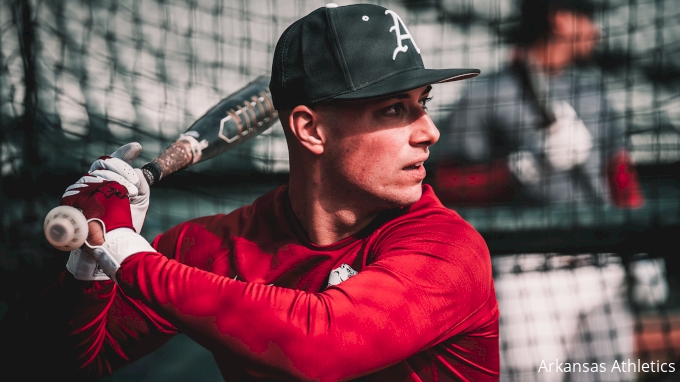 Moore was named to Baseball America's Freshman All-American Second Team, becoming the first player in program history to earn freshman All-America status in multiple seasons. (He was eligible due to the pandemic-shortened 2020 season). He also garnered All-SEC, Newcomer All-SEC and SEC All-Defensive honors.
In a 21-8 rout of Central Arkansas, Moore hit for the cycle, becoming the first Razorback to do so since outfielder Kyle Harris in 1994. He reached base in all six of his plate appearances and drove in a career-high six runs.
Arkansas head coach Dave Van Horn was more impressed with the number of runs Moore helped put on the scoreboard than the cycle itself.
"Not only did he hit for the cycle, but what I like is he drove in six runs," Van Horn said after the game. "Those RBI's, that means you're scoring. There's been a lot of cycles less exciting than his because he was really helping the team win."
The Razorbacks notched their first 50-win season in three decades before bowing to North Carolina State in the Fayetteville Super Regional, falling one game shy of the College World Series. Moore, who earned the nickname "Big Hit Bob" from his teammates, was clutch in the postseason. In three SEC Tournament games, he collected two hits and scored four runs. His slash line during the Fayetteville Regional was .333/.444/.600 with five hits, including a double and home run to earn a spot on the All-Tournament Team. In the first game of the Super Regional, he had his third two-homer performance of the season, tallying four hits, five runs scored and driving in five.
But the season wasn't all peaches and cream for Moore. He began the year as the Razorbacks' leadoff hitter. But an early-season slump dropped his average from .375 to .250. He had 10 strikeouts and a .152 average during an 11-game funk, at which point Van Horn dropped him all the way down to ninth in the lineup.
Self-doubt began to creep in. Fans criticized him on social media, and he received text messages questioning why he wasn't hitting. Moore then went back to the one place he knew would give him refuge: his faith.
One Sunday during church, a guest speaker asked him who he would be if he didn't have baseball. Moore didn't have an answer at first. Then it came to him: his priorities were in the wrong place.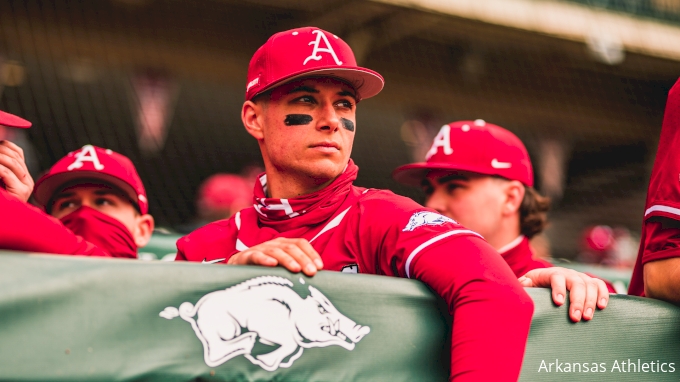 "I learned that through all this, my identity was tied up too much in baseball," Moore explained during a postgame press conference last season. "When that was the case, when things didn't go well, I was in a bad spot mentally and emotionally. So I had to give that stuff away."
Moore came out of his slump in a big way when he hit for the cycle during the Central Arkansas game. In an April 22 game at South Carolina, he hit two homers to silence a rowdy Gamecock crowd. That game was emotional for another reason. His grandparents lived in the area, and his grandfather was watching the game from a hospital bed.
"I knew he was watching the game and I really wanted to play well and make him smile or something, so yeah, I had to have a little bit of an edge tonight," Moore said following the Razorbacks' 6-1 victory.
The Razorbacks start the 2022 season ranked fourth in both the National Collegiate Baseball Writers and USA Today Coaches Preseason polls. Expectations are high for Moore, who is ranked as high as eighth in Perfect Game's MLB mock draft. While he has the defensive ability to play shortstop, many scouts project him as a second baseman, where he's played all but two of his games at Arkansas.
No matter how things turn out, Moore's mentality is as strong as ever. He no longer looks at baseball as the most important thing in his life. His biggest influences are his God and his dad.
"Most people look at sports icons or celebrities or musicians and think that's their hero," he said on the HogPod. "But no, your Father in heaven and your parents should be your hero. That's what I've learned most from my dad."