2022 Snowbird Baseball
Indiana State Preview: Sycamores Eye Third Straight Tourney Trip
Indiana State Preview: Sycamores Eye Third Straight Tourney Trip
Expect the Sycamores to be in the thick of the hunt for the NCAA Tournament berth once again as the school is quietly building a solid run of consistency.
Feb 9, 2022
by Briar Napier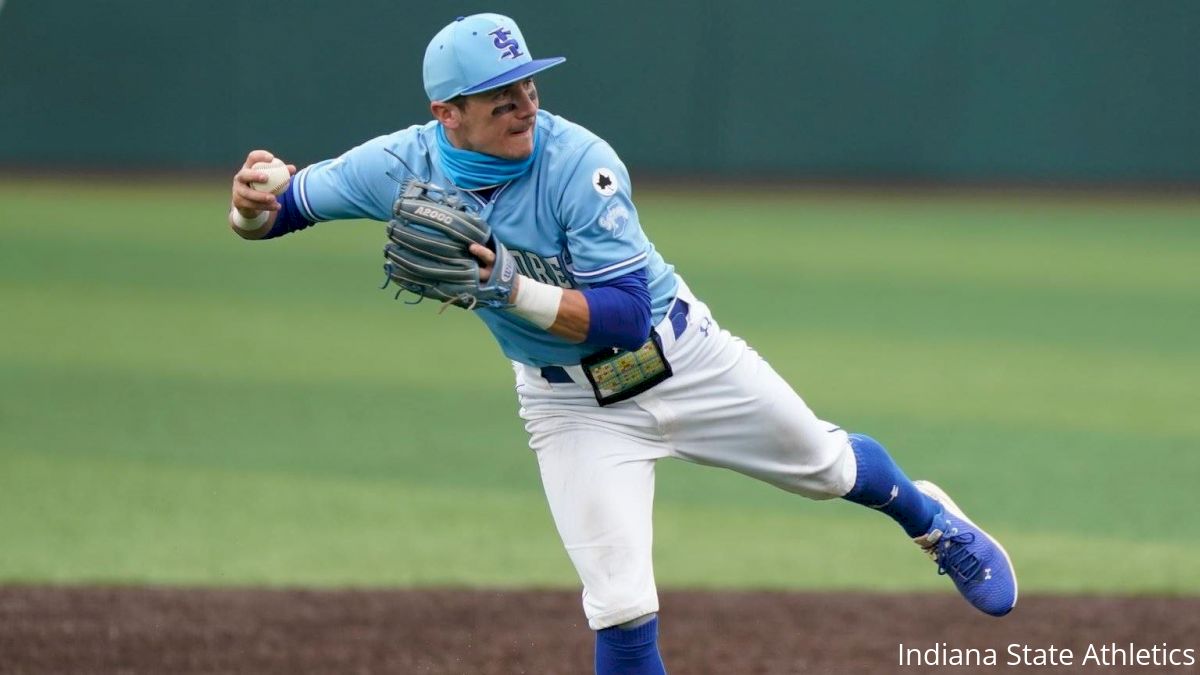 Not since 1986 has Indiana State accomplished the feat of making three NCAA Tournament appearances in four years.
That year has some significance to longtime Sycamore baseball fans: it's when Indiana State made its first and only College World Series.
Those in Terre Haute shouldn't book their flights to Omaha quite yet, Indiana State needs to prove it can win its own league despite a pesky opponent first. Expect the Sycamores to be in the thick of the hunt for the NCAA Tournament berth once again as the school is quietly building a solid run of consistency.
Who's to watch for at Indiana State this spring? Look below at the pieces and faces that will shape the Sycamores this season.
Hitting
A hometown kid from Terre Haute, shortstop Jordan Schaffer was an All-Missouri Valley Conference First Team selection a year ago and returns for his redshirt junior year as the league's top returning hitter (.367). He kept a 12-game hitting streak going throughout the Sycamores' NCAA Regional run and enters this season with it intact He finished second on the team in RBI (34) behind only catcher/outfielder Max Wright, now with the San Francisco Giants' organization.
Redshirt senior and outfielder Aaron Beck joined Schaffer on the All-MVC First Team, winning the conference's Newcomer of the Year award in the process after going .319 with 24 RBI in 42 games in his first year after transferring from Olney Central College. The duo should be one of, if not the best, to grace the basepaths in the league this spring. Throw in some promising talent for the future in redshirt freshman Josue Urdaneta—who started 51 of 52 games for the Sycamores last season, hitting .270 and stealing nine bases—and it should be another productive season for a squad that hit .283 last year.
Pitching
MVC Pitcher of the Year Geremy Guerrero was downright dominant in 2021, going 10-1 with a nasty 2.08 ERA and 98 strikeouts in 99⅓ innings. But he's not on the bump for the Sycamores anymore, leaving it to be an arms race for his replacement as Indiana State's ace. While there's a lot for coach Mitch Hannahs to think about in deciding who to bestow that role upon, at least those backing up the starters are in good shape.
Right-hander Connor Fenlong is probably a preseason favorite for an All-MVC First Team pick again with a reputation as Mr. Reliable in the Sycamores' bullpen, garnering six saves in 20 appearances to go along with a 3.06 ERA and 31 strikeouts. And then there's redshirt senior Jake Ridgway, who after having a 3.38 ERA with five saves in 2019, slumped a bit two years later. A bounce-back campaign for the Illinois native would be ideal for both him and the Sycamores in his final season, to stabilize the rotation after it got used to Guerrero gems all of last season.
X-Factor
A very solid and consistent program for its location—Terre Haute, Indiana is almost 90 minutes from Indianapolis and over three hours from Chicago—the Sycamores' outright MVC regular-season title in 2012 was their first in school history. ISU hoped for it to be a promising beginning to reign atop the league. Then, Dallas Baptist showed up. Since arriving to the conference in 2014, the Patriots have won the MVC three times and made the NCAA Tournament every season as the league's main representative on college baseball's highest stage.
But if recent history is any indication, the Sycamores are making a major push to try and change that. ISU has been right there with DBU in the NCAA tourney the last two times it's been held, they pushed the Patriots to the brink but couldn't quite tip them at the top of last season's league table. Dallas Baptist is once again favored to take first in the league (per the league's coaches) while Indiana State once again looms in the shadows of second. But a string of good results could change everything—and could finally make it the year ISU gets over the hump to win its first conference crown in a decade.