2022 Globe Life Field College Baseball Showdown
Michigan Preview: Burton, Weston Look To Lead Wolverines
Michigan Preview: Burton, Weston Look To Lead Wolverines
With a more "normal" season, the Michigan Wolverines baseball program will look to get back to the success of their 2019 season.
Feb 4, 2022
by Briar Napier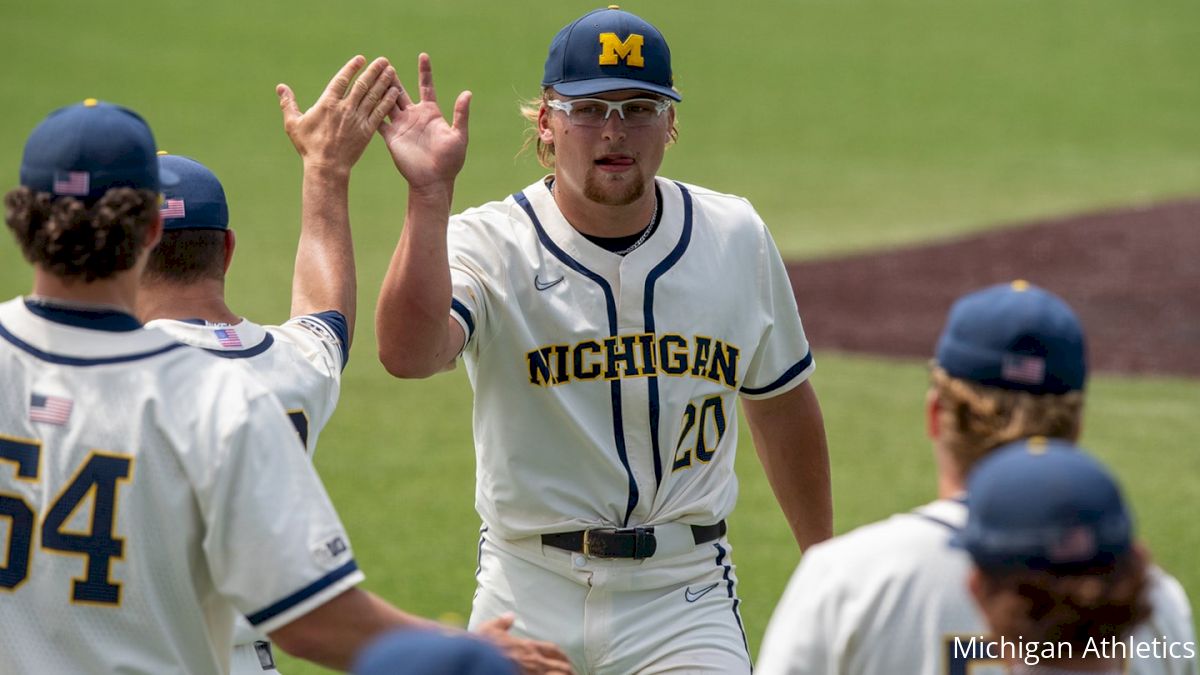 Michigan baseball got a taste of the good life three years ago.
That year, 2019, was the first time the Wolverines had advanced to a College World Series since 1984. Not only that, but UM almost went out and won the whole thing while there, coming within a game of toppling Vanderbilt and snatching the school's third-ever title in baseball—and the first since 1962.
Things slowed down plenty for Michigan over the next two seasons—some of which was under its own control, some of it not. The program's hopes of getting back to Omaha in back-to-back tries in 2021 ended with a thud, as it didn't win a game in its regional.
But take a peek at the Wolverines' roster pedigree and you'll understand why many are tipped as top MLB Draft prospects. And with likely their most "normal" year since that CWS run, they could be in the hunt for glory once again.
What's there to look out for when watching the Wolverines? Check out below for a breakdown of what UM brings to the diamond this season.
Hitting
Wolverines infielder Ted Burton is probably going to make for a fine professional baseball player one day. For at least a few months more, though, he's giving everything at Michigan. An All-Big Ten First Team selection as a second baseman, his return back to Ann Arbor was major good news for coach Erik Bakich and his team as the Californian enters this season as the top infielder and No. 8 overall MLB Draft prospect in the Big Ten per D1Baseball. The reasons Burton is so highly regarded are obvious, including being Michigan's reigning leader among qualifying players in all three slash line categories (.342 avg./.434 OBP/.667 SLG). Elsewhere in the batter's box are junior infielder Tito Flores (.325 avg., team-high 37 RBI) and leading home run-hitter from last season Jimmy Obertop, who hit 11 homers for Michigan despite missing four games and being limited in the second half of the season due to a leg injury.
Pitching
Junior right-hander Cameron Weston showed flashes of potential in the 2020 season as a freshman before the COVID-19 pandemic first rocked the college baseball world, winning his only start and throwing a 0.90 ERA in 10 innings of work. In his first full year in Ann Arbor in 2021, Weston established himself as a bonafide stud. Named to the All-Big Ten Second Team, the Pennsylvania native was UM's innings leader (83.1) and posted a 7-3 record with a 2.81 ERA last season, tied for the most wins and garnering the third-lowest ERA across all qualifying players in the league. Clearly the pros like him, too, as he's currently the Big Ten's No. 4-ranked overall prospect by D1Baseball. As the Wolverines' ace and All-Big Ten First Team nominee Steven Hajjar was a selection of the Minnesota Twins in last year's MLB Draft, it's now Weston's turn to establish himself as the No. 1 hurler in Bakich's rotation. Right-hander Willie Weiss, a league third-teamer as a reliever last season, should pair up with Weston and the
Wolverines' other starters often. Last season, Weiss notched 40 strikeouts in just 27⅓ innings.
X-Factor
Every Big Ten team dealt with the issue of only being allowed to play conference games in the regular season last year due to the league's pandemic restrictions, but it can be argued it affected no team more in the long run than Michigan. The Wolverines, along with Maryland and Nebraska, were one of three Big Ten programs to advance to the NCAA Tournament. When they faced two non-league foes (UConn and Central Michigan) in the South Bend Regional, UM cratered hard and lost both games by a combined 14-3. It was a stark difference from the normal, nonconference-heavy schedule Michigan went through in the last full college baseball season in 2019—a year in which the Wolverines were one win away from a national title in the CWS. With the Big Ten having removed the ban on playing non-league teams for the 2022 regular season, Michigan is back to playing many tough non-conference foes before the postseason like Vanderbilt, Texas Tech, East Carolina and Notre Dame, all of which are currently ranked in the top 15 of the D1Baseball Preseason Top 25. But will an increased sense of normalcy help get the Wolverines back to Omaha?