2022 Snowbird Baseball
Snowbird Classic Features D-I, D-III Postseason Hopefuls
Snowbird Classic Features D-I, D-III Postseason Hopefuls
The Snowbird opens on Feb. 18 with a weekend of Div. I play, continues into March and wraps up March 19.
Feb 3, 2022
by Kyle Kensing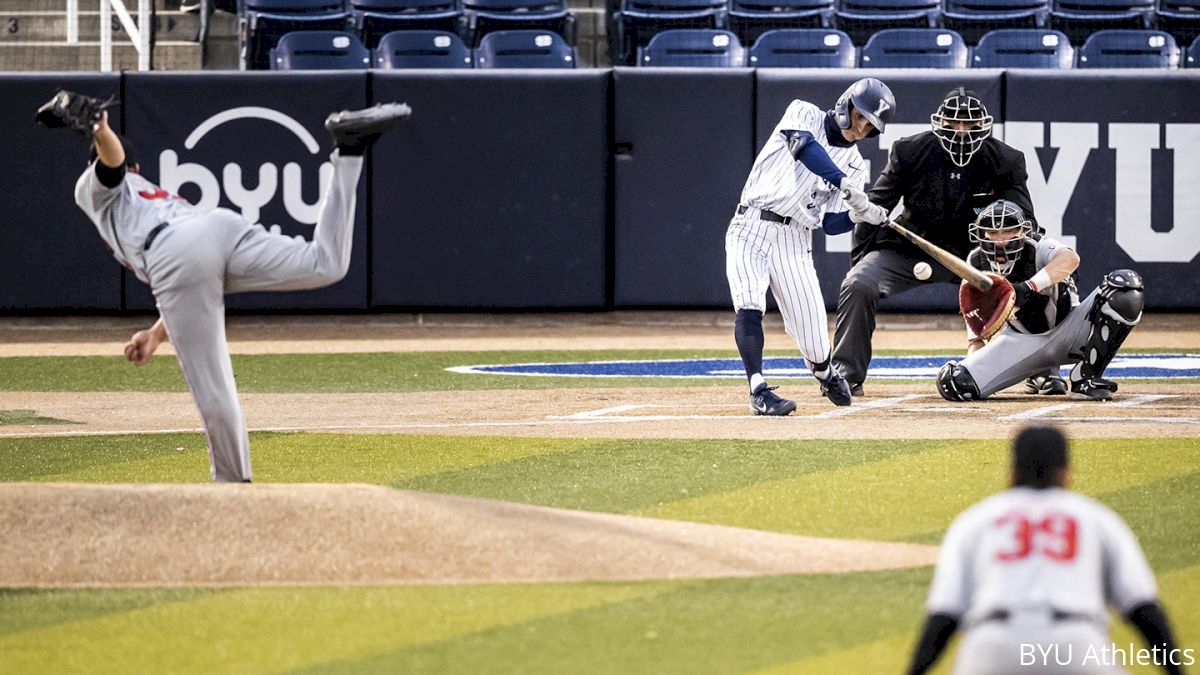 Port Charlotte and Punta Gorda, Florida, welcome college baseball teams from across the nation and assorted levels for an action-packed month of competition at the Snowbird Classic.
The Snowbird opens on Feb. 18 with a weekend of Div. I play, continues into March and wraps up March 19. Opening week games feature power-conference squads and teams with eyes on the 2022 NCAA Tournament.
BYU
Cole Gambill and Andrew Pintar, who led the Cougars last season in runs scored, slugging percentage, RBI and home runs, are the pillars for BYU in 2022.
Pintar hit a team-best .333 in 2021 with 32 runs driven in, nine homers on 63 hits and a 0.433 on-base percentage. Not bad for someone who BYU coach Mike Littlewood told the Deseret News last season the Cougars staff "didn't know if he could hit."
Not only can Pintar hit, but he does so exceedingly well that he's the preseason Player of the Year in the West Coast Conference.
Meanwhile on the mound, Bryce Robison returns from a 7-2 season in which he compiled a 3.78 ERA in more than 64 innings pitched.
Indiana State
Indiana State opened 2021 at the Snowbird Classic and concluded the season at its second NCAA Tournament in three years. The Sycamores landed an at-large bid into the field last spring after finishing the regular season 30-19.
Shortstop Jordan Schaffer boasted the Missouri Valley Conference's best batting average at a whopping .367. He piled up 79 hits and ended the season on a 12-game hit streak, including his six over three games in the NCAA Regional.
Outfielder Aaron Beck batted .319 and drove in 24 runs, and Brian Fuentes and Miguel Rivera drove in another 31 and 28—second and third-best among all Sycamore returners.
Ohio State
A veteran Buckeyes roster could make noise in the Big Ten Conference this season. Ohio State embarks on 2022 returning four of its top five batters from a season ago, its leader in stolen bases, and top hitter in on-base percentage.
Of course, all three categories are credited to one player: outfielder Kade Kern.
Kern was one of the nation's top freshmen in 2021, pacing Ohio State with a .325 batting average, .391 on-base percentage, 30 RBI and 52 hits with nine stolen bases. He's one of two returning Buckeyes to bat better than .300 last season, along with shortstop Zach Dezenzo.
Dezenzo—a Freshman All-American in his own right, two years before Kern—hit .302 with a team-best 11 doubles. His nine home runs and 31 RBI are tops among Ohio State returners.
The Buckeyes pitching rotation will undergo a facelift in 2022, featuring a variety of underclassmen getting their first opportunities.
Pitt
Pitt opened last season at the Snowbird Classic, taking 2-of-3 from Indiana State. That was the launching point for a strong opening month for the Panthers, which also included a series sweep of top 10-ranked national powerhouse and Atlantic Coast Conference counterpart Florida State.
Pitt cooled as the season went on, but the Panthers have reason for lofty expectations in 2022. Sky Duff headlines what should be a dark-horse contender in the ACC, coming off a 2021 campaign in which he hit .366 with a .461 on-base percentage.
Veteran right-handed pitcher Matt Gilbertson figures to be one of the leading aces in the ACC this season. Gilbertson threw 85 innings in 2021 en route to nine wins and 72 strikeouts.
A Month Of Action
Plenty more teams pass through the Suncoast for the Sunbird Classic, including Marshall. The Thundering Herd appear in the Sunbird's first two weekends, playing Ohio State, a doubleheader against BYU and wrapping up with Indiana State before returning to competition on Feb. 25.
Marshall takes on St. Bonaventure and Northeastern in a pair of games each.
The Bonnies and Huskies join Indiana State and Merrimack for the Feb. 25-27 slate. The following weekend, Div. III teams take center stage, led by No. 3-ranked Marietta College. Marietta is coming off a 38-6 finish to the 2021 season and returns home-run leader Drew Holderbach.
Misericordia, which also made the Collegiate Baseball preseason top 20, is part of the March 5-12 field. Marietta and Misericordia meet on March 8.
The final weekend again features NCAA Div. I competition with North Dakota State and Fairfield, meeting for a three-game series on March 18 and 19.