2022 Karbach Round Rock Classic
With Focus On Baseball, Stanford's Brock Jones Eyes Another Trip To Omaha
With Focus On Baseball, Stanford's Brock Jones Eyes Another Trip To Omaha
Jones is considered a potential five-tool player by scouts and draft experts, who believe he could be a high first-round pick in the 2022 MLB draft.
Feb 2, 2022
by Stephen Kerr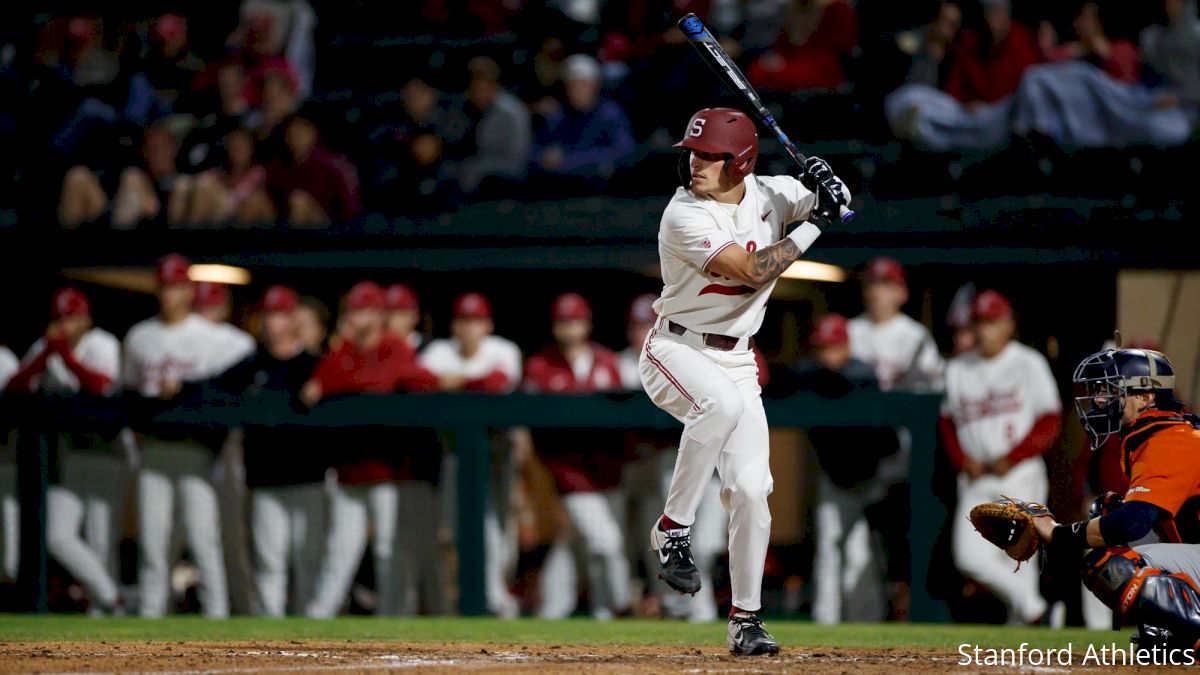 When Stanford junior outfielder Brock Jones was selected to play for USA Baseball's Collegiate National Team last summer, he quickly discovered there is truth to the adage, "you can't judge a book by its cover".
The 6-foot, 197-pound left-handed-hitting Fresno, California native isn't normally prone to hanging out with opponents away from the field. But being on the same team with players he faced during his first two seasons in college showed him that his rivals are simply out to accomplish the same goal he is: win.
"I was talking to Jace Jung, for example, from Texas Tech, and when we were at the Super [Regional Tournament], I was like, I just don't like this kid," Jones said during an interview with the Stanford Daily. "And after USA, it's like, now we're texting every day."
Jones was one of 48 players selected to the team, and the 43rd different Stanford player to receive the honor. In 11 games, he hit .242 with three homers, eight RBI, five runs scored and a triple. It was a valuable experience, complete with a game against the U.S. Olympic Team.
"It was definitely a once-in-a-lifetime kind of opportunity to experience for me, being around a bunch of athletes similar to myself all around the country and the amazing coaching staff that we had," Jones told TSD.
With the offensive numbers he put up in 2021, Jones hasn't exactly made friends with opposing pitchers. Starting all 56 games for the Cardinal, he hit safely in all but five. His slash line was .311/.453/.646 with 56 runs scored, 13 doubles, a triple and 14 stolen bases. He had a team-best 62 RBI and 18 home runs to rank first in the Pac-12 and 16th nationally. His slugging percentage was third-best in the conference, and his 49 walks led the team and ranked third in the Pac-12 and 11th in the country.
Jones earned Baseball America, D1Baseball and Perfect Game second team All-America honors. Stanford advanced to the College World Series for the first time since 2008. Jones kept up his torrid pace during the postseason, hitting .361 with five homers and 18 RBI, the most RBI of any player during the tournament.
After dropping the CWS opener 10-4 to North Carolina State, the Cardinal routed Arizona 14-5 before losing 6-5 to Vanderbilt, ending Stanford's season. Jones made the CWS All-Tournament Team, batting .429 with two homers, eight RBI and three runs scored. He also had a pair of multi-hit games in Omaha, including 3-for-4 with a homer, three RBI and a double in the loss to Vanderbilt.
In their final CWS game, the Cardinal clung to a 5-4 lead until two outs in the ninth, when Vanderbilt loaded the bases before a game-tying single and wild pitch off senior Brendan Beck gave Vandy the win.
As crushing as the loss was, the overall success of the season wasn't lost on Jones. It was certainly an improvement over 2020, when the Cardinal finished 5-11 during the pandemic-shortened season.
"This loss is not on (Beck) whatsoever," Jones told Baseball America. "He's one of the biggest reasons why we were able to even get this far. We can't expect him to be perfect. We can't expect anybody to be perfect on this team. And it's baseball. It happens."
Baseball wasn't Jones' ultimate dream growing up. A two-sport star at Buchanan High School, he envisioned himself playing in the NFL one day. It wasn't until he began drawing attention from scouts before the 2019 MLB draft that he began to take his baseball talents more seriously.
Jones was a three-time All-Valley selection in both sports. A Perfect Game All-American, he led NorCal Baseball to the Perfect Game national championship in 2018.
"It helps to go through the draft process in high school," Jones told Baseball Prospect Journal expert Dan Zielinski III.
"Sometimes, it did get the best of me because I wasn't very mature. Now I know I'm not playing for them. There were moments when I thought I had to please this person or that person in high school. I know I need to be myself and go play, and the rest will take care of itself."
Despite his baseball success, Jones insisted on playing both sports while being recruited by Stanford and other schools.
"I kind of made it known to the staff that I wanted to come in and play both," he said in a video for Pac-12.com. "Stanford luckily was one of those spots that would allow me to do it."
BUH BYE BASEBALL.
💪 @BR0CKJONES
📺 » @espn#GoStanford pic.twitter.com/x5WVTosWpX

— Stanford Baseball (@StanfordBSB) June 23, 2021
Jones played in all 11 of the football team's games, mostly on special teams and at safety. In baseball, he started in all 16 games during the shortened season, hitting .228 with a homer, four RBI and five runs scored. After the season, Jones decided to concentrate exclusively on baseball.
"I'm very thankful that I went and (played football), because obviously I got to be around the whole football team and got to play a little bit, which was awesome," he said in the Pac-12 video. "Needless to say, I'm very happy just doing baseball now."
So is Stanford head baseball coach David Esquer, who helped the Cardinal win a national championship as a player in 1987. He believes the decision is what put Jones on the map as one of college baseball's best players.
"Just watching him to be able to perform and grow, where he was a year ago when he was just starting to concentrate on baseball and at this level, and it wasn't easy—and to watch him just put in the time and effort and just be selfless and humble and work really hard," Esquer told Baseball America.
Jones is considered a potential five-tool player by scouts and draft experts, who believe he could be a high first-round pick in the 2022 MLB draft. He's No. 4 in the MLB Best 2022 college Draft prospects rankings, with a below-average arm being the only question mark. Mostly platooning between left and center field the past two seasons, Jones is projected to play center most of the 2022 season.
Offensively, his ability to hit for power and average from the left side makes him especially attractive to scouts. He's particularly dangerous with runners on base. Last season, he batted .356 with runners in scoring position, .385 with the bases loaded, and drove in 22 runs with two outs.
When asked to name his biggest strength, Jones doesn't point to any of his offensive or defensive skills.
"It's a mindset for me," Jones told Zielinski. "Having confidence in myself is probably one of my biggest strengths. Just being confident in times of struggle is important. It is a game of failure, and you are going to fail seven times out of 10 and still be one of the best in baseball."
Jones will have plenty of help around him this season as Stanford looks to get back to Omaha. Outfielder Eddie Park, third baseman Drew Bowser, shortstop Adam Crampton and catcher Kody Huff are all back from last year's squad. Even with Beck gone, the pitching staff has more seasoning with the return of sophomore righthanders Joey Dixon, Brandt Pancer, and Tommy O'Rourke, along with lefthander Drew Dowd.
A Collegiate Baseball and Perfect Game first-team preseason All-American coming into the season, Jones is putting the end of last year's heartbreak behind him.
"I'm proud of a lot of things that this team did, obviously making it this far," he told Baseball America. "But, you know, we can always do more. And there's more work to do. And I think next year we're going to go even further."