2022 Sanderson Ford College Baseball Classic
Sanderson Ford Classic: Oregon State Looks For Strong Start In The Desert
Sanderson Ford Classic: Oregon State Looks For Strong Start In The Desert
Oregon State, Gonzaga, Xavier and New Mexico will look to start their seasons off on the right foot as they come together for the Sanderson Ford Classic.
Jan 28, 2022
by Briar Napier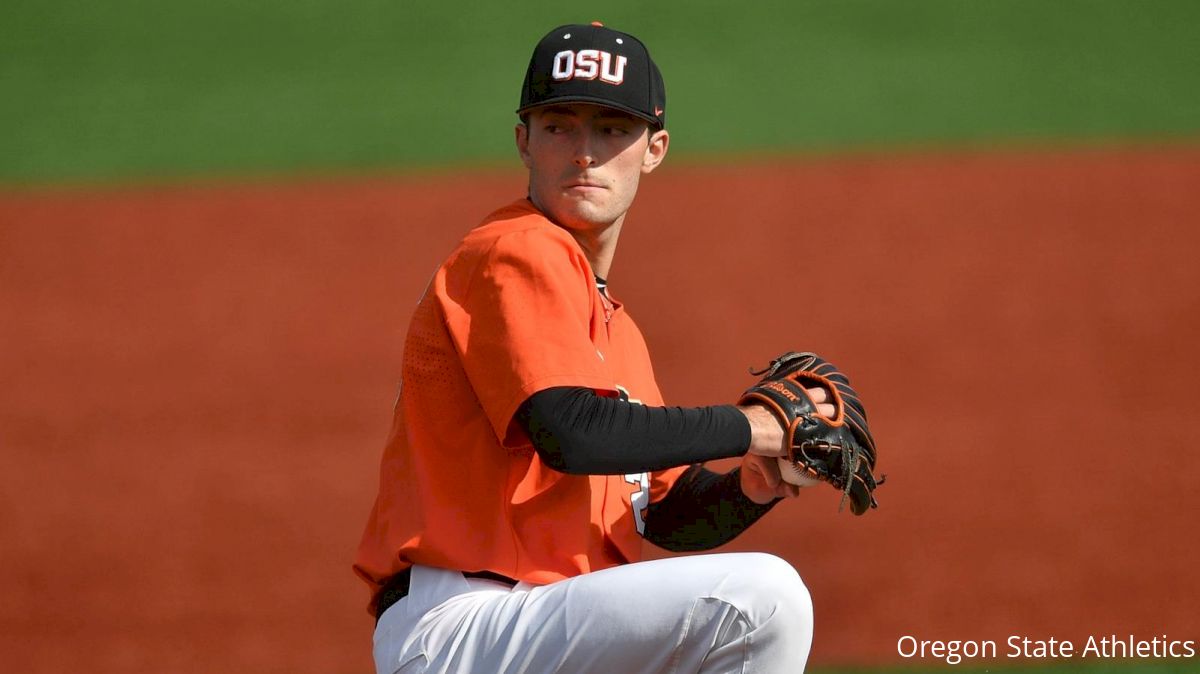 If the winter near you is getting ice-cold, there's little better than elite college baseball to warm you up.
And there are few places warmer in the United States than Surprise, Arizona, where a quartet of teams will duke it out in the desert this February in the Sanderson Ford Classic—of which all the games can be streamed on FloSports.
A few weeks before the Texas Rangers and Kansas City Royals hope to begin spring training at Surprise Stadium—the collegiate teams in the event will battle over two consecutive weekends for a possible six different days to watch. In the sizzling early-season test, only one will stand tall.
What's to expect from the four teams at the Sanderson Ford Classic? Look no further as FloSports breaks down the personnel on each squad.
NOTE: All game start times are listed in Mountain Time and are subject to change.
Oregon State Beavers
Last season: 37-24 overall, lost in Fort Worth Regional to Dallas Baptist
The lowdown: Ranked No. 18 in the D1Baseball Preseason Top 25, Oregon State did lose an All-Pac 12 First Team selection from last season in catcher Troy Claunch, who ended up transferring to Texas A&M. But the Beavers have clearly reloaded—and kept enough talent on hand—to be a contender around the league and country. Left-handed sophomore pitcher Cooper Hjerpe stuck around Corvallis, and though his statline from last season (3-6, 4.21 ERA) may not look all that impressive, he did earn NCBWA National Pitcher of the Week honors last May for allowing just two hits over seven innings with 11 strikeouts against Pac-12 power Arizona. Clearly, those who cover college baseball like the potential the Californian brings, as he was named a Preseason Third Team All-American by Perfect Game earlier this month.
Elsewhere, Oregon State also holds the distinction of having the sixth-ranked incoming recruiting class in the country per Baseball America—the Beavers' first in the top 25 since 2016—that includes JUCO transfer catcher/infielder TJ Wheeler, who smacked 21 home runs last season for Yavapai College in Arizona.
Games in Sanderson Ford Classic:
vs. New Mexico at noon Feb. 18
vs. Gonzaga at noon Feb. 19
vs. Gonzaga at noon Feb. 20
vs. New Mexico at 5 p.m. Feb. 20
vs. Xavier (three-game series) at 1 p.m. Feb. 24, 1 p.m. Feb. 25 and 5 p.m. Feb. 26
Gonzaga Bulldogs
Last season: 34-19 overall, lost in Eugene Regional to Oregon/LSU
The lowdown: The defending West Coast Conference champions should be the favorites to repeat and get back into the postseason, and a strong showing at the Sanderson Ford Classic would certainly help the Bulldogs' case. The performances of right-handed pitcher Gabriel Hughes—named a Preseason Second Team All-American by Perfect Game—will likely play a major role in how successful its weekend in Surprise will go as the sophomore is expected to be the ace after the departure of WCC Pitcher of the Year Alek Jacob (now with the San Diego Padres organization).
The pair of over-.300 hitters from last season, Brett Harris and Ernie Yake, are gone, but sophomore catcher Stephen Lund was on pace at .300 to do so as a qualifying player before an injury ended his season. Despite playing just 31 games, the Wisconsin native tied for the team lead in home runs (6) as one of the few sources of power on a Gonzaga team that preferred to hit for contact in 2021.
Games in Sanderson Ford Classic:
vs. New Mexico at 5 p.m. Feb. 18
vs. Oregon State at noon Feb. 19
vs. New Mexico at 5 p.m. Feb. 19
vs. Oregon State at noon Feb. 20
Xavier Musketeers
Last season: 28-26 overall, no postseason
The lowdown: Xavier got a massive boost back to its lineup in the offseason when All-BIG EAST First Team shortstop Jack Housinger opted to return for a final season in Cincinnati after leading the team in doubles (17) and runs scored (37). He's one of four Musketeers on the Preseason All-BIG EAST Team—tied for the most in the league, along with Creighton—all of which are either seniors or grad students—catcher Jerry Huntzinger, first baseman Luke Franzoni and outfielder Andrew Walker.
Xavier's pitching staff was around the middle of the country last season with a 4.85 ERA, with left-handed graduate student Trevor Olson showing promising signs with a 2.97 ERA and 50 strikeouts in 63⅔ innings pitched in 2021. He could be coach Billy O'Conner's top starter in 2022 with Nick Zwack, who started a team-high 14 games last season, having been drafted and signed into the New York Mets organization.
Games in Sanderson Ford Classic:
vs. Oregon State (three-game series) at 1 p.m. Feb. 24, 1 p.m. Feb. 25 and 5 p.m. Feb. 26
New Mexico Lobos
Last season: 16-24 overall, no postseason
The lowdown: The Lobos were below-average as a whole last season, but will especially miss the consistency in the lineup of Mountain West Conference batting champion, Kyler Castillo, who signed with the Miami Marlins organization in the offseason. He and the also-departed Mack Chambers combined for 71 of the Lobos' total 237 RBI in 2021, leaving a hole in production on the offensive front headed into this season.
But new coach Tod Brown has opted to go the transfer route—particularly with college-experienced players—to attempt to fill the gaps. Perfect Game ranked New Mexico's junior college transfer class as the 20th-best in America (as one of just five non-Power 5 teams to make the list), while players such as Kansas State transfer Kamron Willman—who started 44 games for the Wildcats last year—bring plenty of talent to the lineup, as well. On the mound, the loss of reigning Mountain West Pitcher of the Year Justin Armbruester is a tough pill to swallow, though there's some serious retooling coming throughout the rotation, as over half of the pitchers on the Lobos' roster (11 of 21) are new faces.
Games in Sanderson Ford Classic:
vs. Oregon State at noon
vs. New Mexico at 5 p.m. Feb. 18
vs. Gonzaga at 5 p.m. Feb. 19
vs. Oregon State at noon Feb. 20