2022 State Farm College Baseball Showdown
Arizona Baseball Preview: Will Chip Hale's Tenure Start With Success?
Arizona Baseball Preview: Will Chip Hale's Tenure Start With Success?
It's next man up at Arizona, having lost a slew of players to the MLB draft and transfer portal.
Jan 26, 2022
by Briar Napier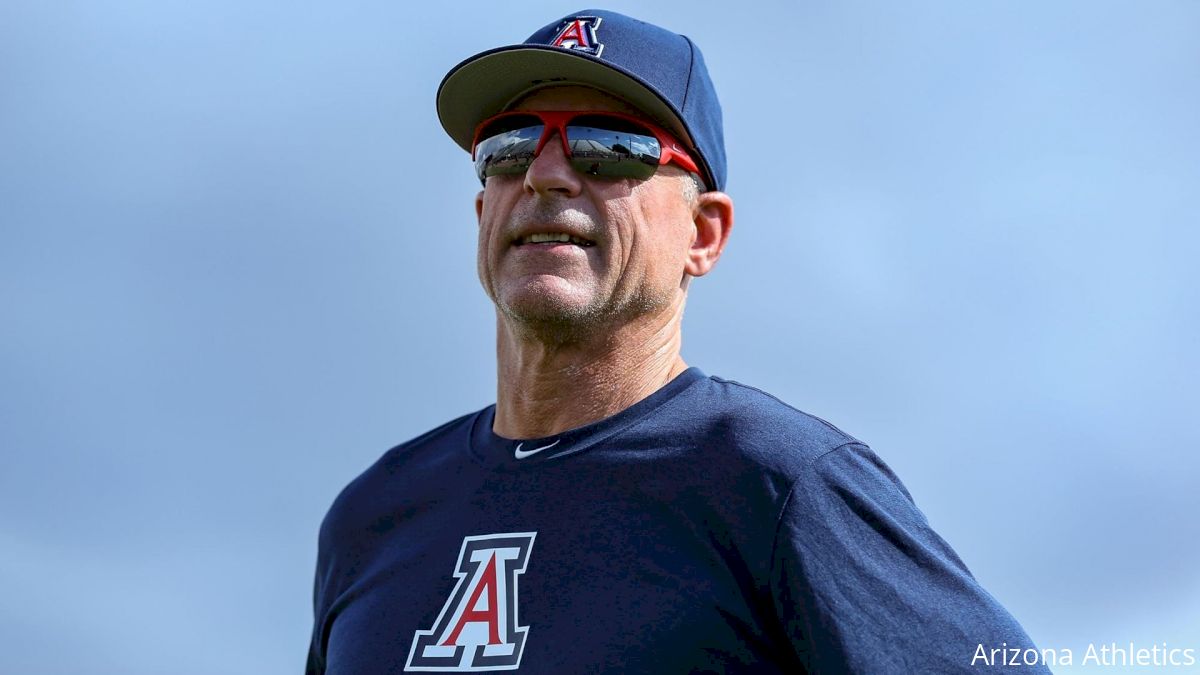 In the immediate aftermath of Arizona's 18th College World Series appearance in program history, the school got a shock to its system.
Coach Jay Johnson, who spent six years in Tucson and led the Wildcats to two of those trips to Omaha, suddenly abandoned ship to the Bayou and LSU. With seven players having left for the MLB Draft and much reassurance to players needed as uncertainty about the head spot loomed, UA decided to stick with a guy that's been there, done that in the blue and red uniform before.
That man is Chip Hale, one of the most successful players ever at Arizona, with a few school records still standing. With a long track record in coaching (but importantly, not collegiately), he'll usher in a new era as a known persona around the program.
Just what will Hale have in store for the season ahead? Look no further, here's what to watch for in Arizona baseball in 2022.
Hitting
This year might just be the season when Daniel Susac becomes a bonafide legend in Tucson. The Californian catcher was a phenom in his first year with the Wildcats, earning National Co-Freshman of the Year honors from Collegiate Baseball while being an easy pick for the Pac-12 version of the same award. He batted .335 with 12 home runs and 65 RBI. His return is a massive jolt in the arm for a program that is missing a lot of personnel from last season due to the MLB Draft or the transfer portal.
Infielder Nik McClaughry (.316 avg., 32 RBI) could see an increased role from the departures, as could outfielder Mac Bingham (.305 avg., 33 RBI). But Hale's first freshman class at the helm of his alma mater will be a huge driver in the trajectory of the program for years to come. On offense, only outfielders Matty Clark and David Shackelford were holdouts from Johnson's recruiting class, but Clark especially was a major piece to keep. The California native was named the No. 95 overall recruit in the country by Prep Baseball Report, notching 10 RBI in 17 games while playing in the West Coast League as an 18-year-old against mostly college-aged opposition last summer.
Pitching
Right-hander Chase Silseth, who went 8-1 with 105 strikeouts a year ago, left college to sign with the Los Angeles Angels' organization. That opens the door for senior left-hander Garrett Irvin—one of just four seniors on the Wildcats' roster—to be the new ace in the rotation. The question with Irvin, however, is what type of player shows up under pressure: Is it the Tucson Regional MVP version that threw a three-hit, complete-game shutout against UC Santa Barbara, or the version that allowed five earned runs in 2½ innings in a CWS eliminator against Stanford?
Arizona's pitching, meanwhile, was merely OK by Pac-12 standards (4.60 ERA, tied for fifth in the league) but could improve mightily this season thanks to a familiar surname. Freshman right-hander Anthony Susac—cousin of star catcher Daniel—could be in store for just as good of a first year at Arizona as his forbearer, especially considering pro scouts are already eyeing the 6-foot-3 hurler: Baseball America ranks him as the No. 39 overall MLB Draft prospect in the 2021 class. New face Josh Randall could join him as an instant impact on the mound. The right-hander was the No. 77-ranked player nationally by Perfect Game and clocks in with a 95-mph fastball.
X-Factor
The most glaring omission from Arizona's roster from this past season isn't any of the players it lost to the MLB Draft or transfer portal, but rather the coach it lost in Johnson. In steps Hale as a familiar face in town. A program legend in Tucson that's still the school's all-time leader in hits and was a key member of the Wildcats' national championship in 1986. Hale knows the program inside and out, but importantly is returning back to the college level, as both a player or coach, for the first time since being drafted to the majors in 1987.
Hale is by no means inexperienced—he's coached in the big leagues in some form since 2007, including a two-year stint managing the Arizona Diamondbacks—but with the added strain of recruiting on top of leading one of the most storied programs in college baseball history, it'll be a unique challenge for one of the school's best-ever players. With the Wildcats ranked No. 15 in the opening D1Baseball Top 25 of the year, it'll be important for Hale and Arizona to get out on the right foot early on, particularly as they vie for a Pac-12 title challenge (and another potential date to the CWS) with the likes of Stanford and Oregon State, among others.