2022 Globe Life Field College Baseball Showdown
State Farm College Baseball Showdown: Arizona, Texas Tech Look Strong
State Farm College Baseball Showdown: Arizona, Texas Tech Look Strong
Globe Life Field will play host to a nine-game weekend of college baseball at one of the MLB's newest ballparks.
Jan 21, 2022
by Briar Napier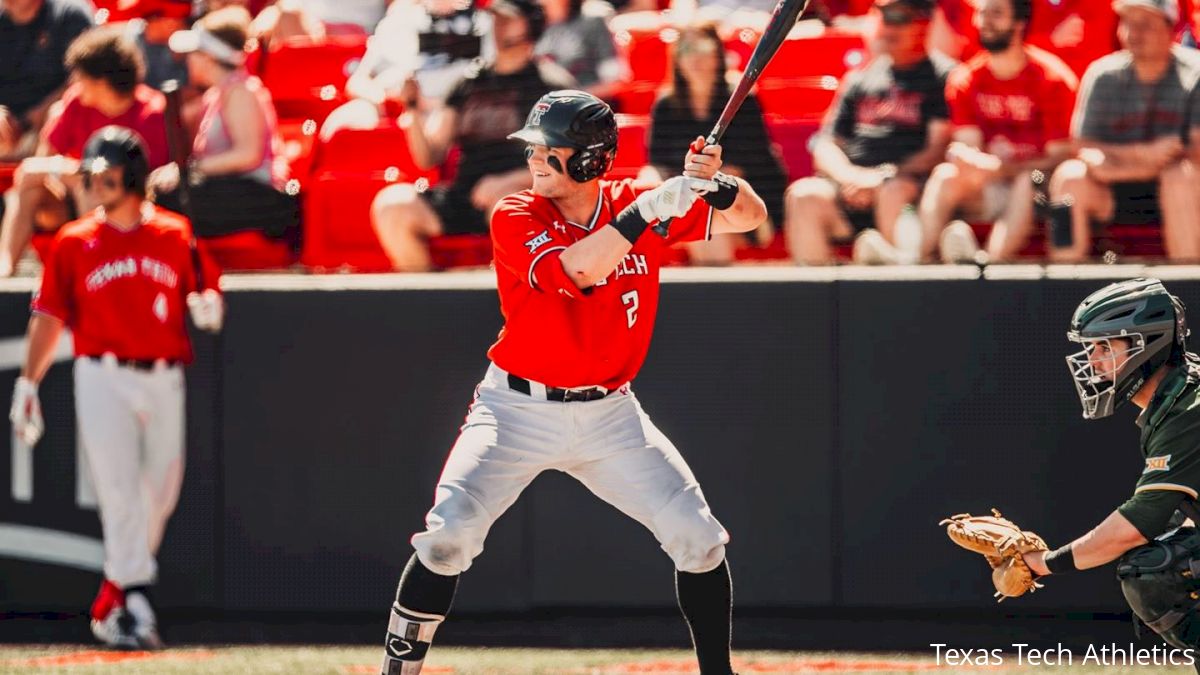 Every college baseball player has a dream of making it to the big leagues one day.
For three days in mid-February, six teams will get a taste of the big time.
The State Farm College Baseball Showdown from Feb. 18-20 at Globe Life Field in Arlington, Texas—the home of the MLB's Texas Rangers—will play host to a nine-game weekend of college baseball at one of MLB's newest ballparks. Some of the most historically successful programs in America were brought in, with the Showdown schools combining for 45 College World Series appearances and eight national titles between them.
Can't make it to the Lone Star State for one of the most stacked early-season events on the college baseball calendar? FloBaseball has got you covered as all games will be streamed live in their entirety.
Check out who and what to watch for on every team doing battle in Texas:
NOTE: All games are Central Time and are subject to change.
Arizona Wildcats
Last season: 45-18 (21-9 Pac-12), lost in College World Series to Vanderbilt/Stanford
The lowdown: After another College World Series appearance for one of the country's most storied programs, 2022 is undoubtedly going to be an adjustment year for the Wildcats, but they still command respect as the No. 15 team in the Preseason D1Baseball Top 25 released Tuesday. Seven UA players from last year's team were selected in the MLB Draft, all of which moved on to the pros, while coach Jay Johnson left in the offseason to take the head role at LSU. Enter new coach Chip Hale, already a legendary and respected figure in Tucson as the program's all-time leader in games played and hits as a member of the Wildcats' 1986 national title team. He inherits a young team that has just four seniors, but also the reigning Pac-12 Freshman of the Year in catcher Daniel Susac (.335 avg., 12 home runs, 65 RBI) and a solid returning duo of starting pitchers in sophomore Chandler Murphy (7-0, 4.29 ERA) and senior Garrett Irvin (6-4, 4.58 ERA).
Games at Globe Life Field:
vs. Kansas State at 3 p.m. Feb. 18
vs. Oklahoma at 7 p.m. Feb. 19
vs. Texas Tech at 2:30 p.m. Feb. 20
Texas Tech Red Raiders
Last season: 39-17 (14-10 Big 12), lost in Lubbock Super Regional to Stanford
The lowdown: Sophomore second baseman Jace Jung has raw power that few in college baseball matched last season, finishing tops in the Big 12 and tied for fourth nationally last season with 21 home runs en route to the Big 12 Player of the Year award and First Team All-America. Bad news for the rest of the Big 12: Jung is back for Round 2. Named a First Team Preseason All-American by Collegiate Baseball Newspaper, Jung is the engine behind the No. 14-ranked Red Raiders, who should contend with Arizona as favorites of the Showdown. Pitching may need to prove itself, however, especially after All-Big 12 Second Team nod Micah Dallas transferred to Texas A&M. Look out for transfer right-hander Andrew Morris, who was a stud at Division II Colorado Mesa: Morris went 18-2 in his D-II career with a 3.23 ERA as he was named a Second Team All-American.
Games at Globe Life Field:
vs. Michigan at 7 p.m. Feb. 18
vs. Auburn at 3 p.m. Feb. 19
vs. Arizona at 2:30 p.m. Feb. 20
Michigan Wolverines
Last season: 27-19 (27-17 Big Ten), lost in South Bend Regional to UConn/Central Michigan
The lowdown: Did the Big Ten's one-season, pandemic-influenced rule that league teams couldn't play non-conference opponents in 2021 hurt the Wolverines in the postseason? Michigan finished the year having played just two teams ranked in the D1Baseball Top 25 and were trounced early in the NCAA Tournament once it saw unfamiliar opposition. Regardless, the Wolverines should have the horses returning to be right in the thick of the Big Ten title race—and NCAA Tournament qualification—again. Getting All-Big Ten First Team second baseman Ted Burton (.342 avg./.434 OBP/.667 SLG) back, Michigan's leader in all three slash line categories, was big news for coach Erik Bakich's team after a breakout sophomore season. Junior right-hander Cameron Weston (7-4, 2.81 ERA) could easily evolve into one of the league's top throwers after an All-Big Ten Second Team selection in 2021. Are they enough for the Wolverines to go on another magical postseason run like they did two years ago in Omaha, when they finished runners-up behind national champions Vanderbilt?
Games at Globe Life Field:
vs. Texas Tech at 7 p.m. Feb. 18
vs. Kansas State at 11 a.m. Feb. 19
vs. Oklahoma at 6:30 p.m. Feb. 20
Kansas State Wildcats
Last season: 34-23 (10-14 Big 12), lost in Big 12 Tournament to TCU
The lowdown: The Wildcats brought plenty of power to the diamond last year, finishing second in the Big 12 both in home runs (89) and slugging percentage (.479). K-State had five double-digit homer hitters last year, two of which are returning in junior outfielder Dylan Phillips (16 home runs, 58 RBI) and sophomore infielder Nick Goodwin (10 home runs, 33 RBI), though Phillips' power is of historic proportions. The 16 long shots tied the K-State single-season record and he's now just seven shots away from breaking the school's career record. On the mound, losing ace hurler and All-Big 12 First Team nod Jordan Wicks (6-3, 3.70 ERA, 118 strikeouts) hurts for the rotation, though it also leaves a door open for redshirt sophomore Connor McCullough (5-4, 4.77 ERA)—a one-time Big 12 Pitcher of the Week this past April—to grow into K-State's top starter this year.
Games at Globe Life Field:
vs. Arizona at 3 p.m. Feb. 18
vs. Michigan at 11 a.m. Feb. 19
vs. Auburn at 10:30 a.m. Feb. 20
Oklahoma Sooners
Last season: 27-28 (11-13 Big 12), lost in Big 12 Tournament to Texas
The lowdown: Former Sooner and reigning Big 12 batting king Tyler Hardman (.397 avg. in 2021) is now in the New York Yankees' minor league system, and combined with fellow departure Conor McKenna, the duo take a combined 98 of the Sooners' 342 total RBI from last season with them. Redshirt sophomore infielder Peyton Graham is the next man up to fill the production gap after finishing third on the team, behind Hardman and McKenna, in home runs (11) and batting average (.288). However, it was pitching that really did the Sooners in and contributed to many losses in 2021. Oklahoma was last in the Big 12 in ERA (5.84) and let through a whopping 74 home runs, 23 more than the next-highest league team. There are some bright spots on the bump in the Sooners' freshman class, however, such as with right-handed hurler Keegan Allen, rated as the No. 2 overall prospect in Arkansas his senior season.
Games at Globe Life Field:
vs. Auburn at 11 a.m. Feb. 18
vs. Arizona at 7 p.m. Feb. 19
vs. Michigan at 6:30 p.m. Feb. 20
Auburn Tigers
Last season: 25-27 (10-20 SEC), lost in SEC Tournament to Ole Miss
The lowdown: The Tigers were among the SEC's leaders last season in a few different hitting categories (such as being No. 1 in slugging percentage and fewest strikeouts) while playing in likely the most stacked league in college baseball. Yet the team finished second-to-last in the SEC West while being bounced in their first game of the postseason. How? Well, Auburn's pitching wasn't great. Coach Butch Thompson's team, two years after a College World Series appearance, had the second-worst ERA (5.24) in the league and managed just eight saves, also the SEC's second-least last year. Sure enough, seven of the 10 true freshmen on the roster can pitch, so expect plenty of new faces in the Auburn rotation. As All-SEC Second Team shortstop Ryan Bliss left to be a second-round MLB Draft pick, look for someone like senior center fielder Kason Howell (.260 avg., 12 doubles, 30 RBI) to try and fill the voids left by the now-Arizona Diamondback.
Games at Globe Life Field:
vs. Oklahoma at 11 a.m. Feb. 18
vs. Texas Tech at 3 p.m. Feb. 19
vs. Kansas State at 10:30 a.m. Feb. 20