2021 High Point-Thomasville HiToms vs Forest City Owls - DH, Game 1
Reigning CPL HOY Hogan Windish Showing Off Power Stroke Once Again
Reigning CPL HOY Hogan Windish Showing Off Power Stroke Once Again
High Point-Thomasville Hi-Toms slugger Hogan Windish leads the CPL in home runs and RBIs. Will he repeat CPL Hitter of the Year in 2021?
Jun 23, 2021
by Andre Fernandez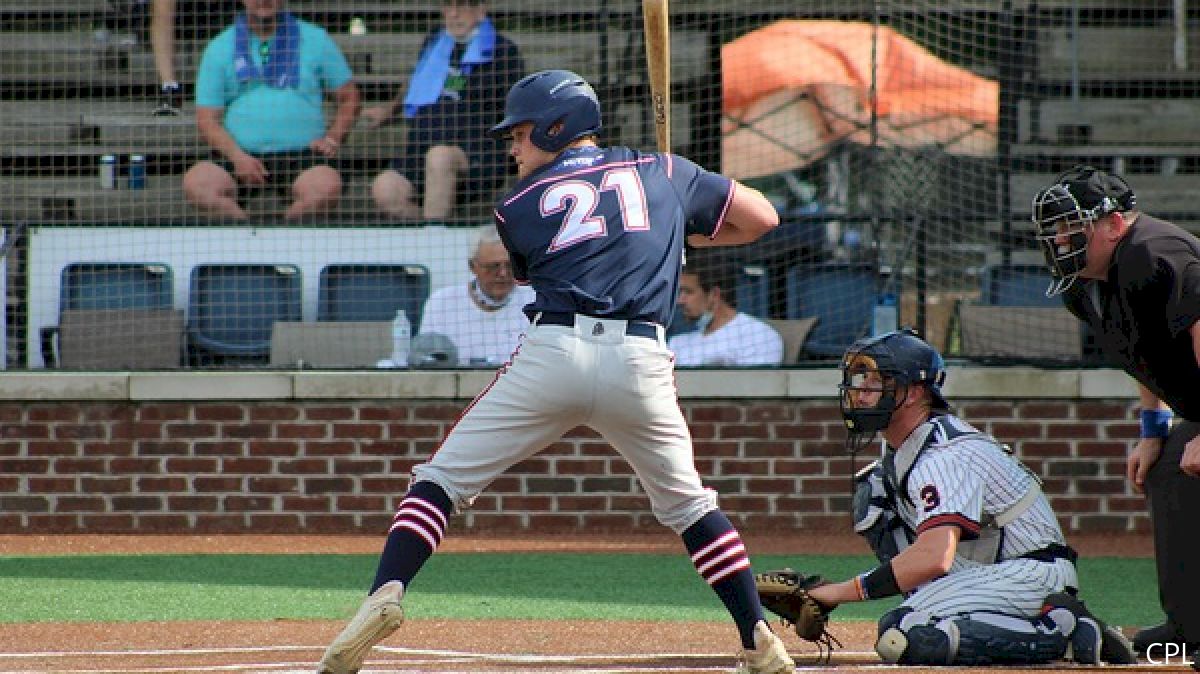 When he's played golf, Hogan Windish loves the sweet feeling of hitting a ball perfectly off the tee and watching it soar through the air.
Windish, who is playing for the High Point-Thomasville Hi-Toms in the Coastal Plain League this summer, compared that feeling to when he crushed a baseball 480 feet for the league's longest recorded home run distance.
1⃣1⃣2⃣ mph off the bat
4⃣8⃣0⃣ feet

GRAND SLAM!

Yep, you read that right. My goodness Hogan Windish. 💪 @UNCGBaseball #HometownHiToms pic.twitter.com/8MKxXWcRrA

— High Point-Thomasville HiToms (@HTHiToms) June 12, 2021
"That one felt different off the bat," said Windish, who hit that homer on June 11th in a game against the Martinsville Mustangs. "It felt like when you hit a golf ball off the tee box and it just looks perfect 325 yards. I've never hit one like that. I've had good shots but nothing like that."
Windish, a redshirt junior this past season at UNC Greensboro, is picking up right where he left off last summer in his first season in the CPL.
Windish, a 6-1, 225-pound infielder, is the reigning CPL Hitter of the Year after batting .447 last season with six home runs and a league-high 37 RBI in 2020.
This season, Windish has already hit six home runs in his first 49 at-bats (14 games).
As of last weekend, Windish is hitting .367 and once again displaying his power and ability to drive in runs at the heart of a lineup with a league-high 21 RBI.
His blast to left-center field two weeks ago was the longest on record since the CPL began using TrackMan in 2019 to record home run distance.
Windish, a second-team Southern Conference selection this past season in college ball, said he's benefitting from the experience of playing some high-level competition from around the country as he prepares for the possibility of being drafted this summer.
"It's been good to see different players and just see how they prepare," Windish said. "For me, it's just about getting good at-bats and continuing to see the ball well."
Windish started 52 games for the Spartans this past season leading them to a 27-25 record. He finished tied for fifth in the conference with 51 RBI and hit 10 home runs while batting .280. Windish also led the conference in being hit by pitches with 21.
Windish said the competition from playing a tough non-conference schedule which included College World Series qualifiers Tennessee, N.C. State, as well as NCAA tournament teams, Duke, Charlotte, and North Carolina helped him hone his approach at the plate.
"Getting to play a lot of good teams and seeing their pitching, which is top-tier stuff, is helpful and was a real confidence booster," Windish said.
Still, one of Windish's main goals during this CPL season is to continue to improve his plate discipline, especially with two strikes. Windish struck out 64 times and walked 25 this past season at UNCG.
Although school ball and summer ball can have their differences, Windish said he's faced comparable pitching so far and that it's really more about him continuing to see the ball well.
"If I can put more balls in play, the power is there and I can get more hits out of it especially in opportune moments at the time," Windish said.
Windish, who grew up admiring shortstops such as Brandon Crawford and Ozzie Smith, played that position while at Ashe County High in West Jefferson, N.C.
But this summer season, Windish has been playing primarily in left field, something he also did in 2020 during his first year in the CPL.
"I just had to get back into the groove of tracking balls down and getting used to playing the position again," Windish said.
When he's playing in the infield, Windish wants to work on his effectiveness in turning double plays when it comes to receiving the ball and transitioning it from the glove to his hand for throws to first.
The goal is to become as versatile as possible and increase his value should a major-league club select him in next month's MLB draft.
"That's one of the biggest reasons I decided to play this summer so someone hopefully will give me a call or maybe sign on as a free agent," Windish said. "I can play second and third, short. I'm just trying to be every option possible so people know I'm on the radar and can play every position possible."