Coastal Plain League
Tri-City's Cade Swisher Hopes To Emulate Idol, CPL Alum Ryan Zimmerman
Tri-City's Cade Swisher Hopes To Emulate Idol, CPL Alum Ryan Zimmerman
Virginia Tech alum Cade Swisher, now in the Coastal Plain League with the Tri-City Chili Peppers, has his sights set on big things.
Jun 12, 2021
by Andre Fernandez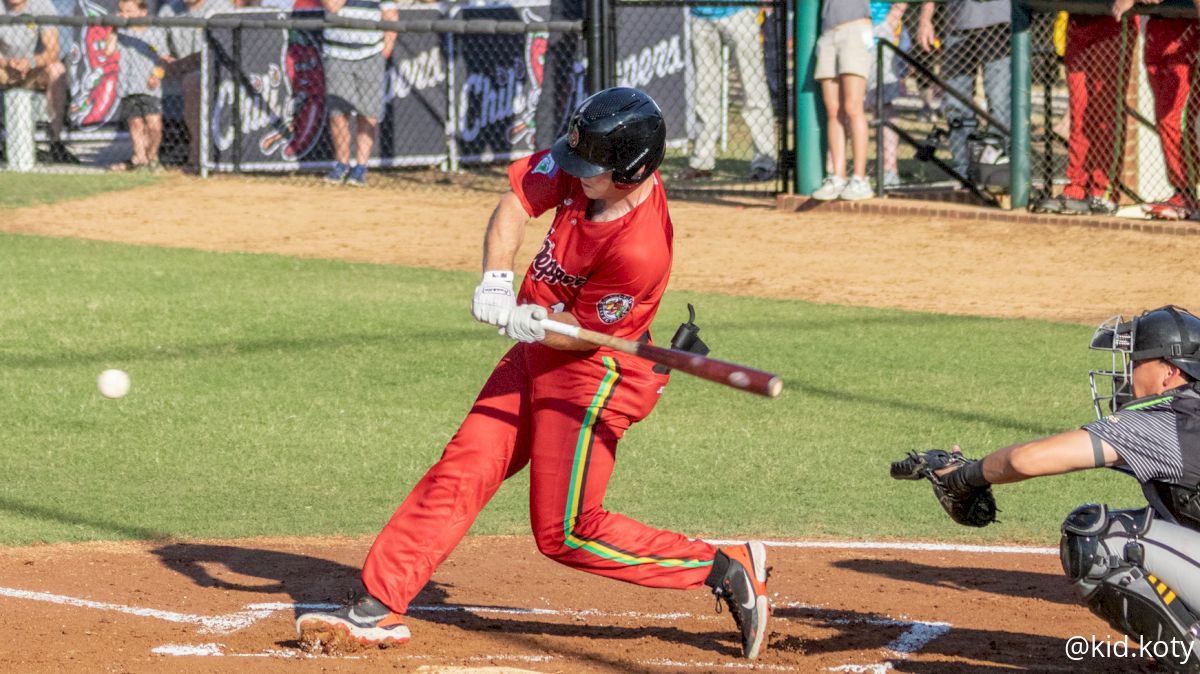 Cade Swisher doesn't have any famous uncles named Nick, who played in the major leagues.
Although he does play right field like the former All-Star did a lot during his 11-year career.
"Not as far as I know," Swisher said with a laugh. "People ask me that a lot though."
Cade Swisher is trying to follow in the footsteps of another successful major leaguer he idolized growing up in Chesterfield, Virginia.
And like Nationals third baseman Ryan Zimmerman, whose career path came through the Coastal Plain League once, Swisher is off to a great start in his debut in the annual summer league.
Swisher, the starting right fielder and No. 2 hitter in the Tri-City Chili Peppers' lineup, earned Hitter of the Week honors this past week after hitting .500 (12-for-24) with a home run, three doubles and six RBI.
Swisher, a redshirt freshman at Virginia Tech, is coming off his first full season with the Hokies and hopes the experience this summer in the CPL will springboard him to a solid collegiate career and a shot to play at the next level.
"Going into the summer, it's good to keep playing and keep some momentum rolling against good competition," Swisher said. "It's given me the chance to keep playing every night and working on some things."
Swisher grew up playing shortstop and second base and idolized Zimmerman since the Nationals were his favorite team. Zimmerman is one of several notable MLB active or former players who played in the CPL along with Justin Verlander, Kevin Youkilis, Chris Taylor and Mark Reynolds.
"I always respected him and the way he goes about his business and carries himself," Swisher said.
Swisher, who played in the Cal Ripken League in Maryland after his senior year at Cosby High School, is playing in the CPL for the first time.
Swisher was an All-State infielder for Cosby High in Chesterfield, Virginia before signing with Virginia Tech. He transitioned to the right field in college and did not commit an error during his first full season in 2021.
But his numbers at the plate didn't look as good as he struggled with finding consistent rhythm at the plate.
"I had my ups and downs, but I'd say I learned a lot in my first full year," said Swisher, who began playing for Tri-City a little over two weeks ago after the Hokies finished ACC tournament play. "I did some good things at the plate, but there were stretches that didn't go so well. So far (in the CPL), it's just seeing fastballs and being aggressive, and not taking pitches I need to be swinging at."
After making his collegiate debut and appearing in five games during the pandemic-shortened 2020 season, Swisher started 30 games and played in 39 for the Hokies this past season. The Hokies went 27-25 and did not make it to the NCAA tournament.
Although he made consistent contact, Swisher only hit .231 in 104 at-bats with two home runs, nine doubles and 19 RBI.
Swisher did, however, show a solid approach for the most part as he drew 19 walks and struck out 31 times.
Swisher said the experience facing some tough pitching on a consistent basis in the Atlantic Coast Conference prepared him for the competition he's going up against this summer.
"We faced some really good arms night in and night out and some really good ball clubs," Swisher said. " We were ranked and competitive with a lot of ball clubs so that prepares you well."
Swisher has given Tri-City a formidable outfield along with center fielder Wilson Galvan, a South Carolina transfer via Howard College in Texas.
Lockhart, who was the hitting coach for the Martinsville Mustangs prior to coaching Tri-City, immediately hit Swisher second in his lineup this season seeing his prolific bat produce runs consistently.
"I know the results didn't really show too much for him this season," said Tri-City coach Taylor Lockhart. "But if you look at the film, even when he's not getting hits, Cade was putting together solid at-bats. Even with two strikes, you can trust him with the best of them. Here, those hits are falling and he's driving the ball. Whether they fall or not, he's taking solid at-bats and that's what you want to see out of your elite hitters."
---
Andre has covered baseball at the high school, college and both minor-league and major-league levels for the past 15 years for multiple publications including the Miami Herald, the Athletic and Baseball America. You can follow him at @FernandezAndreC on Twitter.