Coastal Plain League
The Definitive Team-By-Team Coastal Plain League Preview
The Definitive Team-By-Team Coastal Plain League Preview
Everything you need to know as you dive into the beginning of the 2021 Coastal Plain League season.
Jun 7, 2021
by Michael McCleary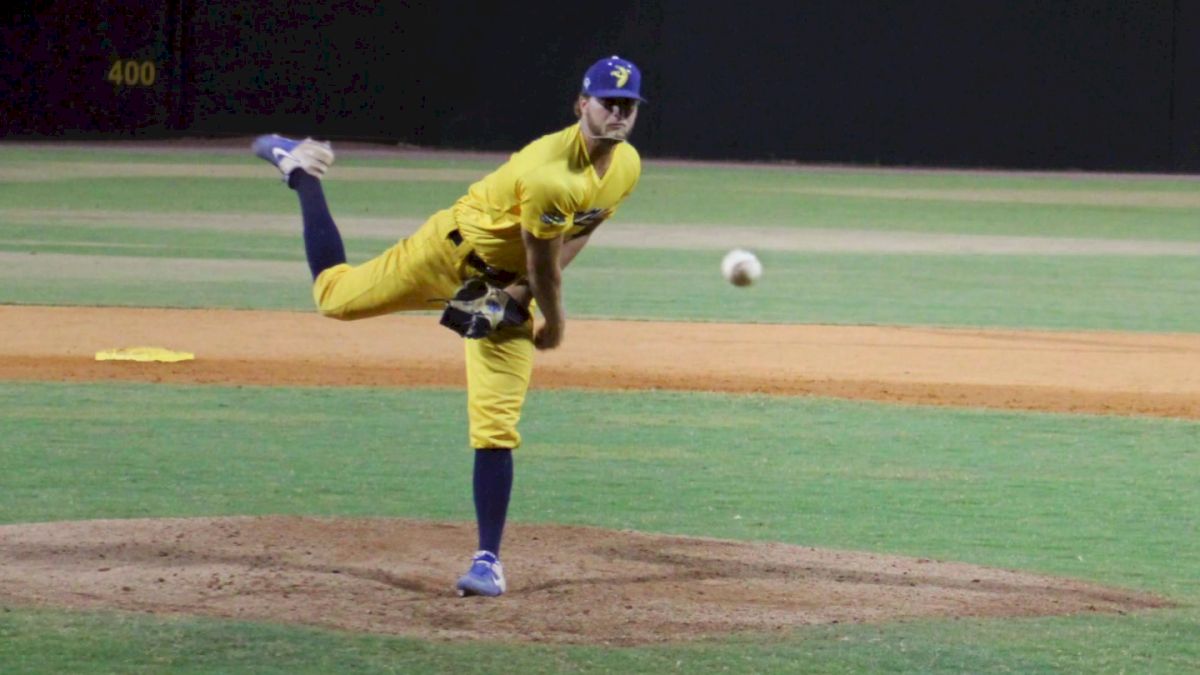 The 2021 Coastal Plain League season is underway, bringing high-level college players from all over the country to 15 teams across Virginia, North Carolina, South Carolina and Georgia.
Here's some of the talent the league will get to know this summer.
Asheboro Copperheads
The Copperheads are off to a steady start this season, but their biggest strength is in their youth. Caleb Marmo, an incoming Wake Forest freshman, and Patrick Alvarez, a redshirt freshman at UNC, were both ranked top-500 prospects by PerfectGame in high school. They bring star power, while the Copperheads are paced by small-school teammates Brent Fransisco and Brock Kauffman from East Stroudsburg University. Fransisco recorded the fifth-most strikeouts by a freshman in ESU history (46) while Kauffman batted .419 in his junior season.
Florence RedWolves
Of all the pitching talent in the CPL, Florence may have one of the most imposing forces. Andrew Shaw, a senior UMaine transfer, stands at 6-foot-6. In five starts during a shortened 2020 season for Eckerd College, Shaw posted a .84 ERA, earning a transfer spot with Black Bears. Also on the pitching staff is Clemson freshman Landon Lucas, who was a high school shortstop but joined the Tigers as a right-handed pitcher.
Forest City Owls
Though there's no shortage of quality outfielders in the CPL, senior Appalachian State utility player Andrew Greckel provides necessary versatility game-to-game. At Appalachian State, Greckel played all three outfield spots and even netted three games at third base in the shortened 2020 season. He hit a team-leading .357 with four home runs in that span. The Owls also have two strong underclassmen in their pitching staff in Murray State freshman Jacob Dennington and Tennessee Sophomore Kirby Connell. Dennington was named a freshman All-American in 2020 by Collegiate Baseball News.
HP-Thomasville HiToms
The HiToms have tied for the fewest games played in the CPL this season (four), but they already have one of the best strikeout pitchers so far in Will Lancaster. The junior from USC Upstate has struck out nine batters in just five innings pitched. Hogan Greensboro, a sophomore infielder from UNC Greensboro, has paced them at the place after being named second-team All-Conference with a .280 batting average and 10 home runs in 2021.
Holly Springs Salamanders
Though there are many transfers who are set to join bigger programs after a summer season in the Coastal Plain League, the Salamanders have two of the more notable ones. Brice Martinez and Josh Hood both join Wofford and NC State, respectively, after strong 2020 seasons. Hood was the starting shortstop for the University of Pennsylvania, but rarely played because of the Ivy League's decision to limit the 2021 baseball season due to COVID-19. Martinez earned a spot at Wofford after batting .350 with five doubles in 15 starts from South Mountain Community College in Phoenix, Arizona.
Lexington County Blowfish
The only complete game in the 2021 Coastal Plain League season so far belongs to Robert Olsen. Olsen tossed nine innings of three-hit ball, allowing two runs to cross with one earned in his first start of the season. A right-handed pitcher for Brown, Olsen had only logged three starts since 2020 as Brown elected to sit out of the 2021 baseball season due to COVID-19.
Macon Bacon
One of the more interesting athletes in the CPL this season is highly-ranked freshman outfielder Trippe Moore from Georgia, who will suit up for the Bacon this summer. In addition to setting school records at his high school for fielding percentage and assists (10), he also has a school-best 1.01 ERA while batting .407 at the plate. He was also a first-team all-region wide receiver in high school before joining the Bulldogs. He joins another young player in Ryan Leitch, who hit .261 in 32 starts as Marshall University's catcher.
Martinsville Mustangs
The Mustangs' biggest strength in the young CPL season may be that of their young left-handed pitcher who is among the leaders in strikeouts so far. Jacob Widener, a freshman from NC State, has fanned 11 so far in the CPL. He transferred to NC State in 2021 after a strong debut at Palomar College, who recently decided to cancel their 2021 baseball season. In the field, Benjamin Serrano has had a strong start after hitting .259 in 31 starts as an outfielder for Niagara.
Morehead City Marlins
A small school with just over 1250 undergraduate enrollment, Newberry College in South Carolina has actually produced 17 MLB draft picks in its history. The most recent player to star there, Jack Harris, has carried over his success to the CPL. The redshirt senior outfielder hit .365 for Newberry and now is tied for the CPL lead with 12 hits, including a home run. Justin Kleinsorge has enjoyed similar success on the mound with a 2.0 ERA in nine innings pitched after striking out 58 in 49.2 IP for Regis University this season.
Peninsula Pilots
Alden Mathes can do it all. The University of Richmond outfielder played a utility role as a redshirt freshman, appearing both in the field and on the mound for the Spiders. He made sporadic appearances in both spots, but was respectable at a Division-I level while still young. In the CPL, he's listed as an outfielder, but he's already made one start out on the mound. He has eight strikeouts in two appearances. He joins Chris Ludman, a right-handed pitcher from the University of Delaware, who has allowed just one hit and no runs in 10 innings pitched so far this season after recording six games of eight-plus innings pitched for the Blue Hens in 2021.
Savannah Bananas
The CPL's most popular team is also off to the hottest start (7-0), and its pitching staff has been dominant early on. The Bananas already have three players who have recorded 12 strikeouts apiece: Kyle Luigs from Jacksonville State, Brayden Gainey from Alabama and Joseph Miller from UPenn. The staff will only grow stronger with the arrival of Andrew Armstrong, who didn't allow a run in five appearances for Florida State last season as a freshman and was the No. 4 left-handed pitcher in Georgia out of high school. All this pitching comes with offense as well, including Eduardo Malinowski, an infielder for UPenn who hit .300 in a shortened senior season. The Bananas will be tough to beat.
Spartanburgers
One of the CPL's top prospects will wear a Spartanburgers uniform this season. Clemson's Alex Edmondson was ranked the 13th-best freshman in the ACC this year after committing to the Tigers as the No. 113 player in the class of 2020. He'll join a strong lineup at the plate including Garrett Kocis, who hit .306 in 28 starts for Wichita State with 10 home runs and three two-home run games.
Tri-City Chili Peppers
The early hits leader in the 2021 CPL season plays for Tri-City. Cade Swisher, a redshirt freshman outfielder from Virginia Tech has 12 hits after hitting .231 in his redshirt freshman season for the Hokies in 2021. Joining him in the outfield is Wilson Galvan, a South Carolina transfer via Howard College in Texas. He will play center field for the Chili Peppers and tied-second in RBIs in the young Coastal Plain League season.
Wilmington Sharks
The early-season Sharks are led by Ithaca College shortstop Jack Lynch. As a senior, Lynch hit .282 for IC. Andy Bean is another mid-sized school player with a strong resume, recording a .227 batting average against in a shortened true freshman season. He returned for a redshirt season in 2021 and made 12 starts.
Wilson Tobs
Though Wilson is yet to see its full roster, Riley Jepson is one strong bat that has already made his way to the Tobs lineup. The senior outfielder hit .353 with 40 RBIs in 2021 for the University of Texas-Tyler. In the bullpen, the Tobs are already seeing early success. Sebastian Martinez (Anderson University) and Paul Sullivan (Iona College) are yet to allow a run in 6.1 innings of relief.
---
Michael McCleary is a contributor for FloSports whose work has appeared in IndyStar, Pittsburgh Post-Gazette, The Daily Orange and more. Follow him on Twitter @mikejmccleary.