2021 CAA Baseball Championships
Northeastern Wins Thrilling CAA Championship, Advances To NCAA Tournament
Northeastern Wins Thrilling CAA Championship, Advances To NCAA Tournament
The Northeastern Huskies won their first-ever CAA Championship in dramatic style and join the Arkansas region of the NCAA Tournament.
Jun 2, 2021
by Jerry Beach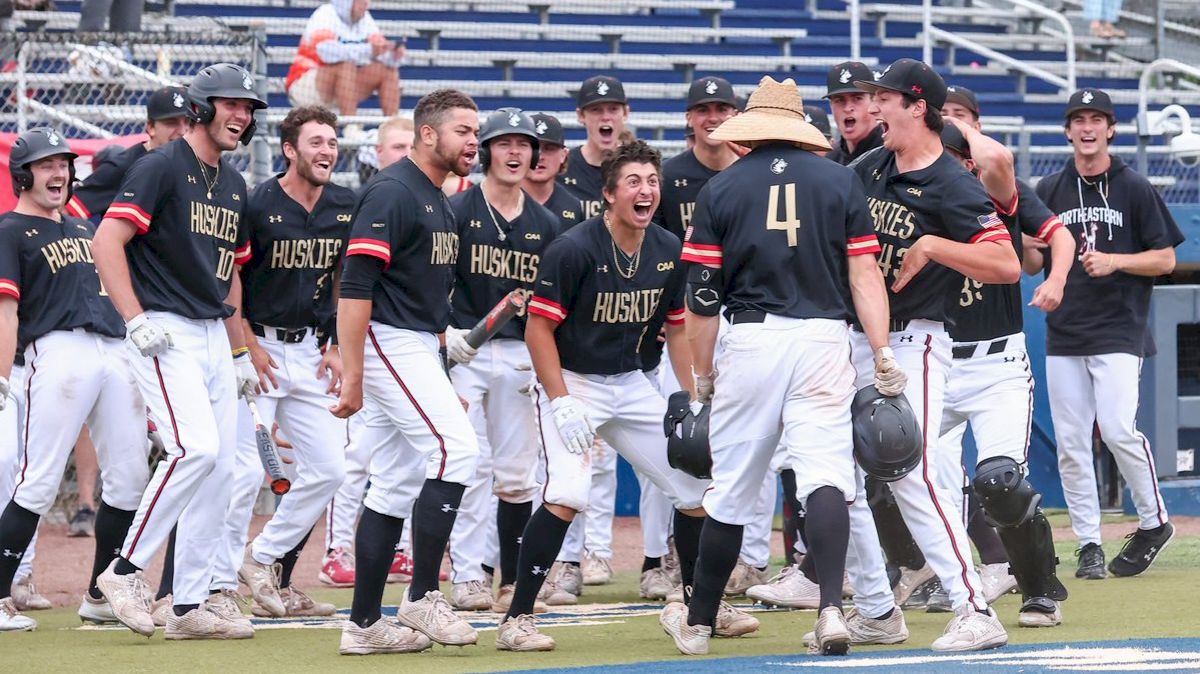 For just a moment during the seventh inning Sunday afternoon, Northeastern head coach Mike Glavine took a break from pondering the next move in his chess match with UNCW head coach Randy Hood — and from wondering just how twisted into knots one's stomach could get — to realize he was in the midst of one of the greatest games in which he'd ever participated.
"First six innings, you're playing on pure emotion and adrenaline and everyone's fired up and just crazy back-and-forth," Glavine said. "I think once that seventh inning comes around now you know, all right, you're getting to the back third here you can just for a moment — not a long one — you can say this is wild."
One of the great championship games — baseball or otherwise — in CAA history got even wilder from there until Northeastern's Max Viera hit the walk-off homer just beyond the reach of UNCW centerfielder Noah Bridges in the 10th inning to give the Huskies an 11-10 win and their first CAA championship.
result aside, the college baseball game I saw today with @uncwbaseball and @GoNUbaseball may have been the greatest game I've seen

— Tom Riordan (@triordan14) May 31, 2021
Northeastern (36-10) is seeded third in the Arkansas region of the NCAA Tournament and is scheduled to face Nebraska on Friday afternoon. UNCW finished 32-22.
"I can't say for sure Randy felt the same way (in the seventh), but I'm sure he did," Glavine said. "And I'm sure he knew there was more to come, even in that seventh inning. And there was more to come, obviously, from the seventh inning."
A winner-take-all championship game carries with it a built-in expectation of urgency and drama that's often hard for teams to meet. The anticipation was even more heightened Sunday, when the tourney's top two seeds — teams who hadn't met during the regular season due to pandemic-related travel restrictions — clashed for the third time in as many days (UNCW earned an 8-4 win Friday and Northeastern forced the third game with a 7-5, 10-inning win Saturday) and sought legacy-defining victories.
But while it wasn't always a thing of aesthetic beauty — in addition to the 21 runs, the teams combined for seven errors and 12 pitching changes in a game that took three hours and 56 minutes to play — Northeastern and UNCW exceeded expectations in the first extra-inning baseball title game pitting the top two seeds and just the 18th CAA championship game pitting the top two seeds to be decided beyond regulation.
"It was a crazy, crazy game," Viera said. "Back and forth. Props to UNCW, they're one helluva team. But we kept fighting back. We knew that we're one helluva team as well."
The first pitcher to take the mound was Northeastern's Cam Schlitter, who was 8-0 with a 1.52 ERA in his first 11 starts, during which he averaged 6.5 innings per outing. He allowed two runs before being pulled after 2 1/3 innings. Nobody recorded more outs until Hood played the last card in his deck by calling upon CAA Pitcher of the Year Landon Roupp, who opened the tournament Thursday by throwing 107 pitches in a three-hit shutout over Elon, with two outs in the sixth inning.
There was one scoreless inning (the second). Northeastern led 2-0, 4-2, 6-2 and 6-5 before UNCW tied the score for the first time in the fifth. The Huskies immediately responded with a run in the bottom half, as did the Seahawks in the top of the sixth.
Northeastern scored twice more in the sixth but UNCW scored once in the seventh and finally took the lead with two runs in the eighth.
"Felt like if we could just throw some zeroes up, offensively, we were going to find a way to keep tacking on runs," Hood said. "And we did. We kind of got it right where we needed it."
The Seahawks likely would have gone ahead much earlier if not for a series of run-saving plays by Northeastern. In the third, with a runner on first and Northeastern up 4-0, tourney MVP Ben Malgeri made a diving catch in center to rob Taber Mongero of a double.
T3 | 𝘽𝙚𝙣 𝙈𝙖𝙡𝙜𝙚𝙧𝙞 just made a spectacular catch in left-center field to prevent a double and possibly a run for UNCW @ESPNAssignDesk#SCtop10 #HowlinHuskies #CAAChamps pic.twitter.com/DfO79hEdCB

— Northeastern Baseball (@GoNUbaseball) May 30, 2021
With two on, one on and Northeastern clinging to a 6-5 lead in the fourth, first baseman Ian Fair snared a line drive by Cole Weiss to begin an unassisted double play. Weiss was robbed again in the sixth, when, with a runner on second and the score tied 7-7, shortstop Spencer Smith made a diving catch of another liner.
It seemed none of those near-misses would matter when Roupp — pitching in relief for the first time since 2019 as he tried to pull the Madison Bumgarner — retired the Huskies in order by striking out the side on just 12 pitches in the eighth.
"At that point Roupp's carving us up," Glavine said. "Another special performance."
But Brian Rodriguez, the pitcher Glavine wanted to use to close out the game, threw a perfect top of the ninth — the first time UNCW was held scoreless since the second — and Northeastern remained confident heading into the bottom of the inning.
"(Roupp) was throwing really well — first-pitch curveball was nasty," Viera said. "But we stayed up at all times. We'd trained all year — we were ready for the experience, we were ready for this moment."
Malgeri led off the ninth with the Huskies' first hit off Roupp -- and his second homer of the game, which just eluded the grasp of a leaping Bridges. Roupp struck out the next three batters and Rodriguez worked around a two-out single by Weiss in the top of the 10th. Roupp got Jeff Costello to fly out leading off the bottom half.
As he stepped to the plate, Viera said he was thinking home run.
"As a kid, you dream of those moments," Viera said. "And even in the offseason (while) training — I always try to work in those moments, where you need to get a barrel on a baseball."
Viera hit an 0-1 pitch — Roupp's 162nd pitch in three days — to straightaway center, where it carried a little further than Malgeri's blast an inning earlier and beyond the outstretched arms of Bridges.
"Honestly, I was blacked out," Viera said. "I had no idea where the ball was going. Just going to hope it was gone."
"It just felt like everything was in slow motion when the ball left his bat," Glavine said. "And as soon as it landed, everything sped up and it was just bedlam."
The Huskies poured out of the dugout as Viera raced around the bases to seal a program-altering championship for Northeastern and Glavine, who helped his alma mater to a North Atlantic Conference championship and a berth in the NCAA Tournament in 1994 before succeeding the coach under whom he played, Neil McPhee, prior to the 2015 season.
The Seahawks trudged off the field as their bid for a three-peat — and their first championship under Hood, who was an assistant coach for 19 seasons and a part of 10 NCAA Tournament teams before taking over for Mark Scalf prior to the 2020 season — ended.
"Baseball can be hard on you," Hood said. "It can be really hard. I told the guys I don't really have much to say other than you guys gave us, gave the program, gave the fans everything you had today. And we were just on the wrong end of it."
Even in the immediate aftermath, though, UNCW seemed united with Northeastern in knowing they'd just been a part of something unforgettable. The tiniest of smiles appeared on the faces of several Seahawks as they walked to and from a makeshift podium to receive their runner-up trophies. Catcher Matt Suggs exchanged backside slaps with Weiss as they passed by one another. Roupp fist-bumped Brooks Baldwin and slapped him on the back.
Hood and Glavine embraced in the postgame handshake line. A few minutes later, Northeastern's players and staff clapped in unison when the public address announcer asked for some recognition of the Seahawks.
"We used everybody we had, we wanted to fire every bullet we have — both teams," Glavine said. "We obviously came out on the right side of it, but it was pretty incredible to watch their guys go and just give everything they had offensively and on the mound. Our guys did the same. Neither team could really stop each other.
"Pretty special game."
---
Jerry Beach has covered Hofstra sports since arriving on campus in the fall of 1993, when Wayne Chrebet was a junior wide receiver wearing No. 3, Butch van Breda Kolff was the men's basketball coach for the East Coast Conference champions and Jay Wright was a little-known yet surely well-dressed UNLV assistant coach. Check out Jerry's book about the 2000 World Series here and follow him on Twitter at @JerryBeach73.