NCAA
UConn Baseball Looking To Prove Itself At A School Known For Basketball
UConn Baseball Looking To Prove Itself At A School Known For Basketball
UConn Baseball is trying to make a name for itself at a school known for basketball.
May 27, 2021
by Andre Fernandez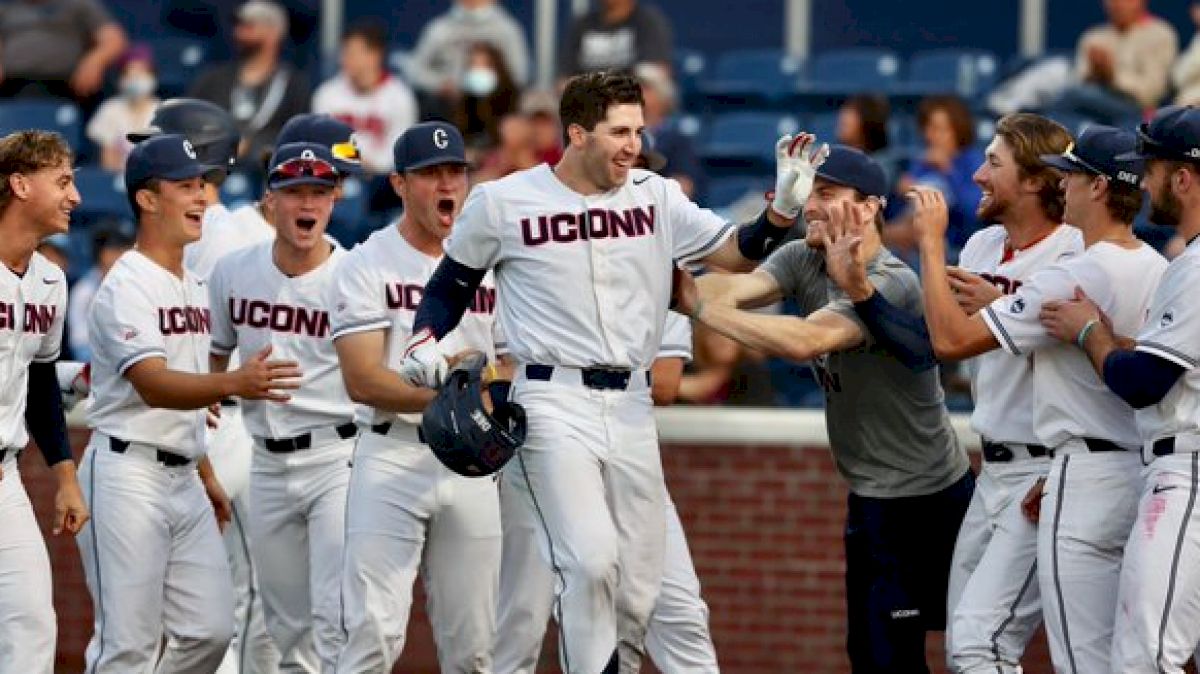 UConn baseball coach Jim Penders is the son of a college basketball Hall of Fame coach.
He's constantly reminded how deep the rich history of hoops runs with the Huskies.
But Penders hopes to carve a little more slice of history for the UConn baseball squad this week when they enter the Big East tournament as the top seed and a favorite to secure the conference's automatic berth to the NCAA Regionals.
"I love it here and I can't imagine doing it anywhere else," Penders told the Associated Press this week. "If I didn't think it was possible to win a national championship, I would look elsewhere."
UConn went to five College World Series from 1957 to 1979, but hasn't been back since.
But for a little over a decade, the Huskies have had somewhat of a resurgence, making the NCAA tournament six times since 2010. In 2011, UConn advanced to the Super Regional.
Often contending with snow and frigid conditions especially early in the season, Penders has gone 602-413 during his 18 seasons coaching the Huskies has guided them on an impressive surge of 26 victories in 32 games to secure their first Big East regular-season title since 2011. Over this tenure, UConn has produced 53 major leaguers including George Springer, Matt Barnes and Nick Ahmed.
"They've done a terrific job of not only attracting quality talent but helping guys reach their true potential," Barnes told AP this week. "When you combine what he's able to do with the new facilities, UConn is without a doubt the No. 1 choice for Northeast players."
UConn survived a brutal early-season schedule which included Virginia, Coastal Carolina and Texas Tech, and capped it with a clutch sweep of Seton Hall, which vaulted them to the top spot in this week's tournament.
UConn also survived a mid-season COVID pause which cancelled seven games and tested their resolve. But the Huskies held together and won their final seven games. Of their 16 losses this season only two were by more than two runs.
Sophomore outfielder Kyler Fedko, rated among the top college prospects in this year's draft class, displayed a blend of speed, power and consistent hit tool while driving the ball to all fields. Fedko led all UConn hitters, going .402 with 11 home runs and 46 RBI while stealing six bases.
Sophomore catcher Pat Winkel, a former 31st-round pick of the New York Yankees in 2018, bounced back from Tommy John surgery last year to hit 11 home runs and drive in 38 runs in 46 games.
Winkel (6-1, 198 pounds) was ranked the 127th overall college prospect before the season by Baseball America, and is projected to be a defensively strong catcher at the next level.
His brother, senior outfielder Chris Winkel, hit .318/.394/.581 while also blasting 11 home runs and stealing 14 bases in 15 attempts this season. Winkel was one of the more versatile starters, committing only two errors while playing center field and first base.
On the pitching side, junior righthander Ben Casparius went 7-4 with a 3.33 ERA in 13 starts (81 innings). Armed with a low-90s fastball, slider and changeup, Casparius led the Huskies with a conference-high 110 strikeouts and 30 walks.
Casparius' strike-throwing ability has him ranked among the top college pitching prospects in the nation.
Another junior righthander, Austin Peterson, put up the best ERA (2.75) of any regular UConn starter, going 6-1 with 69 strikeouts and 16 walks.
Sophomore lefthander Reggie Crawford can play first base and pitch with a fastball that has touched 97 mph.
Sophomore lefty Caleb Wurster anchors UConn's bullpen with seven saves, a 1.89 ERA, 45 strikeouts and only 12 walks.
Chris Winkel told AP this week he thinks the family atmosphere Penders has promoted around the program is a major key to their success.
"I don't know if it rubs off on everybody, but that's the type of relationship the entire team has together. We're an extremely close knit, really, really bonded group that does everything together on and off the field," Winkel told AP. "I think that definitely lends itself to the success we've been having this year."
---
Andre has covered baseball at the high school, college and both minor-league and major-league levels for the past 15 years for multiple publications including the Miami Herald, the Athletic and Baseball America. You can follow him at @FernandezAndreC on Twitter.