2021 CAA Baseball Championships
Towson Coach Perseveres Through Tragedy To Lead Scrappy Team To CAA Tourney
Towson Coach Perseveres Through Tragedy To Lead Scrappy Team To CAA Tourney
Matt Tyner persevered through the tragic loss of his wife to lead a gritty group of Towson players to the CAA Tournament.
May 27, 2021
by Andre Fernandez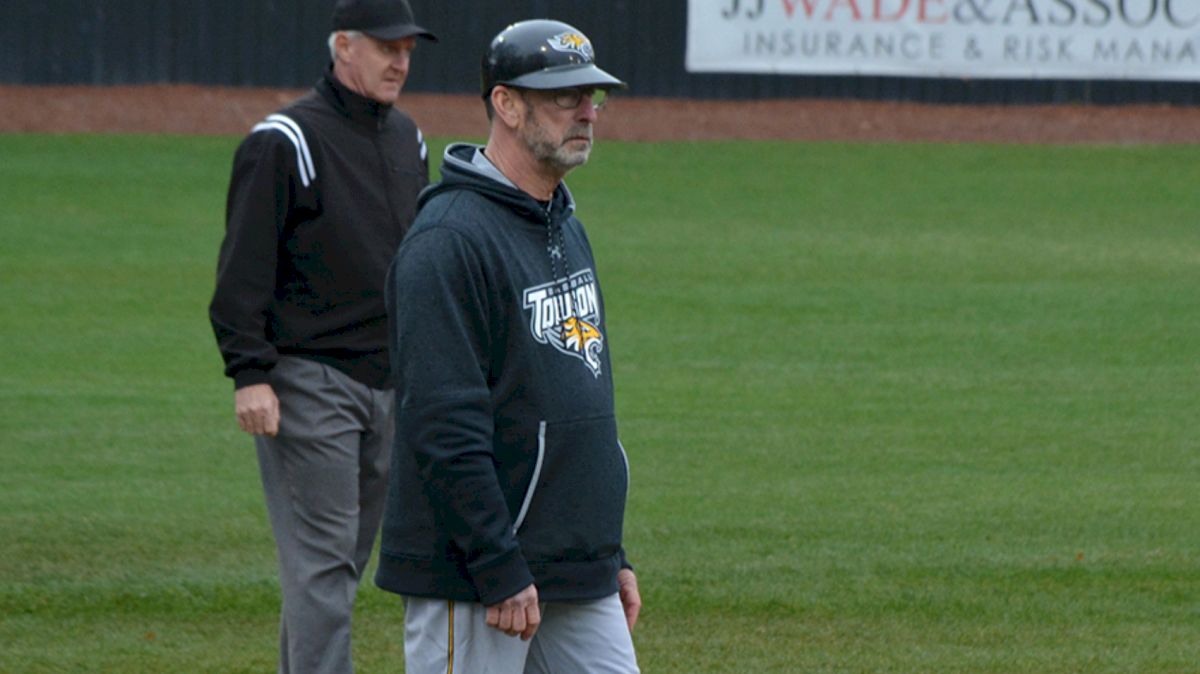 As an outfielder for the University of Miami in the late 1970s, Matt Tyner learned from two of the greatest college baseball coaches of all-time – Skip Bertman and Ron Fraser.
Tyner saw how one leaned on the other on and off the field as they planted the seeds for a program that would go on to win national championships in 1982 and 1985.
Tyner, then a first baseman from Decatur, Illinois, chose Miami over Arizona State and survived a walk-on tryout of roughly 250 players to make the team.
With the exception of one semester where he had to go home to help his family after his father suffered a heart attack, Tyner went on to play for four years for the two legendary coaches.
"I couldn't have had a better run with Miami," Tyner said. "It was just great. We went to three College World Series, two international tournaments. We played in Nicaragua, in Curacao." Fall of 76-Spring 80. Missed one semester to help the family after father had suffered a heart attack.
Tyner took the lessons he learned from Bertman and Fraser to his own coaching ventures on the college level in the years that followed.
At 62, Tyner is seeing measures of success in his fourth year coaching Towson University, which qualified for this week's Colonial Athletic Association conference tournament for the first time since 2013.
Tyner has the same kind of relationship Bertman and Fraser had with his coaching staff of associate head coach Miles Miller, and assistant coaches Tanner Biagini and Danny Pulfer, letting each handle responsibilities according to their strengths.
But coming off a trying 2020, all three coaches and the players on the Towson baseball team would rally around their coach at one of the lowest points in his life.
Just before the COVID-19 pandemic began, Tyner was struggling to cope with the loss of his wife of 37 years, Laura, who passed away in February of last year after a six-month battle with lung cancer.
"It devastated me," Tyner said. "It really set me back. You always think if something like that happened, you'd rebound and come out of it better. That's not necessarily true. I went into a little bit of a mental funk. We had battled cancer together from August to February. It was a challenge. I didn't know what it was like to be a caregiver. I didn't know what it was like to see a loved one eaten up by such a terrible disease like lung cancer."
Towson granted Tyner a leave of absence and he used the time to get the help he needed to get back on his feet.
"The best thing was my university gave me the time I needed to get mentally strong again," Tyner said. "I was on leave from early February to the end of May. COVID in a way helped. It sent me into grief share programs and recovery programs that showed me how to deal with the loss. That helped me put things in perspective."
Tyner, a former minor-league teammate of Billy Ripken while he played in the Baltimore Orioles' system in the 1980s, bounced back and forth between a career in property management and coaching baseball over the years he and Laura were married.
He coached at Butler University in the early 1990s as well as in travel ball.
But the past 18 months gave him a new appreciation for what it means to coach.
"If you weren't doing this for the kids you won't amount to anything and your teams will suck," said Tyner, who was forced to retire as a player in 1984 after undergoing two elbow surgeries. "To be reminded of that and be reminded of what it's really about to be a coach was replayed in my head. In my fourth year of a four-year contract I was coming back as a servant for my coaches and my kids.
"Last year, I told the players, 'I'm battling cancer with my wife so that means you guys will be battling with me. I need you to mature in front of my eyes. Everything we do has an effect."
With Miller running the program in Tyner's absence in 2020, the Tigers went 7-8 before the season was cancelled. Tyner lets Miller run the pitching staff exclusively and believes he's destined to become a head coach soon.
This season, Towson still finished 21-34 in the regular season. But that was a victory considering a brutal 1-10 start to the year which included a 23-1 opening day loss to Western Carolina.
Towson's top hitter, outfielder Billy Godrick, is hitting .260 which doesn't sound like much until you see that over the first 11 games he was hitting .083 – a fact opposing fans would remind him of early on according to Tyner.
The scrappy Tigers regrouped and clawed their way into one of the top six spots in the conference.
A highlight came during the final home series of the regular season last week when the Tigers beat top-seeded Northeastern, 2-1, led by starting pitcher Nick Janowicz's five scoreless innings. Kody Reeser, who entered the CAA tourney with a 1.94 ERA and 1.04 WHIP 50 strikeouts and 10 walks in 46 1/3 innings, shut out the Huskies over the final four frames.
"These kids chose to hang in there and play some baseball and look where it got us," Tyner said. "There's not one coach in the CAA that said Towson would be in the tournament this year. They voted us last. We were an afterthought and now we're in the tournament, which is exactly where we want to be."
---
Andre has covered baseball at the high school, college and both minor-league and major-league levels for the past 15 years for multiple publications including the Miami Herald, the Athletic and Baseball America. You can follow him at @FernandezAndreC on Twitter.