2021 CAA Baseball Championships
Northeastern, UNC Wilmington Top Seeds At 2021 CAA Baseball Championships
Northeastern, UNC Wilmington Top Seeds At 2021 CAA Baseball Championships
Setting the stage for the 2021 CAA Baseball Championships, headlined by two lethal squads in Northeastern and UNC Wilmington.
May 26, 2021
by Jerry Beach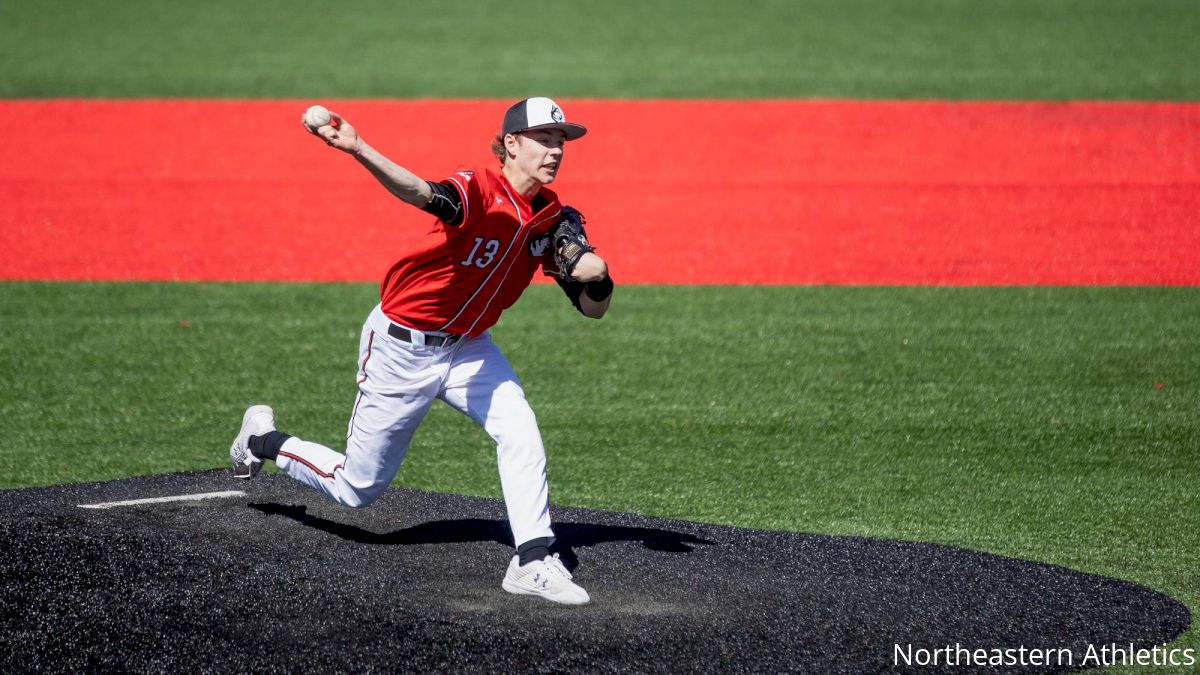 As is standard before most conference tournaments, the people coaching the favorites bumped into each other before it started Monday afternoon. But there was no sly gamesmanship between UNCW head coach Randy Hood and Northeastern head coach Mike Glavine — no examination of body language, no subtle attempts to glean some information, no attempt to fill the other's head with the tiniest amount of self-doubt.
Who has time for that when you haven't seen a peer in two seasons?
"I congratulated him and we just kind of talked baseball and how it's been different not competing against each other the last year-and-a-half," Hood said. "(Talked about) how happy that both of us have had a season and just baseball stuff and 'How's your family doing?' and all that kind of stuff."
The friendly reconnection between the coaches directing the league's top teams represents what could be an unusually unfamiliar CAA Tournament, which is scheduled to begin this afternoon at UNCW's Brooks Field.
In an attempt to minimize travel during the coronavirus pandemic — which forced the cancelation of the 2020 season before league play began — the CAA this season split into the north and south divisions and conducted a regular season schedule consisting entirely of intra-divisional games.
Baseball was one of six sports to split into divisions, along with softball, women's lacrosse, men's and women's soccer and volleyball. The tournaments in the latter five sports featured 14 games between teams who did not face each other during the regular season (James Madison and Delaware played twice in the softball tournament).
In addition, six of the nine games in the men's basketball tournament pitted teams that didn't play one another during the regular season — including both semifinals and the Drexel-Elon championship game.
With the double-elimination format of the baseball tournament, trying to figure out unfamiliar matchups is, well, doubly challenging, though today's first game — Charleston against Towson — features teams that have yet to play one another.
Only two of the six tournament teams came from the four-team North, where schools were optimally scheduled to play four-game series against one another. Northeastern, the no. 1 seed after going 20-3 in league play, and no. 5 seed Towson (11-12) opposed each other seven times with one cancellation.
The South has five schools, which opposed each other in three-game series. UNCW, the no. 2 seed after winning the South with a 13-8 mark, is joined in the tournament by third-seeded Elon (10-8), fourth-seeded Charleston (12-12) and sixth-seeded William & Mary (10-14). Those four teams all opposed the other three six times apiece. Elon and William & Mary are scheduled to play today at 4 PM.
Instead of fretting about what they might or might not see from a team they haven't opposed this season, Glavine and Hood preferred to focus on the positives generated by the intra-divisional play.
"We've played four-game series all year, so I think we're going to try to use that to our advantage," Glavine said. "I think it forced us to physically and mentally grind through a tournament-type atmosphere every weekend. And it also forced us to use our fourth starter and then a fifth starter during mid-week games, when there were mid-week games."
"The four teams in the south that have played each other — what, six times? — so we all have a good feeling (and) obviously Northeastern and Towson have played each other (seven) times, so I think that helps in those situations," Hood said.
Of course, those unfamiliar teams playing each other on short notice won't be going in unprepared. With every game available to be viewed online and Synergy offering analytics-based scouting, this is not quite a 1970s World Series in which the teams are relying mostly on the scribblings of scouts, yellowed newspaper clips and whatever they saw of the opponent on "This Week In Baseball."
While Glavine, Hood and their peers are sure to watch games involving teams they haven't played this season, such in-person observations will augment what the coaches have already gleaned over the last several months.
"Whenever we travel or whenever we're home, we'll throw CAA games on during the year and kind of just see who's doing what — especially the southern teams, we saw a lot of their games to see what they look like," Glavine said. "You look at some stuff and kind of put a plan together as any coach would."
Coaches also know that all the resources they possess can't fully prepare teams for the unpredictability of a conference tournament. Over the last three tournaments, a team won with four runs or fewer eight times, and a team lost despite scoring five or more runs eight times.
"This conference usually is chaotic, so I don't know if it'll be any different than normal," Glavine said. "I talked to the guys just be prepared for a 1-0 game, be prepared for a 14-12 game, be prepared for a 7-6 game. Nothing's going to come easy. The games are going to be wild. There might be some low-scoring games. There's going to be some high-scoring ones.
In the CAA, the last three champions have been seeded fourth or lower. Two-time defending conference champion UNCW won it all as the no. 4 seed in 2018 and the no. 5 seed in 2019, In both seasons, the Seahawks' path to the title included two wins over the top seed (Northeastern in 2018 and Elon in 2019).
"There's no telling — this tournament tends to never really guarantee success for a high seed," Hood said with a chuckle. "I know Mike's confident in his team. I know we're confident with ours and I'm sure the other four teams are confident because each of them have played well at different times during the year.
"You don't have to be the best team. You just have to be the team that's playing the best each day. So anything can happen."
---
Jerry Beach has covered Hofstra sports since arriving on campus in the fall of 1993, when Wayne Chrebet was a junior wide receiver wearing No. 3, Butch van Breda Kolff was the men's basketball coach for the East Coast Conference champions and Jay Wright was a little-known yet surely well-dressed UNLV assistant coach. Check out Jerry's book about the 2000 World Series here and follow him on Twitter at @JerryBeach73.