2021 CAA Baseball Championships
10 Players To Watch In This Week's CAA Championship Tournament
10 Players To Watch In This Week's CAA Championship Tournament
Ten players you should keep an eye on during the 2021 CAA Baseball Championships.
May 25, 2021
by Andre Fernandez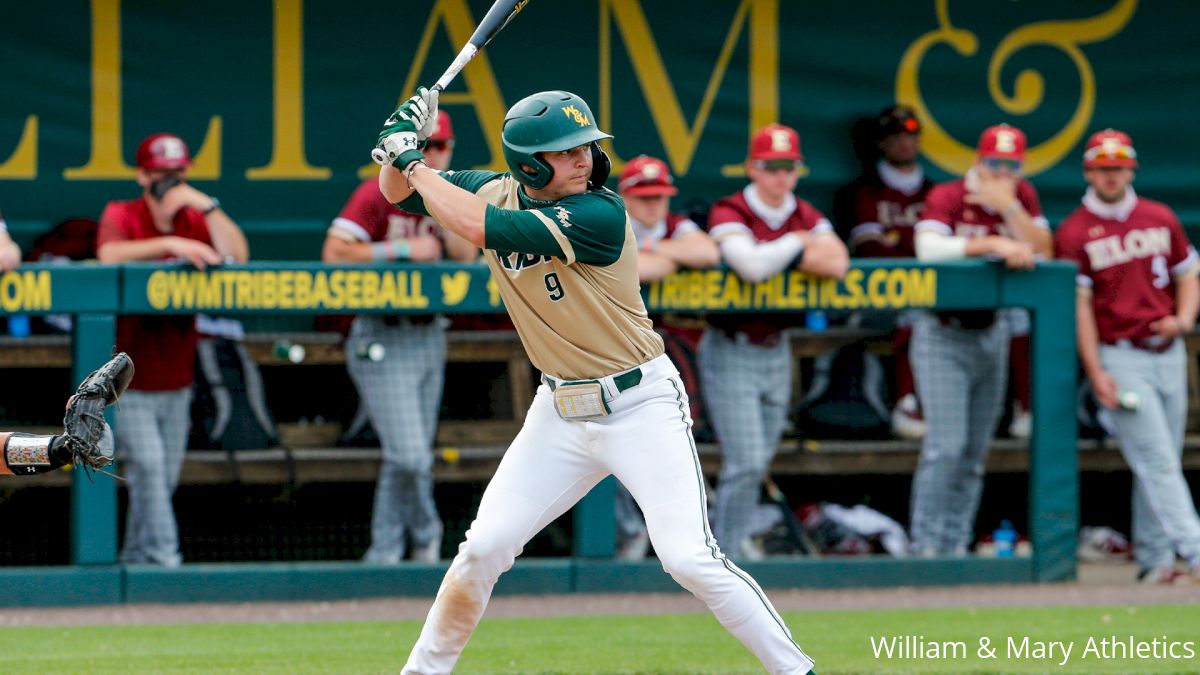 While Northeastern ran away with the North division title of the Colonial Athletic Association, the conference's tournament has not been won by a No. 1 seed since 2012.
The Huskies are the highest seed after going 20-3 in conference play in a season which included a 20-game winning streak.
The South was more of a battle with UNCW winning its final eight conference games to secure the division title. Elon, Charleston and William & Mary also qualified from the South.
Towson was the other North qualifier, clinching its first berth since 2013.
FloBaseball will be streaming every game from the CAA tournament, which will be contested in a double-elimination format beginning Wednesday at Brooks Field in Wilmington, N.C., and concluding with the championship on Saturday.
Here's a look at 10 of the top players to watch in this year's tournament.
OF Jared Dupere, Northeastern, So.
Dupere is one of the top power hitters in the country and led the CAA in home runs this season with 17. Dupere (.355, 42 RBI) won conference Player of the Week honors four times this year and was a force at the heart of a Huskies' lineup which hit a conference-best .299 and drove in 276, which was tied for the most in the CAA with UNCW.
RHP, Landen Roupp, UNCW, Jr.
Armed with a fastball that touches 94 mph and hangs around 89-92, Roupp also mixes his breaking ball and slider well and has driven the Seahawks to their 35th consecutive conference tournament appearance. Roupp leads the CAA in strikeouts with 97 and went 7-4 with a 2.75 ERA in 14 starts (88 1/3 innings) as UNCW's ace. After last season was cut short by COVID-19, the Seahawks waited over a year for a chance to become first team to win three consecutive CAA titles since Old Dominion from 1994-96.
OF Jeff Costello, Northeastern, Jr.
An All-CAA second team selection in 2019, Costello showed what a consistent run-producer he could be again over a full season, hitting a team-best .370 with three home runs and 33 RBI. Costello, the Huskies' left fielder and leadoff hitter, ranked second in the CAA in batting average among players with at least 100 at-bats. Costello earned conference Co-Player of the Week honors this past week after going 8-for-12 with two home runs and five RBI in a three-game series against Towson.
RHP Cam Schlittler, Northeastern, Fr.
Schlittler led all regular starting pitchers in the conference with a 1.29 ERA and finished a perfect 7-0 over 10 starts (63 innings) to complement a deep Huskies rotation. Schlittler consistently attacked the strike zone, striking out 74 and walking only 16 batters during the regular season.
OF Alex Iadisernia, Elon, Fr.
Iadisernia, one of the top right fielders in the conference, leads the Phoenix, hitting .366 with a 1.089 OPS, 10 home runs, 12 doubles and 29 RBI in 161 at-bats over 41 games this season. Iadisernia
INF Brooks Baldwin, UNCW, So.
A shortstop last season, Baldwin's versatility showed this season with effective play as both a corner outfielder and first baseman. Baldwin led the CAA in total bases with 127 and provided offense consistently against both CAA and non-conference competition at the top of the Seahawks lineup, hitting .327 with 13 home runs and 42 RBI.
OF, Anthony Galason, Elon, So.
Galason provides speed and power in the middle of the Phoenix's lineup, hitting .351 with a .948 OPS, six home runs, 28 RBI and has stolen 10 bases in 12 attempts. This past week, he shared conference Player of the Week honors with Costello after going 8-for-14 with five RBI to help Elon win two-of-three against Charleston and lock up second place in the CAA's South division.
INF-OF Harrison Hawkins, Charleston, Sr.
One of the top power hitters in the conference, Hawkins showed a solid approach striking out 36 times and walking 27 times throughout the season while hitting .348/.415/.576 with 10 home runs. Hawkins led all CAA hitters with 50 RBI and showed good range in center field. Hawkins' efforts helped Charleston advance to the CAA tournament for the seventh consecutive time.
RHP Kody Reeser, Towson, Gr.
Reeser is a pitcher that Towson coach Matt Tyner has been able to rely on in any role out of the bullpen this season. Reeser's numbers stand out among Towson's pitching staff with a 1.94 ERA, 1.04 WHIP, 50 strikeouts and only 10 walks over 46 1/3 innings (23 appearances including one start). He recently threw four scoreless innings in relief and struck out five with no walks to help Towson upset top-seed Northeastern 2-1. The Tigers secured the No. 5 seed in the tournament – their first berth since 2013.
INF Ben Williamson, William & Mary, So.
Despite a tough 13-27 season, Williamson was a constant at the top of the Tribe's lineup, hitting .317 with 27 runs scored, three home runs and 19 RBI. Williamson committed five errors in 40 games while playing primarily at third base for William and Mary, which made it to the CAA tournament for the seventh time in the past eight seasons.
---
Andre has covered baseball at the high school, college and both minor-league and major-league levels for the past 15 years for multiple publications including the Miami Herald, the Athletic and Baseball America. You can follow him at @FernandezAndreC on Twitter.