2021 Big East Baseball Championship
10 Players To Watch In This Week's Big East Championship Tournament
10 Players To Watch In This Week's Big East Championship Tournament
The Big East Championship is loaded with prospects. Here are the top 10 guys you should keep an eye on headed into the conference postseason.
May 24, 2021
by Andre Fernandez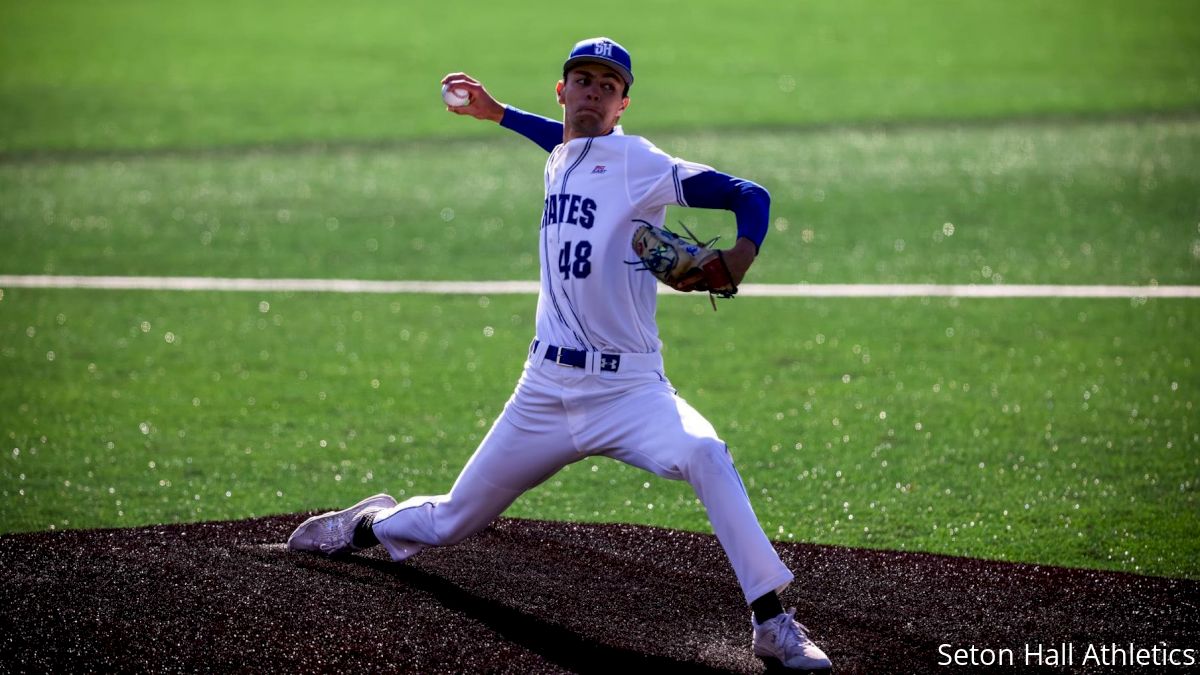 After a season that included plenty of parity, four teams remain – UConn, Creighton, Seton Hall and Xavier – with a chance to secure a Big East Conference championship and an automatic berth in the NCAA Regionals.
The quartet of teams feature plenty of talent including some likely to be drafted by Major League Baseball clubs later this summer.
FloBaseball will be streaming every game from the Big East tournament, which will be contested in a double-elimination format beginning Thursday in Mason, Ohio at Prasco Park, and concluding with the championship on Sunday.
Here's a look at 10 of the top players to watch in this year's tournament.
OF Kyler Fedko, UConn, So.
Fedko, a 6-2, 210-pound right fielder, could be one of the most entertaining offensive players in the conference. He continues to show off his combo of speed, power and an ability to make contact consistently and drive the ball to all fields. Fedko led all UConn hitters, going .402 with 11 home runs and 46 RBI while stealing six bases.
RHP Dylan Tebrake, Creighton, So.
The Bluejays' ace earned conference Pitcher of the Week honors back in late April and enters the tournament with an 8-0 record and a 2.67 ERA in 11 starts this season, which leads all Creighton starters. Tebrake has been an efficient strike-thrower, recording a team-best 70 punchouts and only 22 walks without allowing a home run.
Tebrake has struck out six or more batters in each of his past five starts and Creighton is 9-2 this season when he starts. The Bluejays are looking to repeat as the conference's tournament champion after winning it the last time it was held in 2019. That triumph resulted in Creighton's first NCAA Regional berth in seven seasons.
OF Alan Roden, Creighton, Fr.
Roden, a solid defensive presence in the corner outfield, has had a breakout season for the Bluejays. Roden leads Creighton in multiple offensive categories, hitting .381 with nine home runs, 16 doubles and 46 RBI, which earned him Big East Player of the Week honors twice this season.
RHP Ben Casparius, UConn, Jr.
The Huskies are the top seed in the tournament and face No. 4 seed Xavier in their first game after winning their second Big East regular season title and first since 2011. A big reason is UConn's dearth of pro prospect talent highlighted by Casparius, a fourth-year junior.
Statistically, Casparius didn't put up the best numbers of any UConn starter, going 7-4 with a 3.33 ERA in 13 starts (81 innings). But armed with a solid mix of a low-90s fastball, slider and changeup, Casparius led the Huskies with a conference-high 110 strikeouts and 30 walks.
Casparius (6-0, 195), a two-way player in the past, has strictly pitched for the Huskies this season after transferring from North Carolina. His strike-throwing ability has him ranked among the top college pitching prospects in the nation.
C Pat Winkel, UConn, So.
A former 31st-round pick of the New York Yankees in 2018, Winkel bounced back from missing all of last season due to Tommy John surgery with 11 home runs and 38 RBI in 46 games. Winkel also threw out 10 of the 28 runners attempting to steal and made only one error in 382 chances behind the plate.
Winkel (6-1, 198 pounds) was ranked the 127th overall college prospect before the season by Baseball America, and is projected to be a defensive-first catcher at the next level even though he showed improvement with his swing during the 2021 campaign.
OF-1B Chris Winkel, UConn, Sr.
Winkel's older brother isn't rated as high on the draft prospect charts, but he thrived at the plate during his third season with the Huskies. Winkel hit .318/.394/.581 while also blasting 11 home runs and stealing 14 bases in 15 attempts this season. Winkel was one of the more versatile starters, committing only two errors while playing center field and first base.
RHP, David Festa, Seton Hall, Jr.
Festa is a big presence on the mound at 6-6 and slender 185 pounds, and has thrived as the Pirates' Friday night starter. He leads Seton Hall's rotation with a 6-3 record and a 1.81 ERA while striking out 60 and walking 29 in 10 starts and 14 appearances overall. Festa has also pitched three complete games, helping Seton Hall extend its streak of qualifying for the conference tournament to nine consecutive seasons (not counting 2020).
OF Andrew Walker, Xavier, Jr.
Walker showed off a combo of speed and power in his first full season with the Musketeers, hitting .311 with four home runs and swiping 15 bags in 16 attempts. Right in the heart of Xavier's order, Walker totaled 27 RBI also as he helped it wrap up the regular season with a split against Creighton. The Musketeers, who went 15-11 in the conference, won the Big East tournament, in 2014, 2016 and 2017.
INF Jack Housinger, Xavier, Jr.
Housinger hit only .232 in his first season last year. But his bounce back this season, hitting .304 with 14 doubles, five home runs and 25 RBI has added length to Xavier's lineup and production at the top of their order. Housinger is another threat to steal with 12 stolen bases in 16 attempts, and has hits in eight of his past nine games.
INF Casey Dana, Seton Hall, Jr.
Dana will try to energize a Seton Hall squad, which enters the tournament on a five-game losing streak and coming off a four-game sweep by UConn. Dana has been a constant source of power in the Pirates' lineup, hitting .313 with a team-high seven home runs, 12 doubles and 35 RBI.
---
Andre has covered baseball at the high school, college and both minor-league and major-league levels for the past 15 years for multiple publications including the Miami Herald, the Athletic and Baseball America. You can follow him at @FernandezAndreC on Twitter.