CAA
UNC Wilmington Finishes Hot As Teams Prepare For CAA Baseball Tournament
UNC Wilmington Finishes Hot As Teams Prepare For CAA Baseball Tournament
Northeastern locked up the CAA North a while ago, but UNC Wilmington completed a dramatic turnaround to seize the CAA South.
May 18, 2021
by Jerry Beach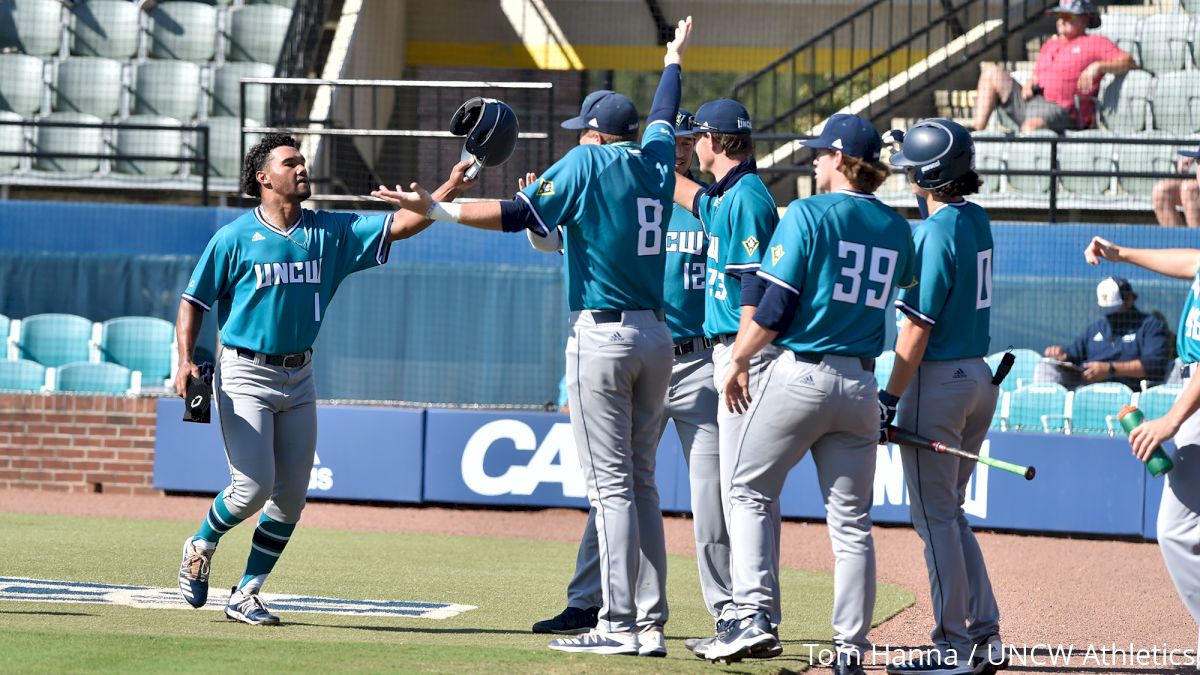 A six-week surge by Northeastern ensured there'd be no suspense in the CAA North. A well-timed three-week hot streak by UNC Wilmington removed any doubt from what was once a tightly packed CAA South race.
UNCW completed an in-season worst-to-first ascension last weekend, when it swept a three-game series from College of Charleston to clinch the CAA South regular season title and lock up a bye to the CAA Tournament, which the Seahawks are scheduled to host beginning May 26.
UNC Wilmington (13-8 CAA) was in last place in the South — albeit by mere percentage points in the midst of a season with an unbalanced schedule — following the weekend of Apr. 23-25. The Seahawks lost the opener of the following weekend's series against William & Mary before winning their final eight league games — the program's longest CAA winning streak since 2016.
The Seahawks, who had homestands each of the last three weekends, beat Charleston 7-2 Friday and came back from a three-run eighth-inning deficit to earn a 7-6 walk-off win Saturday before scoring six runs in the eighth inning of an 8-4 win Sunday. UNC Wilmington outscored its CAA opposition 56-21 during the eight-game winning streak.
"As coaches, we knew three weeks ago our backs were against the wall," UNC Wilmington head coach Randy Hood said. "We had to win probably six out of nine just to make sure we were in the tournament."
Staff ace Landen Roupp allowed one run and struck out nine over seven innings before freshman Trevor Marsh took center stage Saturday and Sunday. Marsh, who homered Friday, locked up CAA Player of the Week honors by going 2-for-4 with the walk-off single Saturday and going 3-for-4 with the tie-breaking grand slam that capped the eighth-inning outburst Sunday. He hit .545 (6-of-11) and had seven RBIs in the three games — as many RBIs as he had all season prior to the weekend.
The Seahawks, who have won the last two CAA Tournaments, are scheduled to tune up for the pursuit of a three-peat by facing North Carolina today before visiting Charlotte for a three-game series beginning Thursday.
"We needed all eight wins — we went 8-1 and that was huge," Hood said. "I'm just proud of our guys. They've really come to play baseball the last three weekends."
The sweep by UNC Wilmington created a battle for second place in the CAA South and the final guaranteed bid to the CAA Tournament this weekend between Charleston (11-10 CAA) and Elon (8-7 CAA) in South Carolina. Whoever wins the three-game series will clinch second place and leave the other team hoping to receive one of the two wild cards, which will be determined by a vote of the league's athletic directors.
Tanner Steffy went 5-for-10 with two RBIs in the series for Charleston. Steffy, Ari Sechopoulous, Joseph Mershon and Jared Kirven all had one three-hit game apiece. Mershon went 5-for-8 over the final two games while Kriven homered and had two RBIs Sunday. Harrison Hawkins homered and finished with three RBIs Saturday.
—In perhaps the finest example ever of you can't predict baseball, Northeastern's bid for the first perfect regular season in CAA history ended mere hours after the program's most lopsided win ever.
The Huskies split a four-game weekend series with Delaware in memorable fashion, first by extending the nation's longest active winning streak with an 8-1 win in Friday's series opener and a record-setting 26-4 victory in the first game of a doubleheader Saturday.
But the Blue Hens bounced back to end Northeastern's 20-game winning streak and hopes of a perfect CAA season with a come-from-behind 5-3 win in the nightcap before mounting another comeback in a 9-7 victory Sunday.
Northeastern's 20-game winning streak tied the school record, set previously in 1991, while the 18-0 start in the CAA was the longest winning streak to begin league play.
"What a heckuva run," Northeastern head coach Mike Glavine said Saturday afternoon. "Just incredible what our guys just did. Twenty straight, lots of pressure, lots of stress, all different kinds of games. It's incredibly hard to do what they just did. Their relentless pursuit of consistency was just unbelievable. So hats off to them, first and foremost."
Cam Schlittler earned CAA Pitcher of the Week honors by striking out 10 over a career-high eight scoreless innings Friday before the Huskies rolled in Saturday's opener, when they set program records for most runs in a game and margin of victory, all without hitting a homer. Danny Crossen and Spencer Smith had four RBIs apiece while Jared Dupere scored four runs. And it could have been even bigger: Northeastern didn't score in the final two innings.
Northeastern carried a 3-1 lead into the seventh inning of the second game, but Jordan Hutchins hit a one-out homer and Jack Goan delivered a game-tying two-out RBI double before scoring on the tiebreaking single by Joey Loynd.
On Sunday, Delaware led 4-0 after two innings, fell behind 6-4 in the fourth and tied the game 7-7 in the sixth before Goan, a senior, exited Bob Hannah Stadium in style by hitting a tie-breaking two-run homer in his final home at-bat in the eighth.
"I couldn't be happier to send this special group of seniors out with an emotional victory," Delaware head coach Jim Sherman said. "We really played two of our best games of baseball these last two days and this group had a lot of fun doing so."
Northeastern (18-2 CAA) is scheduled to visit Towson, the second-place CAA North finisher, in a three-game makeup series beginning Thursday. The regular season is complete for Delaware (8-16 CAA), which is tied for last in the CAA in winning percentage with Hofstra and left to hope for a long-shot wild card berth to the CAA Tournament.
—Towson, needing to beat Hofstra twice last weekend to lock up its first CAA Tournament berth since 2013, wasted little time taking care of business by winning Friday's opener 4-2 and earning an 8-5 win in the first game of Saturday's doubleheader. The Pride salvaged the split with a 6-4 win in Saturday's nightcap and an 8-5 victory in Sunday's finale.
Josh Seils tossed his first complete game Friday, when he struck out seven in a five-hitter. It was Towson's first nine-inning complete game since Michael Adams went the distance in a 1-0 win over Hofstra on Apr. 1. 2018.
The Tigers ended the longest tournament drought in the CAA in dramatic fashion Saturday, when Noah Cabrera hit the go-ahead grand slam during a seven-run eighth inning.
Hofstra graduate senior Jack Jett ended his career in memorable fashion in the nightcap, when he tossed a complete game four-hitter and struck out 11 while throwing 147 pitches. The Pride's Brian Goulard hit two homers and finished with three RBIs Sunday.
Following Sunday's game, Towson dedicated its bullpen to Matt Golczewski, a 2017 graduate and three-year member of the baseball team who died of cancer in March 2020.
Towson (10-10 CAA) is scheduled to host Northeastern in a three-game series beginning Thursday. The regular season is complete for Hofstra (8-16 CAA), which will wait on the wild card verdicts.
—James Madison thought Sunday it had won a series from William & Mary but failed to gain ground on the Tribe in the race for a potential wild card berth. The Dukes found out Monday they'll get one more chance to better their postseason positioning.
James Madison took two of three — sandwiching a 10-7 win in the first game of Saturday's doubleheader and a 10-9, 11-inning walk-off win Sunday around the Tribe's 6-4 win in the nightcap Saturday — before the CAA announced Monday that the Apr. 25 game between the clubs would be completed tonight at William & Mary.
The Tribe was initially credited with a 6-3 win in the opener of the Apr. 25 doubleheader. But the game was declared over after seven innings and CAA rules this season state all league games must be nine-inning affairs. It will be resumed with William & Mary batting in the bottom of the seventh.
The standings will only change if James Madison comes back. A win by the Dukes would improve their record from 6-9 to 7-8 and drop the Tribe from 10-14 to 9-15 and result in the two teams swapping spots at the bottom of the five-team CAA South.
It will be the final regular season game for both teams, each of whom will be waiting to hear about its wild card fate regardless of tonight's outcome.
Chase DeLauter, the CAA's Rookie of the Week, began building his candidacy Saturday by going 4-for-5 with a homer, two RBIs and a stolen base in the opener. Kyle Novak was 2-for-5 with a three-run homer and finished with four RBIs.
Matt Trehub and Ben Williamson each homered for William & Mary in Saturday's second game, when Justin Pearson earned the win after allowing three runs over five innings.
On Sunday, Carson Bell hit for the cycle as James Madison came back from an early 3-0 deficit and squandered a two-run ninth inning lead before exchanging runs in the 10th and finally walking it off in the 11th, when Michael Morgan had the game-tying RBI single and Mason Dunaway lofted the game-winning sacrifice fly.
Remarkably, Bell produced his cycle despite going hitless in his first two-at bats. He delivered a two-run double to begin James Madison's comeback in the sixth, hit a go-ahead two-run homer in the eighth, tripled but was stranded in the ninth and singled in the 11th. Bell's cycle was the first by a Dukes player since 2013.
DeLauter earned his first collegiate win by allowing two unearned runs over the final three innings. He posted a .583 batting average (7-for-12) in the series and produced a .688 on-base percentage.
Williamson hit .400 (6-for-15) with two homers and four RBIs in the series for William & Mary.
—Elon prepped for the key series against Charleston by winning the first two games of a three-game non-league series against Georgia Southern. Adam Spurlin homered twice and Parker Haskin and Adam Iadisernia went deep once apiece in an 8-5 win Thursday. The Phoenix earned a 6-4 win Friday before dropping Saturday's finale 7-5.
Anthony Galason batted a robust .692 (9-for-13) in the series and Joe Sprake recorded saves in both wins for Elon.
---
Jerry Beach has covered Hofstra sports since arriving on campus in the fall of 1993, when Wayne Chrebet was a junior wide receiver wearing No. 3, Butch van Breda Kolff was the men's basketball coach for the East Coast Conference champions and Jay Wright was a little-known yet surely well-dressed UNLV assistant coach. Check out Jerry's book about the 2000 World Series here and follow him on Twitter at @JerryBeach73.