Big East
With Hitting & Pitching Balance, Creighton Eyes The Big East Title
With Hitting & Pitching Balance, Creighton Eyes The Big East Title
After a poor start before last season was canceled, the Creighton Bluejays are eyeing a Big East title with balance at the plate and on the mound.
May 18, 2021
by Andre Fernandez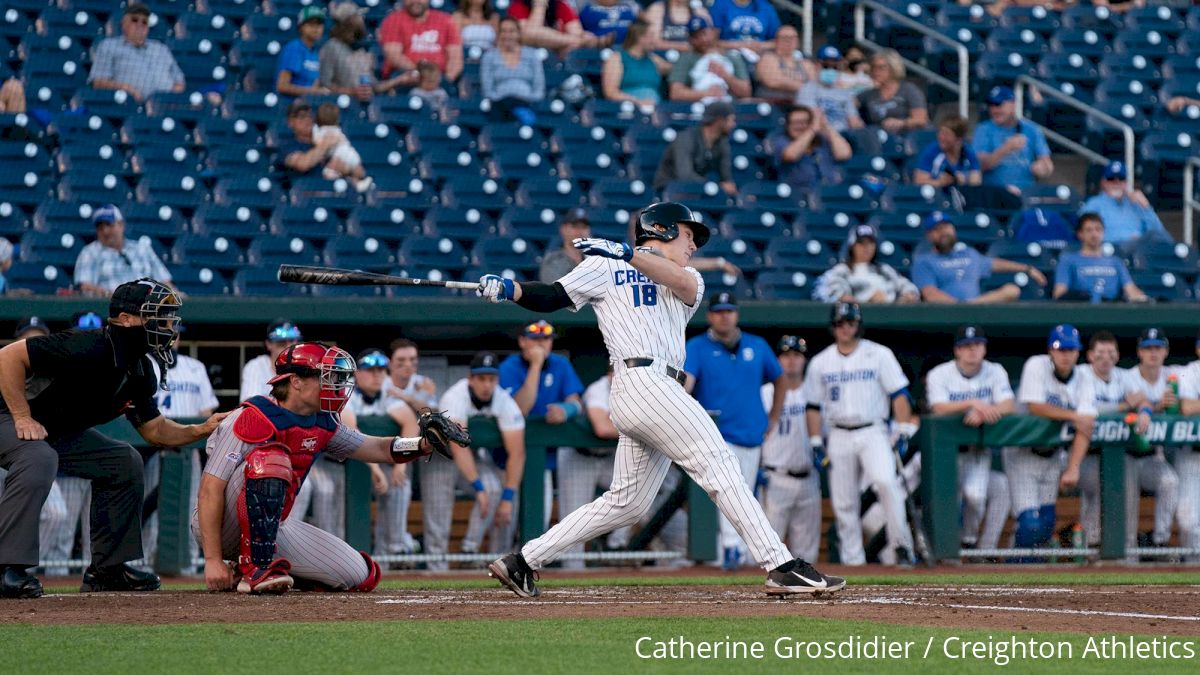 Longtime Creighton baseball coach Ed Servais knows how important it is to perform well on the road and how much it can impact a team.
The Blue Jays did exactly that over the past two weeks, sweeping two games from Butler and splitting a crucial four-game series at Seton Hall.
As a result, Creighton holds the top spot in the Big East Conference with one series left to play in the regular season.
"Travel is challenging especially in a pandemic," said Servais, whose team is 11-10 away from Omaha, Nebraska, before the recent road trip. "We've played ok on the road so far. But sometimes, it galvanizes your team a little bit when you're on the road."
Creighton (21-11, 13-4) has the highest winning percentage in the conference heading into its final four games at home this weekend against Xavier.
The Blue Jays have a chance to repeat what they did in 2019 – win the Big East tournament, which will be held May 27-30 in Mason, Ohio. That title resulted in Creighton's first trip to the NCAA regionals in seven seasons.
Servais, the uncle of Seattle Mariners manager Scott Servais, became Creighton's coach in 2004. Since then, Servais has guided the Blue Jays to two Missouri Valley Conference regular season titles, three tournament titles. Since joining the Big East, Creighton has won three conference regular season titles as well as the aforementioned tournament crown when it was last held in 2019.
The Blue Jays didn't appear to be headed for a repeat last year, getting off to a 5-10 start before the COVID-19 pandemic shut down the season.
But this year, Creighton has regained the balance both at the plate and on the mound which could be enough to make it happen.
Redshirt freshman outfielder Alan Roden powers a lineup which is hitting .272 (ranked second in the conference behind UConn). The Blue Jays also rank second in the conference in team ERA (3.86) behind only Seton Hall.
Roden leads the Big East in doubles (14) and RBI (46) and ranks second in home runs (9) and runs scored (34). Roden has been named the conference's Player of the Week twice in recent weeks, including his 5-for-7, two-home run performance in the doubleheader sweep of Butler on May 8th.
Roden has also been a reliable defender since switching to play both left and right field when needed this season, not committing an error.
That performance against Butler followed up Roden's 6-for-15 output with two home runs, six RBI and four extra base hits in Creighton's series win against Georgetown.
Creighton's outfield remains a strength with senior Parker Upton providing clutch hits. Upton is hitting .312 with four home runs and 34 RBI and also recently earned conference Player of the Week honors after his grand slam against St. John's. Upton hit 6-for-15 in the series and totaled eight RBI in a crucial series which helped the Blue Jays reach the conference's top spot.
Senior third baseman Ryan Mantle has been another source of power, hitting five home runs and putting up a slash line of .317/.447/.529 in 104 at-bats.
Two years after he hit only .241 as a freshman, starting second baseman Andrew Meggs ranks second on the team in hitting (.344/.412/.451).
Creighton's sophomore ace Dylan Tebrake is another Big East Pitcher of the Week honoree, earning the nod after a seven-inning, two-hitter against Georgetown. Tebrake has emerged as one of the top arms in the conference, going unbeaten at 8-0 with a 2.64 ERA and a team-high 64 strikeouts.
Tebrake leads a rotation of Cade Lommel, Jonah Smith and Hudson Leach when they need a fourth starter.
The bullpen thanks primarily to a solid group of sophomores has been the glue to bring it all together in tough spots like last week during their pivotal 3-1 comeback win over Seton Hall.
Sophomore lefthander Paul Bergstrom struck out four and gave up only one hit and one walk to pick up the win in relief. Bergstrom has a 1.14 ERA in 14 appearances with 21 strikeouts and nine walks in 23 2/3 innings.
Sophomore right hander Ryan Windham leads the team with an 0.50 ERA in 11 appearances, striking out 27, walking nine and allowing 11 hits (three extra-base hits) in 18 innings.
Senior right-handed closer John Sakowski leads the Blue Jays with five saves, 32 strikeouts and only three walks in 26 1/3 innings while compiling a 2.39 ERA.
---
Andre has covered baseball at the high school, college and both minor-league and major-league levels for the past 15 years for multiple publications including the Miami Herald, the Athletic and Baseball America. You can follow him at @FernandezAndreC on Twitter.