Coastal Plain League
How The 'Reinvented' Coastal Plain League Played Baseball During COVID-19
How The 'Reinvented' Coastal Plain League Played Baseball During COVID-19
The Coastal Plain League is back to full force after a year of ingenuity dealing with the difficulties of COVID-19.
May 17, 2021
by Andre Fernandez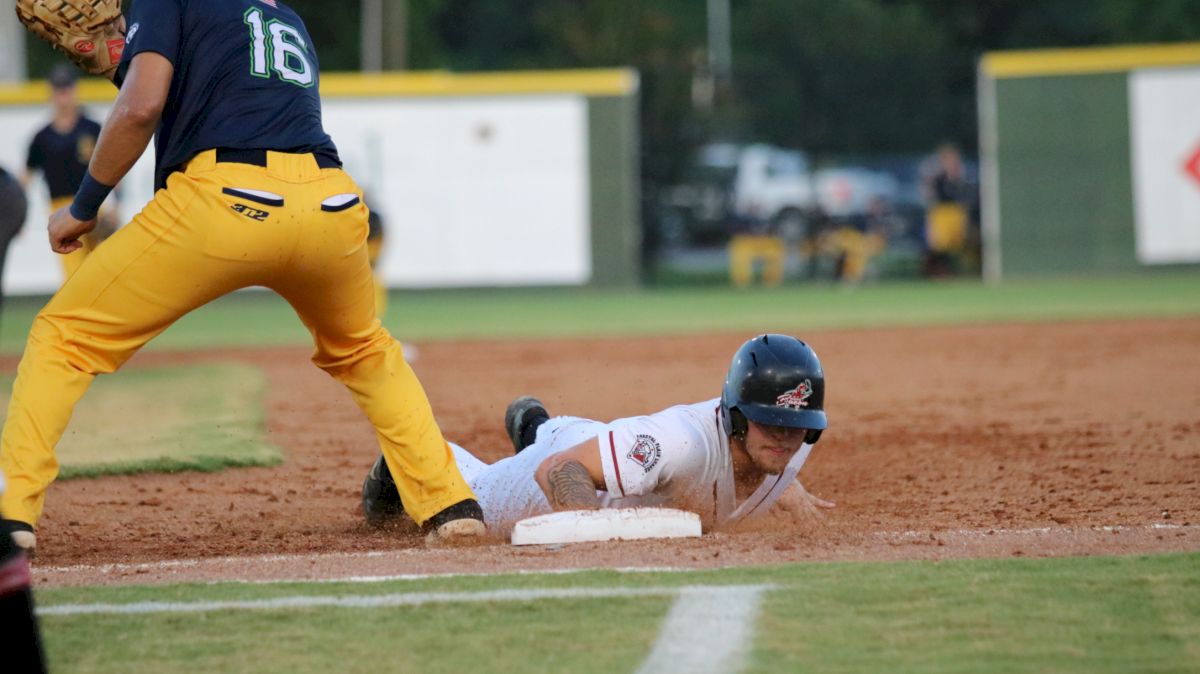 Last summer, even before Major League Baseball made its return to ballparks across America, the game was being played – albeit in a limited capacity – across four southeastern states in the Coastal Plain League.
The CPL, an annual summer league showcasing some of the top college talent in the country, became even more of a hotbed for prospects amid the height of the COVID-19 pandemic when those budding stars literally had nowhere else to play.
But it wasn't without its challenges.
Playing with only seven teams as opposed to its typical 15, and at severely reduced attendance capacities, the league was still able to hold a season. They also welcomed scouts thereby ensuring that those players got an opportunity for exposure, which were scarce at the time with top prominent leagues such as the Cape Cod League unable to play.
"We had to reinvent ourselves a little bit," said Coastal Plain League Commissioner/COO Justin Sellers. "Thankfully after operating for 24 years, we were in a good position where with our creative minds in our front offices in our leagues we did the best we could to get through that summer."
This summer, the CPL is back to a full complement of teams and as attendance capacities steadily increase with more people vaccinated or COVID-19, the league is ready to host its Silver Anniversary season beginning May 27th.
Games will be available at FloBaseball.TV, which will stream over 400 games annually to fans around the world as the presenting sponsor of the CPL.
All 15 of the Coastal Plain League's franchises, which play in North Carolina (7 teams), Virginia (3) Georgia (2) and South Carolina (2), will operate at varying attendance capacities depending on federal and state guidelines.
The league's regular season, typically 52 games, will hold 44 this season and will run through July 31st The CPL will have two divisions (East and West) and will name first and second half league champions.
The playoffs, which typically involve eight teams, will take only four teams this season, who will square off in a two-round tournament from Aug. 1-9 known as the Petitt Cup Playoffs to determine the league champion. The Morehead City Marlins won the 2019 league title. They will be in the East along with the Florence RedWolves, Holly Springs Salamanders, Peninsula Pilots, Tri-City Chili Peppers, Wilmington Sharks and Wilson Tobs.
The West will consist of the Asheboro Copperheads, Forest City Owls, High Point-Thomasville HiToms, Lexington County Blowfish, Macon Bacon, Martinsville Mustangs, Savannah Bananas and the league's newest franchise in Spartanburg, S.C. - the Spartanburgers.
Despite the slightly abbreviated schedule, Sellers was optimistic about the league getting back to a more normal feel after dealing with the financial and logistical hardships of putting together an even more limited season last summer when teams only played an intra-division schedule and held exhibition games to make up for the limited schedule.
The league began later than usual in 2020, starting in early July. Teams played a set number of games in pods set up geographically to avoid too much travel and played exhibitions and split-squads to create extra games
"We worked with our owners and front office staffs to create policies that would create a safe atmosphere for our players, coaches, umpires, and the fans that were able to come out depending on federal and state local guidelines," Sellers said. "No sport had really gone before us so in a lot of ways it was new territory for us just like it was for MLB. We went over the top in terms of sanitation and quarantine protocols. Everybody who played banded together and understood the circumstances of it not being a normal summer."
Most teams still had 30-40 players, and on average 10-15 scouts attended the games, which was something that was rare even at the pro level with no minor league baseball season and major league ballparks cut off.
"With a lot of leagues not playing there was an influx of top-level recruits so we did see an increase in the caliber of player we had on our teams," Sellers said.
Sellers said the majority of their teams applied for federal aid and sponsors were concerned about them not having games. This as well as the limited attendance contributed to the financial hit the league took.
The Georgia teams hosted roughly 1,300-1,400 spectators. But North Carolina, with stricter regulations, hosted no more than 50 people at its parks.
And there were other concerns such as how to continue to hold popular promotions such as "All You Can Eat" ticket packages while conducting concessions in a safe, contactless manner.
Still, Sellers said the league's teams collectively managed to retain 75-80 percent of their combined workforce.
Teams made up for it by holding extra games after the season as longtime rivals Savannah and Macon did for three consecutive weekends.
Teams also organized food drives as well as supply distributions for the local communities.
"There was a financial struggle which depended on the team and the market and the restrictions placed upon them," Sellers said. "But we have a strong base from where we've operated in the past."
The league, which traces its roots back to 1937 with the original Coastal Plain League, was revived in 1997.
Over nearly a quarter of a century have had over 1,650 alumni drafted and 142 alums make it to the majors including former Cy Young winner Justin Verlander, Dodgers outfielder/infielder and 2017 NLCS MVP Chris Taylor, Phillies' 2020 National League Rookie of the Year finalist Alec Bohm, Ryan Zimmerman, Mark Reynolds and others.
This season, it will once again have teams with 30- to 40-player rosters consisting of Division-I, II and III level talent.
Sellers said Macon expects to be at 100 percent capacity when the season begins with Savannah at or close to that mark. The league's North Carolina teams aren't there yet, but the state may lift more restrictions by June 1st. And Virginia will allow in the neighborhood of 1,000-1,200 fans, according to Sellers, who expects that number could go up as the season progresses.
"We all felt the pressure financially because of COVID-19," Sellers said. "Fortunately, we weathered one real down year and now we're back to full force."
---
Andre has covered baseball at the high school, college and both minor-league and major-league levels for the past 15 years for multiple publications including the Miami Herald, the Athletic and Baseball America. You can follow him at @FernandezAndreC on Twitter.