NCAA
UNC Wilmington & Charleston Square Off With The CAA South At Stake
UNC Wilmington & Charleston Square Off With The CAA South At Stake
UNC Wilmington and Charleston earned sweeps over their opponents over the weekend to set up a battle for the CAA South crown.
May 13, 2021
by Jerry Beach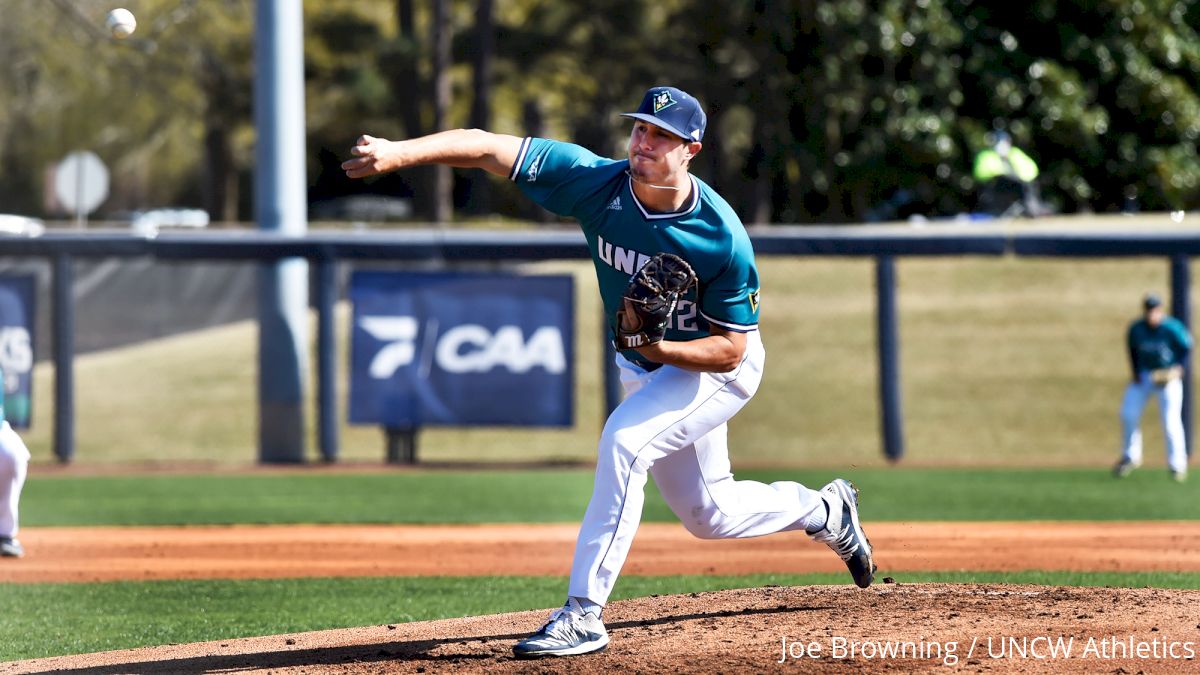 UNC Wilmington head baseball coach Randy Hood is a regular scoreboard watcher, so he knew last Saturday night that College of Charleston had done its part to turn the final series of the regular season into a virtual winner-take-all battle for the CAA South regular-season championship.
On Sunday, the Seahawks followed suit.
Sweeps by UNCW and Charleston of James Madison and William & Mary, respectively, created some separation in long-jumbled CAA South standings just in time for the Seahawks and Cougars to meet in Wilmington this weekend.
UNC Wilmington ran its conference winning streak to five games by beating James Madison 5-3 on Friday before earning a 12-5 win on Saturday and a 5-1 victory Sunday. Charleston traveled to William & Mary and busted out for eight runs in the ninth inning of a 9-4 win Friday before sweeping a doubleheader Saturday by 10-1 and 5-4 scores.
"Their series (ended with) a doubleheader on Saturday so they had all three of their games practically done before we finished up our second game," Hood said Wednesday. "So definitely knew where they were at. I'm definitely a guy that I'll click on D1Baseball and run through the scores.
"We knew that no matter what happened up there, we needed to take care of business this past weekend."
Charleston (11-7 CAA) will head north with a one-game lead over UNC Wilmington (10-8 CAA). A series sweep for either team will guarantee it the South title regardless of how Elon (8-7 CAA) fares in a three-game series against Charleston May 20-22. The Cougars can also clinch the South championship by taking two of three from the Seahawks.
The most chaotic sequence in a most chaotic season could be generated if UNC Wilmington wins but doesn't sweep the series. In that case, the two teams would be tied at 12-9 and Elon could vault into first by sweeping Charleston, which would leave the Seahawks and Cougars tied for second and one relying on an at-large bid to get to the CAA Tournament.
"I think coaches-wise, I think all of us felt that there was a chance that we could kind of beat up each other a bit and (the race) could be a little bit closer than maybe what the poll had originally forecast earlier in the year," said Hood, whose squad was picked to finish first in the South in the preseason poll. "It's just the way things have worked. It's been a weird year."
Both UNC Wilmington and Charleston are 11-4 in their last 15 games. For the Seahawks, the current run was immediately preceded by a 4-10 skid that included a series loss at Charleston Mar. 26-28.
In addition, the Seahawks are 0-4 this season in extra-inning games, which feature the automatic runner at second base to start the additional frames.
"We've definitely had a lot of close games," Hood said. "Some games, I feel like with a break here or there at some point, our road might be a little bit different. But it is what it is right now and we've just got to get together and have a good weekend this weekend."
The series pits the CAA's strongest offense against one of its stingiest pitching staffs. Charleston is averaging a CAA-high 6.2 runs per game and has racked up 125 runs over the last 15 games. Senior Harrison Hawkins earned co-Player of the Week honors last week by hitting .643 with two homers and seven RBIs in the sweep of William & Mary.
UNC Wilmington leads the CAA South with a 3.59 ERA. The trio of Landen Roupp, Adam Smith and Luke Gesell, the three pitchers likely to take the mound against the Cougars, have combined to post a 1.45 ERA the previous two weekends.
While Charleston's pitchers are allowing opposing batters to hit .292 — the second-highest mark in the CAA — the Cougars' Saturday and Sunday starters, Trey Pooser and Connor Campbell, have combined to post a 2.95 ERA the last two weekends. Pooser was named the CAA rookie of the week after tossing seven scoreless innings last Saturday.
"Charleston's got a good club, they've been swinging the bat pretty good," Hood said. "They'll be ready for this weekend."
—William & Mary and James Madison will get one big chance to bounce back from last weekend's sweeps when they meet in a pivotal three-game series in Harrisonburg.
Whoever loses the series will likely fall out of contention for one of the two at-large bids to the CAA Tournament. William & Mary (9-12 CAA) and James Madison (4-8) have the sixth- and seventh-best winning percentages in league play among the nine teams.
Wade Strain tossed 7 1/3 innings of one-run ball in last Friday's opener before an error by first baseman Tyler Solomon resulted in the Cougars scoring eight unearned runs in the ninth. Solomon hit a two-run homer Friday and added a two-run double in Saturday's nightcap.
James Madison's Chase DeLauter and Conor Hartigan extended their hitting streaks to 11 and 12 games last weekend, respectively. DeLauter has also reached base in 19 straight games.
—Northeastern head coach Mike Glavine said in late April he was "not even close" to thinking about the Huskies going unbeaten in the CAA. It might be time for Glavine to start pondering it.
Northeastern continued its record-setting run by taking five straight games from Hofstra — four over the weekend in Boston and one Wednesday on Long Island — to extend the nation's longest winning streak to 18 games and improve to 16-0 in the CAA. The latter is the longest unbeaten streak to begin CAA play in league history, exceeding UNC Wilmington's 12-0 start in 2005.
The only obstacle standing between Northeastern and an unbeaten regular season is Delaware, which is scheduled to host the Huskies in a four-game set beginning Friday.
At 28-6 overall, Northeastern has the program's best record through 34 games. The Huskies are also ranked 27th in the RPI at D1Baseball.com, a leap of 11 spots in the last week.
Northeastern outscored Hofstra 53-15 in the five wins and never trailed after any inning. The Pride led after the top of the first and top of the sixth in Saturday's opener but the Huskies tied the score and took the lead in the bottom halves, respectively.
Northeastern outfielder Jared Dupere earned co-Player of the Week honors while freshman Wyatt Scotti took home Pitcher of the Week honors. Dupere hit .563 with four homers and eight RBIs in the first four games against Hofstra. He leads the CAA with a .372 average and 15 homers. Scotti twirled eight innings of scoreless two-hit ball Sunday to lower his ERA to 1.25, tops in the CAA.
—Towson closed in on the second automatic CAA Tournament berth in the North by taking three of four last weekend from Delaware. The Tigers (8-8 CAA) will lock up a spot in the postseason with one win over Hofstra in this weekend's scheduled four-game series in Maryland.
Towson snapped a seven-game losing streak by beating Delaware 6-5 on Friday before earning 12-4 and 12-7 wins in a doubleheader Saturday. The Blue Hens won Sunday's finale, 9-3.
Danny Becerra had tie-breaking RBIs in the ninth inning of Friday's opener, when he delivered a double, and Saturday's nightcap, when he drew a hit by pitch with the bases loaded to spark a five-run outburst. Noah Cabrera was 5-for-10 with five RBIs in the doubleheader.
—Last weekend's results dealt blows to the CAA Tournament hopes for Hofstra and Delaware, both of whom are 6-14 in the league and tied for last in the CAA in winning percentage. The Pride's path to the postseason likely involves sweeping Towson while the Blue Hens have the task of trying to make up ground against Northeastern.
Rob Weissheier hit .356 with three homers and five RBIs in the four games in Boston to move into Hofstra's all-time top 10 in both homers (24) and RBIs (115). Jimmy Joyce took the loss in Saturday's opener, when he allowed four runs and struck out 10 over seven innings. It was the third straight start in which he's reached double digits in whiffs.
Mike Biaseillo helped Delaware salvage the finale against Towson Sunday, when he tossed 4 2/3 innings of scoreless one-hit relief to earn the win. That capped an impressive weekend for Biasiello, who gave up one run over four innings in Friday's opener. Kyle Baker had a hit in each game to lengthen his hitting streak to 11 games.
---
Jerry Beach has covered Hofstra sports since arriving on campus in the fall of 1993, when Wayne Chrebet was a junior wide receiver wearing No. 3, Butch van Breda Kolff was the men's basketball coach for the East Coast Conference champions and Jay Wright was a little-known yet surely well-dressed UNLV assistant coach. Check out Jerry's book about the 2000 World Series here and follow him on Twitter at @JerryBeach73.