CAA
UNC Wilmington & Elon Complicate The Incredibly Packed CAA South
UNC Wilmington & Elon Complicate The Incredibly Packed CAA South
UNC Wilmington and Elon clawed wins from William & Mary and Charleston, respectively, to complicate an already-packed CAA South Division.
May 5, 2021
by Jerry Beach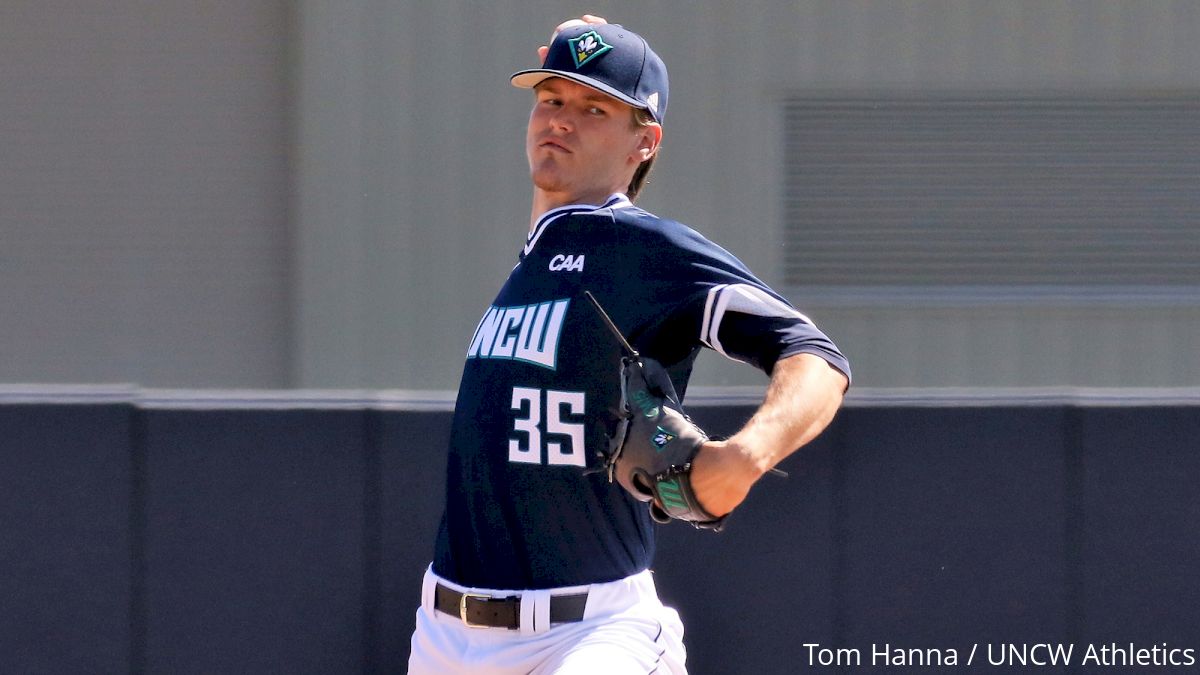 In the words of Chandler Bing: Could the CAA South BE any closer?
An already tightly packed division race grew even more bunched last weekend, when UNC Wilmington took two of three from William & Mary and Elon did the same against Charleston.
The end result? A five-team logjam in which everyone is within a game of .500. By dodging the sweep Sunday, Charleston created a tie for first place with Elon at 8-7. William & Mary is third at 9-9, followed by UNCW at 7-8 and James Madison at 4-5.
A quartet of teams will get a chance to create some breathing room this weekend, when UNC Wilmington is scheduled to host James Madison and William & Mary is slated to welcome Charleston in three-game sets.
Even with Charleston's win on Sunday, UNC Wilmington might have done the most last weekend to generate the top-to-bottom chaos. The Seahawks dropped Friday's opener to William & Mary 5-3 before clamping down in the final two games, when their pitchers allowed just four hits combined in an 11-0 win Saturday and a 1-0 victory Saturday.
On Saturday, Adam Smith allowed a leadoff single to Ben Williamson before he and Noah Overton combined to keep the Tribe hitless the rest of the way. The combined one-hitter was the first for UNC Wilmington since a 5-1 win over Campbell on Apr. 10, 2019. Smith struck out five over a career-high seven innings while Tabor Mongero had three RBIs and Kip Brandenburg added two RBIs.
A day later, Luke Gesell, the CAA co-Pitcher of the Week, allowed three hits over eight innings and Cole Weiss laced a run-scoring single in the sixth to score Matt Suggs, who tripled with one out. Ethan Chenault tossed a perfect ninth for his first save.
"We had one bad inning and it was the first inning of the weekend," UNC Wilmington head coach Randy Hood said Sunday afternoon. "Just proud to come back and get a series win and keep getting ourselves back in the conference standings."
William & Mary rode a four-run first inning to victory Friday, when Mark Trotta and Matt Thomas each had RBI singles before Tyler Solomon laced a two-run double. Wade Strain allowed three runs and struck out eight over seven innings before Matt Howat earned the save with two innings of one-hit relief.
Zach Tsakuonis took the hard-luck loss Sunday after allowing the one run on five hits over 6 2/3 innings.
—A pair of big innings helped Elon bust out for 36 runs in winning the first two games of the series against Charleston before the Cougars bounced back Sunday.
Parker Haskin's first collegiate homer, a grand slam, fueled an eight-run sixth inning in a 14-5 win Friday before Elon stormed back from a six-run deficit Saturday, when the Phoenix scored six times in the eighth and tied the game again in the 10th before Tyler Cranston delivered the walk-off RBI double in the 11th inning of a 12-11 victory. Garrett Stonehouse capped the eighth-inning comeback with a three-run homer and hit .400 (6-for-15) with seven RBIs in four games last week, including a 4-3 win over Western Carolina on Apr. 28.
With the win Saturday, Elon improved to 4-0 in CAA games decided in extra innings this season.
"Not a pretty game by either side but certainly an entertaining game if you were there," Elon head coach Mike Kennedy said.
Charleston moved back into a tie for first place Sunday when it never trailed in a 6-3 win. Tanner Steffy hit a two-run homer in the sixth inning and Jared Kirven added a solo homer one out later. Kirven also had a run-scoring groundout in the fourth while Luke Stageberg had an RBI single in the fourth and Cam Dean lofted a sacrifice fly in the ninth.
Connor Campbell carried a shutout into the eighth and scattered 10 hits over eight innings before Zach Williams earned his fourth save with a perfect ninth.
Elon is not scheduled to resume CAA play until May 20 when the Phoenix concludes the regular season with a three-game series at Charleston.
—Northeastern's pursuit of history is leaving the rest of the CAA North chasing each other for the second guaranteed bid to the CAA Tournament.
The Huskies remained unbeaten in the CAA and ran the longest active winning streak in the country to 13 games by sweeping a four-game series from Towson. Northeastern earned a 3-0 win in Friday's opener and swept Saturday's doubleheader with 2-0 and 7-4 victories before closing out the weekend with a 3-1 win Sunday.
Northeastern's 11-0 CAA mark is the best to open a season since UNC Wilmington started 12-0 in 2005. The Huskies are 23-6 overall, which equals the 1991 team for the best record through 29 games in program history.
A pair of award-winning performances on the mound provided Northeastern some momentum in the first two games. CAA Rookie of the Week Cam Schlittler allowed four hits over seven scoreless innings and struck out eight in earning the win Friday, when he improved to 4-0 and lowered his CAA-leading ERA to 1.64.
On Saturday, co-CAA Pitcher of the Week Kyle Murphy allowed just one hit over eight innings and set a career high with 12 strikeouts. Murphy gave up a leadoff single in the third to Jack McLaughlin and plunked a pair of batters.
Northeastern mounted mini-comebacks in Saturday's nightcap and Sunday's game. Towson took leads of 2-0 and 4-3 in the second game Saturday before Jared Dupere hit a go-ahead two-run homer in the seventh inning. The Tigers carried a 1-0 lead into the fifth inning Sunday, when the game remained tied until Ian Fair hit an RBI triple in the eighth and scored on a sacrifice fly by JP Olson.
Towson (5-7 CAA), which is clinging to a half-game lead over Hofstra in the race for second place in the North, got solid starting pitching despite being swept. The Tigers' four starters — Josh Seils, Nick Janowicz, Nick Ramanjulu and Danny Madden — combined to post a 2.35 ERA in the series, with only Ramanjulu allowing more than one run.
Northeastern will look to remain perfect when it hosts Hofstra in a four-game series weekend while Towson is scheduled to head to Delaware for a key four-game set.
—Hofstra picked a good time to double its league win total for the season as it moved into the thick of the CAA Tournament race by taking the first three games of a four-game series against Delaware, which fell into last place in the North.
The Pride mounted a nine-run, two-out rally in the seventh inning Friday, when it won 14-11, before cruising to a 9-0 win in the first game of a doubleheader Saturday and overcoming an early four-run deficit to earn an 8-7 win in the nightcap. Delaware avoided a sweep in resounding fashion Sunday, when the Blue Hens rolled to a 22-8 win.
Hofstra is 6-9 in the CAA while Delaware is 5-11.
CAA co-Player of the Week Austin Gauthier hit a grand slam in the second inning Friday to give Hofstra a 5-1 lead before Delaware scored eight unanswered runs. Anthony D'Onofrio hit a two-run double in the seventh before the Pride drew seven straight walks, the last five with the bases loaded. Rob Weissheier followed with a two-run single.
Jimmy Joyce struck out 12 batters over six innings in Saturday's opener and combined with five relievers on the shutout. Weissheier had a two-run single during the five-run second in the nightcap, when Santino Rosso delivered the tie-breaking sacrifice fly in the sixth. Winning pitcher Triston Nemjo and Brad Camarda combined to blank the Blue Hens over the final four innings.
Gauthier hit .500 (6-for-12) with a pair of homers while also drawing seven walks in the series.
Delaware got some aggression out Sunday, when Joey Loynd hit a grand slam and Jake Dunion went 4-for-6 with a homer as the Blue Hens scored their most runs in a CAA contest since 2010. Kyle Baker hit a robust .688 (11-of-16) during the series to raise his CAA-leading average to .385.
—James Madison swept a non-conference doubleheader from Saint Joseph's Sunday by identical 9-8 scores. Kyle Novak had four hits and seven RBIs in the twinbill.
---
Jerry Beach has covered Hofstra sports since arriving on campus in the fall of 1993, when Wayne Chrebet was a junior wide receiver wearing No. 3, Butch van Breda Kolff was the men's basketball coach for the East Coast Conference champions and Jay Wright was a little-known yet surely well-dressed UNLV assistant coach. Check out Jerry's book about the 2000 World Series here and follow him on Twitter at @JerryBeach73.