CAA
Northeastern's Push Garners National Attention & CAA Favorite Status
Northeastern's Push Garners National Attention & CAA Favorite Status
The Northeastern Huskies are racking up the wins in CAA play, gaining national attention, and setting themselves up for a deep run.
Apr 28, 2021
by Jerry Beach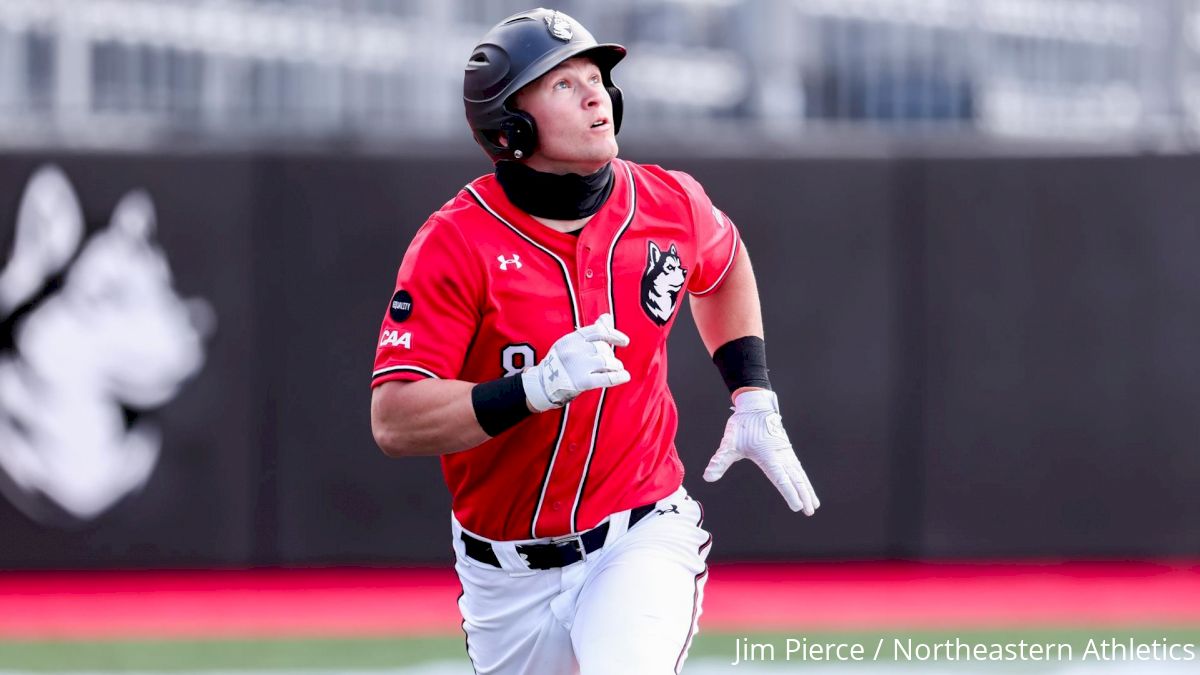 There's no shortage of stats to indicate how strong a season the Northeastern baseball team is enjoying. Unbeaten in CAA play. Off to the program's best 25-game start in 30 years, leading the league in hitting, pitching and fielding — a team Triple Crown, if you will. An RPI that has the Huskies being mentioned amongst the NCAA Tournament at-large possibilities, should they not win the CAA Tournament.
And there's the 15 wins in 16 games dating back to March 12— which means the Huskies have fewer losses than coronavirus pauses in the last six-plus weeks.
"I'm very impressed with our guys — little surprised, that doesn't mean I don't believe in them, it just means because of all the breaks and pauses," Northeastern head coach Mike Glavine said. "Just a hard-working and resilient group. They have the mental toughness. They're frustrated, disappointed — it's sort of like a punch to the stomach each time you get paused — and they've just been able to regroup and reset."
Northeastern won six straight non-league games before a three-game series against Rhode Island was canceled on April 2-3. The Huskies returned to action with a loss to Boston College April 6 and then won four straight, including a three-game sweep of Hofstra in their CAA opener, before five games were shelved the week of April 12.
Glavine said none of the team members who tested positive exhibited anything more than mild symptoms. The pair of stoppages within a team situated on a campus with some of the nation's most comprehensive safety and testing protocols — Northeastern has administered almost a million COVID-19 tests to students since they began arriving in mid-August and initially planned to delay the start of the winter sports season until Dec. 18, though teams began a few days earlier — underscored how unpredictable and contagious the coronavirus remains 13 months into the pandemic.
"This hasn't been something where a bunch of guys had it or (were in) a situation where they shouldn't have been — it's just been bad luck," Glavine said. "I think they do an unbelievable job. We do all the things we're supposed to do. We social distance. We wear masks. (They're) washing hands and have assigned seats on the bus. We have two busses to practice. Just an unfortunate situation and timing."
Last weekend's four-game series against Delaware, a fellow northern-based program that's established itself as a perennial CAA contender, didn't provide an easy re-entry spot for Northeastern. But the Huskies won the first three games by a combined four runs on their way to a sweep that cemented their status as the clear favorite in the CAA North and further bolstered its case as the team to beat in the CAA Tournament, which is scheduled to take place at UNC Wilmington May 26-30.
Jared Dupere had an RBI double in the first inning of the opening game of a doubleheader Friday, when Kyle Murphy and a pair of relievers made it stand up in a 1-0 win. Murphy, Brian Rodriguez and Eric Yost allowed five hits and combined to strike out nine while issuing no walks.
Delaware took the lead by scoring four runs in the eighth inning of the nightcap via a two-RBI single by Jordan Hutchins and RBI singles by Jack Goan and Aidan Kane, but freshman James Quinlivan entered for Northeastern and wriggled out of a bases-loaded, one-out jam before Danny Crossen laced a two-run single in the bottom half to lift the Huskies to a 6-5 win.
On Saturday, Sam Schlitter tossed seven innings of one-run ball to earn the win and Eric Yost, the CAA rookie of the week, earned his third save of the series in a 3-1 victory in the opener of a doubleheader before Dupere, the CAA co-Player of the Week honors by homering twice in the nightcap to lead Northeastern to a 9-4 win.
"Couple of those games could have gone either way," Glavine said. "That's what I love about our team is its mental toughness and its ability to play under pressure. And we've been able to do that. Made pitches under pressure, we made plays defensively under pressure, we were able to come up with big hits."
The wins improved Northeastern to 7-0 in the CAA, its best start since joining the league in 2006, and 19-6 overall, its best start through 25 games since 1991. While the CAA South is a top-to-bottom logjam in which only two games separate the first- and last-place teams, the Huskies — who lead the CAA in batting average (.290), ERA (3.21) and fielding percentage (.981) — are all but assured of a trip to the CAA Tournament. The top two teams in each division qualify for the tournament, along with two wild cards.
By then, Glavine is hoping Northeastern's had a few weeks to string together some consistent prep time as the Huskies pursue the first CAA title in program history. The Huskies earned an at-large bid to the NCAA Tournament after falling to UNCW in the 2018 title game, a path that could present itself again this season thanks to wins over no. 17 Wake Forest and Old Dominion as well as a 4-0 record against Massachusetts.
"I still think our best baseball is ahead of us," Glavine said of the Huskies, who are scheduled to host Towson in a four-game series this weekend. "Because of these pauses, we haven't quite been able to get on our practice routine and lifting routine. It's kind of been jumbled all-around. I still think we've got some good baseball ahead of us. But it's been fun to watch them play."
—There were no sweeps in the two CAA South series played last weekend, so Charleston managed to stay in first place without even playing a league game, though William & Mary and Elon each inched closer to the Cougars by taking two of three from James Madison and UNC Wilmington, respectively.
William & Mary dropped Saturday's opener to James Madison, 9-5 before sweeping a doubleheader Sunday with 6-3 and 1-0 wins. Elon edged UNC Wilmington 2-1 in 10 innings on Friday before splitting a doubleheader Sunday with a 7-6, 12-inning win in the opener and a 6-5 loss in the nightcap.
Charleston, which beat Emmanuel College 6-3 on Friday, is 7-5 in the CAA, a half-game ahead of William & Mary (8-7) and a game ahead of Elon (6-6). James Madison (4-5) and UNC Wilmington (5-7) are close behind.
William & Mary junior left-hander Zach Tsakounis led the Tribe to the series-clinching win Sunday, when he locked up Pitcher of the Week honors by tossing seven innings of five-hit ball and earning the win in the nightcap. Matt Thomas produced the game's lone run with an RBI double in the fifth.
James Madison junior outfielder Conor Hartigan earned co-Player of the Week honors by hitting .727 (8-of-11) with a pair of RBIs and three runs scored in the series. He went 4-for-4 and scored three times in the Dukes' win Saturday. Hartigan improved his CAA-leading average to .380.
—There was no shortage of drama in the Elon-UNC Wilmington series, which began with the Phoenix forcing extra innings with a ninth-inning comeback before Jack Roberts delivered the game-winning safety squeeze in the 10th.
On Sunday, Elon again came back in the ninth inning, this time on a game-tying homer by Nick Cicci, and answered UNC Wilmington's run in the 10th before J.P. Sponseller lofted the walk-off sacrifice fly in the 12th. The Phoenix almost mounted another winning rally in the nightcap, when it scored four times in the final three innings before leaving the tying run on third and the winning run at first in the ninth.
Alex Iadisernia's homer in the eighth inning of Sunday's second game was his ninth of the season, tying the program's record for a freshman.
For UNC Wilmington, Landen Roupp allowed one run and struck out a career-high 12 over 8 2/3 innings Friday to lower his ERA to 2.75 over a CAA-leading 65 innings pitched.
William & Mary is scheduled to visit UNC Wilmington for a three-game series this weekend, when Elon is slated to visit Charleston for a three-game set. James Madison doesn't resume CAA play until May 7.
—Towson and Hofstra swapped dramatic doubleheader sweeps on Friday and Saturday, when the Tigers earned 9-8 and 4-3 wins Friday before the Pride salvaged a split with 5-2 and 8-7 wins.
Towson trailed 6-0 in Saturday's opener before scoring in each of the final five innings. Jake Lysaght delivered the go-ahead hit, a two-run, two-out single, in the ninth. The Tigers carried a 3-1 lead into the ninth inning of the second game before Rob Weissheier, in the midst of a big weekend, hit a game-tying two-run homer for Hofstra. Pinch-hitter Matt Arceo drew the go-ahead bases-loaded walk in the 10th.
Seniors Weissheier and Jimmy Joyce made Hofstra's Senior Day a memorable one Saturday. Joyce earned the win in the opener after striking out 10 batters over seven innings and Weissheier went 6-for-6 in the nightcap, when he delivered the game-winning RBI single. The six hits were the most for a Pride player since Danny Poma was 6-for-6 against New York Institute of Technology on Apr. 10, 2012.
Towson (5-3 CAA) is scheduled to head to Northeastern for a four-game series this weekend while Hofstra (3-8 CAA) is scheduled to host Delaware (4-8 CAA) for a four-game series beginning Friday. Joseph Carpenter has a six-game hitting streak for the Blue Hens.
---
Jerry Beach has covered Hofstra sports since arriving on campus in the fall of 1993, when Wayne Chrebet was a junior wide receiver wearing No. 3, Butch van Breda Kolff was the men's basketball coach for the East Coast Conference champions and Jay Wright was a little-known yet surely well-dressed UNLV assistant coach. Check out Jerry's book about the 2000 World Series here and follow him on Twitter at @JerryBeach73.