Big East
Ben Casparius Thrilled To Be UConn's Ace After Big Stage At North Carolina
Ben Casparius Thrilled To Be UConn's Ace After Big Stage At North Carolina
Ben Casparius is a huge reason why the UConn Huskies are on pace to win the Big East.
Apr 26, 2021
by Andre Fernandez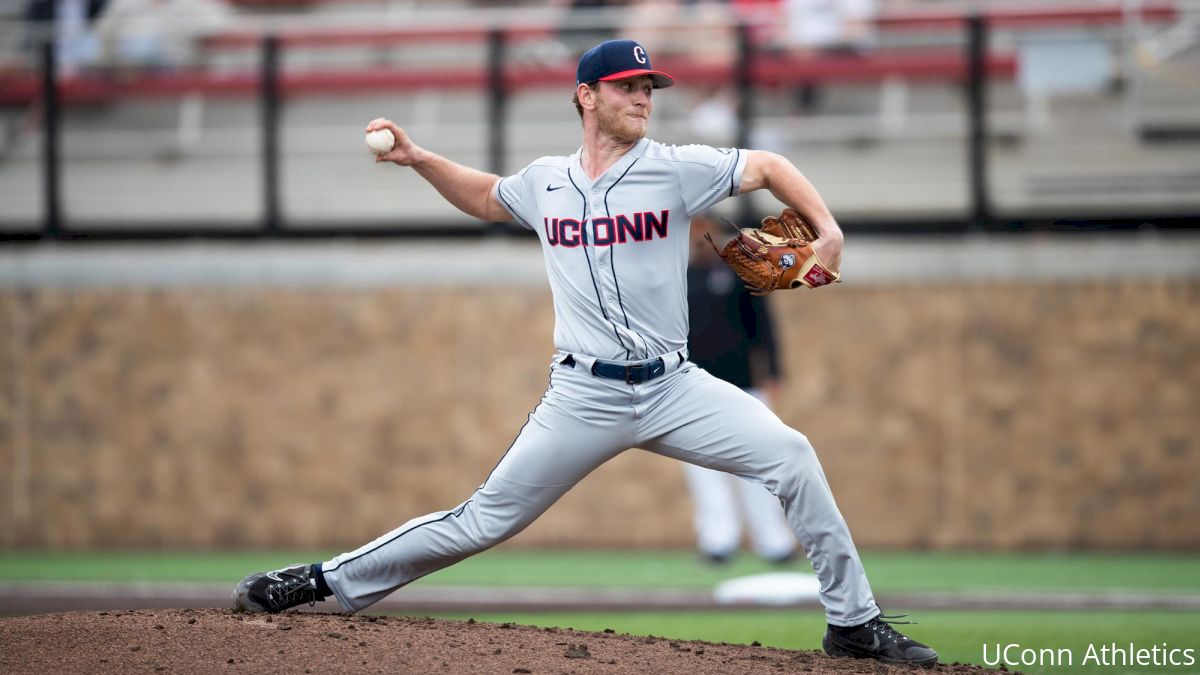 Ben Casparius pitched on the big stage in the College World Series as a freshman at the University of North Carolina.
But now the ace of the UConn Huskies, Casparius would love nothing more this season than to have that same opportunity while pitching for his hometown team.
"It's a true honor for me to be asked to be the ace of this staff," Casparius said at the start of the season. "There's something about coming back to UConn and being back in the Northeast. It's been great to be back and closer to home. I had bonds with a lot of the guys even before I stepped on campus."
Casparius, a 6-0, 208-pound righthander who was born in Westport, Connecticut, and became a star two-way player at Staples High, is one of the main reasons the Huskies are the favorites to win the Big East Conference in their first season back in eight years.
UConn rejoined the Big East this year after spending seven seasons in the American Athletic Conference.
Casparius, along with sophomore catcher Pat Winkel and sophomore outfielder Kyler Fedko, are UConn's top prospects and rated among the best players overall in the conference.
The Huskies (16-12, 2-0 in the Big East), who are 10-0 at home at their new Elliott Ballpark in Storrs, returned to action this weekend with a four-game series at Xavier following a 15-day pause due to COVID-19.
The Huskies were one of the hottest teams in the nation at the time of the stoppage, having won seven in a row and 11 of their previous 12 games. UConn opened their Big East schedule by shutting out Georgetown in back-to-back games by a combined score of 16-0.
UConn has made it to the NCAA regionals in three of the past four seasons (not counting 2020). In 2019, the Huskies made it to the finals of the Oklahoma City Regional before losing 3-1 in a winner-take-all game against the host Cowboys. The Huskies last made it to the College World Series in 1979 and have five appearances all-time.
UConn last won the Big East regular-season title in 2011 and the tournament championship in 2013.
"This is one of the most talented teams we've had in a long while," UConn coach Jim Penders said.
UConn picked up an early win at Virginia and wins against Southern Mississippi and Coastal Carolina. The Huskies were swept in four games by Texas Tech but two of those defeats were by one run and another by two runs.
Outside of four midweek games against Boston College, Northeastern and Rhode Island, the Huskies will play conference games until the Big East tournament on May 27-30 in Mason, Ohio.
"We have some really quality opponents in the Northeast that are going to be challenging," Penders said.
Casparius, ranked the No. 175 overall prospect in this year's draft by Baseball America, is 4-2 with a 2.98 ERA in 51 1/3 innings while striking out 70 and walking 22 batters. Casparius, a fourth-year junior, has a solid pitching arsenal topped by a fastball that has touched 95 mph and complemented by an improving slider and changeup. In his two most recent starts before the shutdown, Casparius threw 14 shutout innings combined and struck out 23.
He and Austin Peterson (4-1, 2.13 ERA), another four-year junior, lead UConn's rotation.
Casparius has only pitched this season, but at UNC, he hit .260/.348/.323 in 59 games while posting a 3.67 ERA in 27 innings on the mound.
Winkel is ranked 127th by Baseball America due to his tools behind the plate. It begins with solid defensive skills, agility behind the plate, and his ability to handle high-level pitching. A 31st-round draft pick of the Yankees in 2018, Winkel has bounced back after missing all of last season due to Tommy John surgery. Winkel is hitting .309 with five home runs and 22 RBI in 110 at-bats, and has thrown out six of 16 runners attempting to steal.
Winkel struggled as a freshman in the Cape Cod League in 2019 hitting .167/.233/.218 in 24 games, but hit .318/.361/.486 with seven home runs for the Huskies that season.
Fedko leads the team's offensive core, hitting .408/.456/.680 with five home runs and 26 RBI. He leads UConn in runs (27) and hits (42). Fedko is following up his prolific 2020 in which he also led the team hitting .412/.434/.627 with 21 hits. Second-year freshman Reggie Crawford leads the team in home runs with eight and RBI with 33.
---
Andre has covered baseball at the high school, college and both minor-league and major-league levels for the past 15 years for multiple publications including the Miami Herald, the Athletic and Baseball America. You can follow him at @FernandezAndreC on Twitter.