CAA
UNCW Ace Landen Roupp Bolstered By Consistency Behind The Plate
UNCW Ace Landen Roupp Bolstered By Consistency Behind The Plate
If you ask his coach Randy Hood, UNCW righthander Landen Roupp is a "good, old country boy who likes to hunt and fish" in his spare time.
Apr 22, 2021
by Andre Fernandez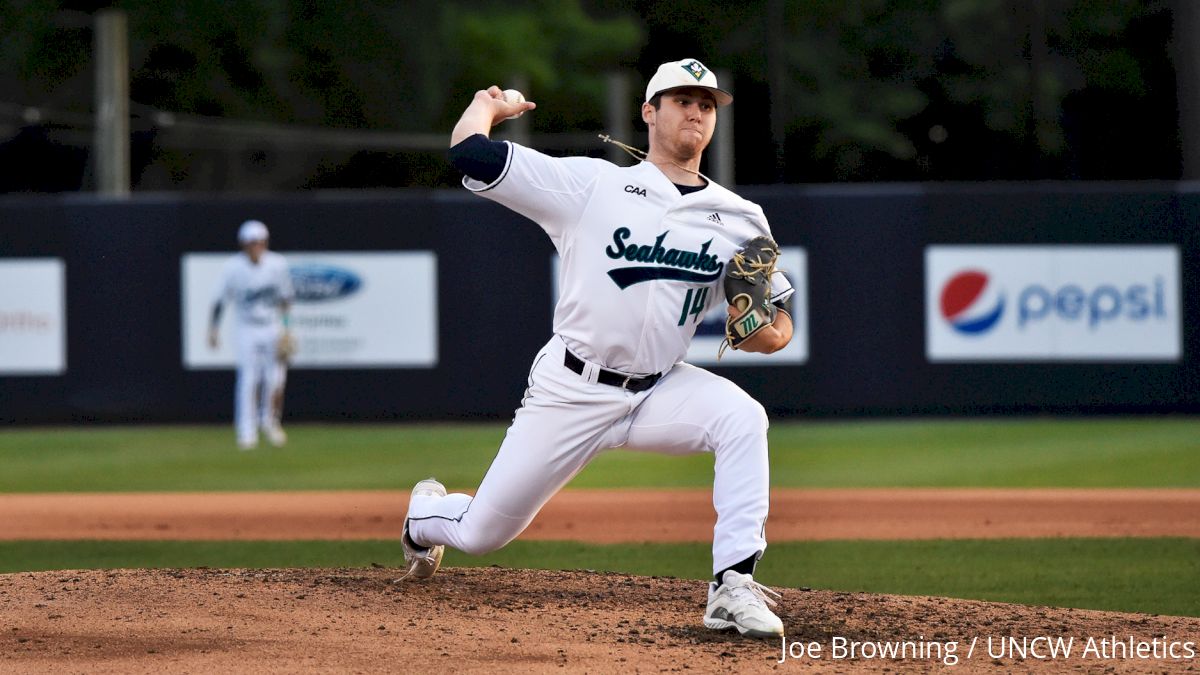 If you ask his coach Randy Hood, UNCW righthander Landen Roupp is a "good, old country boy who likes to hunt and fish" in his spare time.
But Roupp still hasn't invited catcher Matt Suggs on one of his hunting trips.
"I might soon as long as he's not scared to go," Roupp said with a laugh.
It's probably one of the few things the Seahawks starting battery this season didn't do together this past offseason.
For the first time in his four-year career at UNCW, Roupp has been caught consistently by the same catcher.
And the on-field chemistry is just one of the reasons Roupp has emerged as arguably the Colonial Athletic Association's top pitcher this season.
"This year we've built a good relationship and it shows on the field," Suggs said.
Roupp added: "Having a guy back there that knows you, you can't get better than that. I like to work fast on the mound so he knows what I like to do."
Roupp, a redshirt junior, just earned his third CAA Pitcher of the Week honor this week.
As UNCW's ace on Friday nights this season, Roupp has made nine starts and is 4-3 with a 3.04 ERA in a CAA-leading 56 1/3 innings. Roupp has 54 strikeouts, which ranks second in the conference, and 25 walks. He also leads the conference in strikeouts looking with 23.
In his most recent start, Roupp allowed three hits and walked one while striking out a season-high 10 while inducing 10 ground ball outs in a win over UNC Asheville. Roupp went the distance, recording his first complete game the season and the second of his career. It was the first by a UNCW pitcher since Nick Monroe's one-hit shutout against Liberty in 2014.
Roupp (6-2, 205 pounds) is 13-10 with a 3.20 ERA, 222 strikeouts and 92 walks in 40 career starts (50 appearances) during his three-plus seasons at UNCW.
With three Pitcher of the Week awards, Roupp is one away from tying Mat Batts' single-season record of four in 2014.
"He's been what we all felt is one of the best pitchers in our league," Hood said. "Aside from getting off to a slower start by his expectations, he's pitched really well the past three or four weeks and really given us quality starts each Friday night."
Suggs said Roupp's success starts with having strong command of his fastball, which has touched 94 mph and tends to sit around the 89-92 mph range.
"The movement of (his fastball) is unmatched," Suggs said. "I faced him in the fall so I've seen it. It throws you off as a hitter. Then when he can throw the breaking ball and slider, even as a catcher it keeps me on my toes. It helps when he can spot up and has those two pitches working."
Roupp, who will make his next start Friday against Elon as UNCW continues league play, showed such command in his previous start against the Phoenix on April 2nd. Roupp threw seven innings of two-hit baseball in that game with four strikeouts and three walks.
"When he has command of that pitch, he's getting a lot of ground balls and the ball is really sinking and that allows his other pitches to play up because the fastball is that good," Hood said.
Roupp has typically incorporated a curveball and a changeup to go along with his primary pitch.
But this season, Roupp has begun to develop a slider, which he says has become mainly effective against right-handed batters.
"I'm getting used to (the slider)," Roupp said. "I haven't thrown it as much to lefties, mainly on righties but it's getting there. It's going to be a great pitch for me when I can throw consistently to both sides of the plate."
Baseball America mentioned Roupp in recent months as possibly being one of the first pitchers drafted from the CAA this summer. In 2019, Roupp pitched in Cape Cod for the Wareham Gatemen, a team that had several major-league prospects including 2021 projected top 10 pick Adrian Del Castillo from the University of Miami.
Roupp, who has gone hunting and fishing since he was about five years old growing up in Rocky Mount, North Carolina, brings an aggressive mentality to the mound that has helped him throughout his college career.
It's helped Roupp bounce back from a slow start to this season and within challenging outings against tough competition.
"He's going to compete for you and as a coach you have to have patience," Hood said. "He'll dial it in and has the demeanor that he wants to go 100 pitches every time and give you more if he can."
Roupp had a rough start recently against then-No. 13 ranked Oklahoma State. Roupp gave up a pair of home runs and four runs in the first inning, but settled down and pitched into the fifth which nearly gave the Seahawks a chance to come back before losing 7-6.
"Having a feel for every one of my pitches is something I'm going to need in order to have success at the next level, and having a competitive attitude the whole game," Roupp said. "Just going pitch by pitch and trusting the guys behind you. Just understanding that you can control what you can control and move on to the next pitch."
Roupp and Suggs will try to lead UNCW (18-13, 4-5 in CAA) back to the NCAA regionals two years after they each won the conference championship and nearly knocked off North Carolina in the Chapel Hill Regional.
The Seahawks are currently fourth in the conference's South division behind Charleston, William and Mary and James Madison, but have games against all three in the coming weeks.
UNCW also has nonconference tests against potential regional teams in North Carolina, N.C. State, Coastal Carolina and Charlotte, ranked No. 19 by Collegiate Baseball.
"They've been able to work well together, talking, communicating, understanding what each one wants to do and coming up with a great quality game plan with the pitching coaches," Hood said. "Hopefully the last couple of weeks are a precursor to what the rest of the season will be like."'
---
Andre has covered baseball at the high school, college and both minor-league and major-league levels for the past 15 years for multiple publications including the Miami Herald, the Athletic and Baseball America. You can follow him at @FernandezAndreC on Twitter.