CAA
CAA Baseball: William & Mary Rebounds vs Elon To Complicate South Division
CAA Baseball: William & Mary Rebounds vs Elon To Complicate South Division
William & Mary rebounded in a big way by taking three straight against Elon, tightening an already-packed South Division in the CAA.
Apr 20, 2021
by Jerry Beach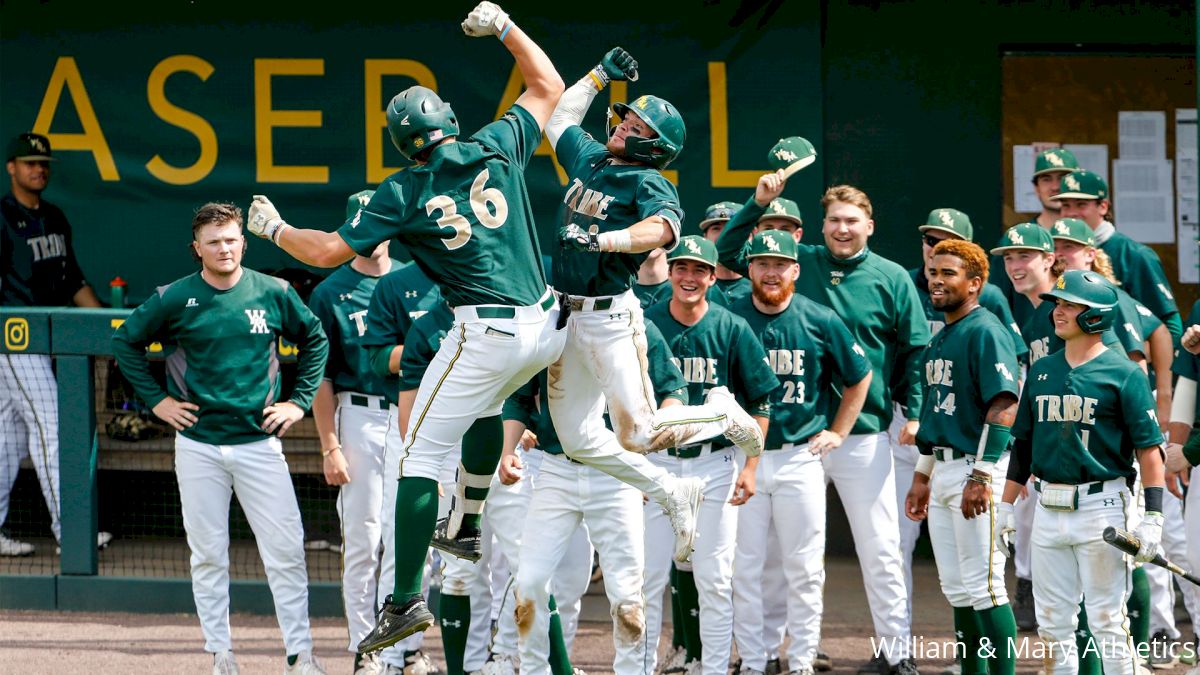 William & Mary didn't wait long to turn the tables on Elon.
The Tribe bounced back from being swept by the Phoenix last weekend by returning the favor at home Saturday and Sunday, when William & Mary took three straight to further tighten an already packed South Division race.
William & Mary, which scored just 13 runs in being swept in North Carolina, came back to win Saturday's opener 6-4 before riding an early offensive outburst to a 12-9 victory in the nightcap and racing out to another fast start Sunday before hanging on for a 9-7 win.
The sweep improved William & Mary to 6-6 in the CAA and created a four-way logjam between second and fifth in which the teams are separated by a half-game. The Tribe is one game behind first-place Charleston.
William & Mary twice fell behind by two runs in the opener before going ahead in the seventh, when David Hogarth hit an RBI double and Ben Williamson delivered a two-run homer. Two-way player Jack Cone added an insurance run with a homer in the eighth before he tossed a hitless ninth for his third save.
William & Mary rode the momentum from the comeback into game two, when the Tribe scored six runs in the first inning and 11 in the first three frames. Mark Trotta laced a three-run double to start the scoring in the first and added an RBI triple in the second.
The teams traded crooked numbers in the opening innings of Sunday's finale, when William & Mary scored three times in the first and Elon responded with four runs in the top of the second before the Tribe took the lead for good with four runs in the bottom half. Williamson had the tie-breaking single in the second before Trotta, who had an RBI single in the first, drew the go-ahead bases-loaded walk. Trotta's seven RBIs for the weekend were two more than he had all season entering the series.
Jacob Haney, the fourth of six William & Mary pitches, allowed one run over three innings to earn the win. Randy Prosperi tossed 1 2/3 perfect innings for his first save.
For Elon (4-5 CAA), Anthony Galason went 4-for-11 during the series and has reached base in 18 straight games. Alex Iadisernia's 12-game hitting streak ended when he went 0-for-3 Sunday, when he drew two walks to extend his on-base streak to 13 consecutive games.
William & Mary is scheduled to host James Madison in a three-game series this weekend. Elon is slated to host UNC Wilmington in a three-game set.
—Delaware played some baseball Mad Libs in taking three of four from Hofstra as the Blue Hens scored three times in the 10th inning to earn a 10-9 walk-off win Friday night before salvaging a spilt of Saturday's doubleheader with a five-run eighth-inning comeback in a 7-5 win and getting 7 1/3 innings of relief from Mike Biasiello in an 11-5 victory Sunday.
CAA Player of the Week Aidan Riley provided the spark Friday, when the freshman hit the walk-off two-run single to cap a comeback-filled win by the Blue Hens, who trailed 2-0 and 7-4 and scored single runs in the fifth, seventh and eighth before Hofstra scored twice in the top of the 10th.
Hofstra won Saturday's opener 14-4 and was six outs away from a sweep before Riley helped fuel the comeback. Vinny Vaccone had an RBI single before Riley laced the game-tying two-run single prior to a two-run double by Joseph Carpenter.
On Sunday, Hofstra chased Delaware starter David Mervis during a three-run first, but the Blue Hens scored the next 11 runs — including four in the bottom of the first, when Riley and Carpenter hit back-to-back homers with one out — as Biasiello allowed just one run on three hits while striking out 10 over his lengthy relief stint.
The homer was the first for Riley, who finished a triple shy of the cycle Sunday and batted .400 (8-for-20) with nine RBIs and three runs during the series. Delaware (4-4 CAA) is scheduled to visit North Division-leading Northeastern this weekend. Due to coronavirus protocols within their program, the Huskies' scheduled series last weekend against Towson was canceled.
Hofstra rode four homers — including a grand slam by Steve Harrington — to the lopsided win in Saturday's opener. The four homers were the most by the Pride in a single game since a four-homer game against James Madison on May 14 201 and the grand slam by Harrington was the program's first since Rob Weissheier cleared the bases against William & Mary on Apr. 28, 2018.
Anthony D'Onofrio had three hits in each game Saturday and went 7-for-17 in the series with three doubles and a stolen base for Hofstra (1-6 CAA, which is scheduled to host Towson in a four-game series this weekend.
—Charleston and James Madison team pitchers traded flirtations with history in the final two games of their three-game set.
Charleston's Trey Pooser took a perfect game into the sixth and carried a no-hitter into the seventh Saturday, when the Cougars locked up a series win with a 15-3 win. James Madison's Justin Showalter responded by taking a no-hitter into the seventh inning Sunday as he helped the Dukes avoid the sweep with a 7-1 win.
Ari Sechopoulos hit a grand slam and finished with a career-high six RBIs Friday, when Trotter Harlan and Brody Hopkins each hit two-run homers as the Cougars opened the series with a 14-7 win.
Another grand slam, this one by Harrison Hawkins, provided all the offense Pooser would need and then some Saturday, when the redshirt freshman retired the first 17 batters before he hit Mason Dunaway with a pitch. Fox Semones ended the no-hit bid with a leadoff homer in the seventh.
The 15 runs were a season-high for Charleston, who scored 42 runs in a three-game span dating back to last Tuesday's 13-6 win over Clemson. It was the first time the Cougars scored in double digits in three straight games since Apr. 9-12, when they lost to The Citadel 17-14, beat The Citadel 10-5 and edged Charleston Southern 10-9.
Hawkins' grand slam was the fifth of the season for Charleston, the most for the program since 2008. It also extended the Cougars' homer streak to nine games, the longest since 2008.
Harlan earned CAA Rookie of the Week honors by hitting .375 with six RBIs in four games. He had at least one RBI in each contest.
The big wins Friday and Saturday were enough to vault Charleston (7-5 CAA) into first place in the South. The Cougars aren't scheduled to resume CAA play again until nest Friday, when they are slated to visit Elon for a three-game set.
Showalter, who shared Pitcher of the Week honors with UNC Wilmington's Landen Roupp, quieted Charleston Sunday, when he issued only a second-inning walk before Harrison Hawkins beat out an infield single with one out in the seventh. Hawkins was promptly erased on a double play and the Cougars didn't get a runner beyond first until the ninth, when Hopkins stole second with two outs and scored on a single by Harlan.
The hit by Harlan cost Showalter a shot at his second career shutout as well as his second one-hitter. Showalter twirled a one-hit shutout against Quinnipiac on Feb 22, 2020.
The win evened James Madison's CAA record at 3-3 heading into a three-game series at William & Mary scheduled to begin Saturday.
—Roupp's shutout sparked UNC Wilmington's three-game sweep of UNC Asheville. The Seahawks, who played a non-league foe for the second straight weekend, earned an 8-0 win Friday before edging the Bulldogs 3-2 on Saturday and coming back from a three-run deficit to record a 4-3 victory Sunday.
Roupp retired the first nine batters he faced and allowed just one runner past first base Friday, when he surrendered three hits and one walk while striking out a season-high 10 in his first career nine-inning complete game. He went the distance in a seven-inning game against Elon on May 12, 2019. The 10 whiffs were one shy of Roupp's career best, set three times previously.
Noah Bridges hit a two-run homer in a four-run second inning and finished with three RBIs. Taber Mongero also had three RBIs.
Adam Smith followed with an impressive first career start Saturday, when he allowed two hits over six scoreless innings and earned the win. Mongero scored on an error to break a 0-0 tie in the sixth, when Dillon Lifrieri added an RBI single. Cole Weiss drew a bases-loaded walk in the eighth.
UNCW spotted UNC Asheville a 3-0 lead Sunday, when Mongero had an RBI grounder in the fifth and Kip Brandenburg hit a solo homer in the sixth before Brooks Baldwin hit the go-ahead two-run homer in the seventh for the Seahawks (4-5 CAA), who are scheduled to resume CAA play this weekend at Elon.
—Towson's Billy Godrick fared well against some familiar faces Saturday, when he had the game-winning RBI in both ends of a doubleheader sweep of Fordham. The Tigers, who added the doubleheader Thursday following the cancelation of their series against Northeastern won the opener in walk-off fashion, 3-2 before taking the nightcap, 5-3.
Josh Seils carried a no-hitter into the sixth in the opener for Towson, which trailed 2-1 before Noah Cabrera stole third base and raced home with the tying run in the eighth on a throwing error by catcher Will Findlay. The Tigers loaded the bases with none out in the ninth when Nick Brown was forced at home on a grounder by Danny Becerra prior to Godrick's game-winning single.
Towson came back from a 3-1 deficit in the second game, when Brandon Austin hit a two-run homer in the fourth and Godrick laced an RBI double in the seventh. Godrick is pursuing his master's in accounting and business advisory at Towson after playing four years (2016-19) at Fordham, where he was a member of the 2019 Atlantic 10 champions.
The second win Saturday was the 40th at Towson for head coach Matt Tyner and the 100th of his career. The Tigers (3-1) are scheduled to visit Hofstra for a four-game series this weekend.
---
Jerry Beach has covered Hofstra sports since arriving on campus in the fall of 1993, when Wayne Chrebet was a junior wide receiver wearing No. 3, Butch van Breda Kolff was the men's basketball coach for the East Coast Conference champions and Jay Wright was a little-known yet surely well-dressed UNLV assistant coach. Check out Jerry's book about the 2000 World Series here and follow him on Twitter at @JerryBeach73.