CAA
Elon Grabs Share Of CAA South Division With Sweep Of William & Mary
Elon Grabs Share Of CAA South Division With Sweep Of William & Mary
Elon's sweep of William & Mary resulted in a near-sweep of the CAA weekly awards for the Phoenix.
Apr 13, 2021
by Jerry Beach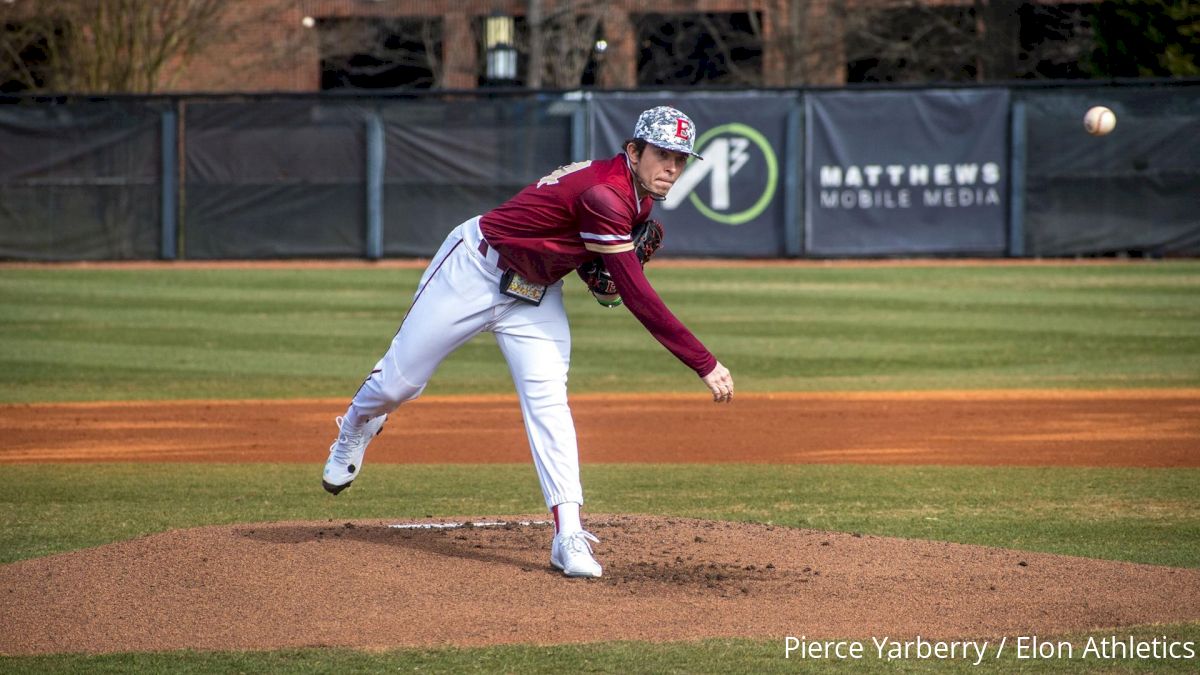 Elon's sweep of William & Mary resulted in a near-sweep of the CAA weekly awards for the Phoenix.
Elon grabbed a share of first place in the South Division by winning 13-7 and 7-6 in Saturday's doubleheader before Brian Edgington tossed his first shutout Sunday in an 8-0 victory. The shutout marked the first for the Phoenix against William & Mary in a series that dates back to 1916, though the two schools didn't become conference rivals until 2015.
Elon (4-2 CAA) is tied for first place with James Madison (2-1 CAA), which didn't play last weekend due to coronavirus protocols.
"Proud of the effort these guys put forth this weekend," Elon head coach Mike Kennedy said. "A lot of different guys stepped up and delivered throughout the weekend."
Edgington was named CAA Pitcher of the Week honors after allowing three hits and walking none while striking out a career-high 12. He threw 78 of his 112 pitches for strikes and retired 18 of the Tribe's last 20 batters.
The sophomore right-hander got plenty of support from a couple of fellow award-winners. Redshirt freshman outfielder Alex Iadisernia, the co-Player of the Week, went 2-for-4 Sunday with two RBIs, including the first-inning sacrifice fly that provided Elon the only run it needed. Iadisernia hit a three-run homer in the first inning of Saturday's doubleheader and laced the go-ahead two-run double in the eighth inning of the nightcap. He also hit two homers in an 8-7 win over High Point last Tuesday and batted .389 (7-for-18) in four games to increase his CAA-leading average to .385.
Freshman Justin Cassella went 3-for-5 with two runs scored Sunday and was named the CAA Rookie of the Week after hitting a robust .632 (12-of-19) while collecting at least two hits and two runs in each of the Phoenix's four games. He was 7-of-10 with six RBIs and homers in each game of Saturday's doubleheader.
Elon has won 10 straight games against William & Mary dating back to a three-game sweep from May 17-19, 2018. That sweep also capped the Phoenix's previous 4-0 week, which included an 8-7 win over UNC Greensboro on May 15, 2018.
William & Mary (3-6 CAA) won't have to wait long to try and snap the streak. The two teams are scheduled to play another three-game set, this one in Williamsburg, beginning Saturday.
Matt Trehub and Matt Thomas homered in Saturday's first game for William & Mary while David Hogarth's two-run homer in the fourth inning of the nightcap completed a six-run outburst and gave the Tribe a 6-5 lead — its only lead of the weekend
—Northeastern rode impressive starting pitching as it opened league play with a three-game sweep of Hofstra. The Huskies won Friday's opener 8-2 before sweeping a doubleheader Saturday, 3-2 and 13-5. The series finale Sunday was canceled due to rain.
Starting pitchers Cam Schlitter, Kyle Murphy and Sebastian Keane combined to go 3-0 with a 2.79 ERA and 31 strikeouts over 19 1/3 innings. Schlitter and Murphy each set a career-high in strikeouts — Schlitter with 11 over seven innings in Friday's opener and Murphy with 12 over 6 2/3 innings in 6 1/3 innings in Saturday's first game — before Keane whiffed eight in six innings in Saturday's nightcap. It marked the fourth straight start in which Keane struck out at least eight.
The starters were aided by sophomore outfielder Jared Dupere, who hit solo homers in both ends of Saturday's doubleheader and finished the series 4-for-11 with five RBIs. Dupere shared Player of the Week honors with Iadisernia after batting .400 with four homers and eight RBIs over five games for Northeastern, which fell to Boston College 5-3 last Tuesday and beat Massachusetts 11-1 last Wednesday. Dupere has hit in eight straight games.
Ben Malgeri had two doubles and three RBIs and Jeff Costello had a pair of RBI singles in Friday's opener for Northeastern. Scott Holzwassser had two hits and a run scored in Saturday's first game while JP Olson hit a two-run homer and Kyle Peterson finished with three RBIs in the second game.
Will Kennedy collected Hofstra's RBIs Friday via a run-scoring double and solo homer while Rob Weissheier lofted a sacrifice fly and hit a solo homer in Saturday's first game. Kennedy was 3-for-4 with an RBI in the nightcap.
Northeastern is scheduled to visit Towson for a four-game series this weekend while Hofstra (0-3 CAA) is slated to head to Delaware for a four-game set.
—Joseph Mershon acted as the opener and Tanner McCallister was the finisher over the weekend for Charleston, which took two of three from Tennessee Tech in a non-league series. The Cougars split a doubleheader Saturday, when they won the opener 9-6 and squandered a three-run deficit in a 5-4 loss in the nightcap, before McCallister hit an eighth-inning grand slam in an 8-0 win Sunday.
Mershon, a redshirt freshman, had a career-best game in Saturday's opener, when he hit a leadoff homer in the first and delivered a three-run homer in the second before his RBI double in the sixth snapped a 6-6 tie. He added another homer to stake the Cougars to a third-inning lead in the nightcap, when Mershon finished 2-for-4.
McCallister's second grand slam of the season ensured Connor Campbell's mound gem would not go unrewarded Sunday. The sophomore is just the fourth Charleston player to hit at least two grand slams in the same season. Campbell allowed seven hits and two walks while striking out seven over eight innings.
Charleston (5-4 CAA) is scheduled to resume league play this weekend with a three-game series against James Madison. The Cougars took two of three from the Dukes Apr. 2-4.
—With a weekend series against James Madison postponed, UNC Wilmington hit the road for a three-game series against no. 13 Oklahoma State, which swept the Seahawks with 7-6 and 10-3 wins Saturday and a 10-4 win Sunday.
UNC Wilmington almost overcame a six-run deficit in the ninth inning of Saturday's opener, when Noah Bridges (two runs), Kevin Pitarra, Jack Howell and Taber Mongero all had RBI singles before Bridges was stranded at third when Brooks Baldwin flew out and Jac Croom popped out. Mongero homered in the eighth for the Seahawks' first run.
Bridges had an RBI single during a three-run sixth in the nightcap while Matt Suggs and Ron Evans hit solo homers Sunday for UNC Wilmington, which played a nationally ranked opponent for the second tie this season. The Seahawks beat then-no. 7 East Carolina, 10-2, on Mar. 17.
UNCW (4-5 CAA) is scheduled to play another non-league series this weekend, when the Seahawks are slated to host UNC Asheville in a three-game set beginning Friday.
—Chris Ludman's second career shutout highlighted Delaware's split of a doubleheader Saturday with Pennsylvania. Ludman twirled a six-hitter and struck out eight in a 4-0 win in the opener before the Blue Hens fell 9-1 in the nightcap.
Ludman walked none and retired the final 10 batters he faced as he completed his first shutout since he tossed a seven-hitter against Goldey Beacom on Mar. 16, 2019. Joseph Carpenter had an RBI single in the first and a run-scoring groundout in the second.
Aidan Riley had two hits and Jake Dunion raced home on a wild pitch in the nightcap for Delaware (1-3), which is scheduled to host Hofstra this weekend.
—Towson raced out to early leads in all three games but was swept by Richmond, which took a doubleheader from the Tigers, 10-9 and 11-3, on Saturday before earning a 14-6 victory Sunday.
In Saturday's opener, Noah Cabrera had a first-inning sacrifice fly and Danny Becerra's two-run single in the second extended Towson's lead to 3-0. Bryce Frederick had three RBIs and hit a two-run homer in the seventh to put the Tigers up 9-6 before Richmond scored twice apiece in the eighth and ninth.
Cabrera scored on a wild pitch in the first inning of the nightcap. On Sunday, Towson spotted Richmond three first-inning runs before scoring five times in the bottom half, when Trent Gast-Woodard laced a tie-breaking two-run single. Cabrera went 1-for-5 Sunday to extend his hitting streak to seven games.
Towson (3-1 CAA) is scheduled to host Northeastern this weekend in an early-season battle for first place in the North.
---
Jerry Beach has covered Hofstra sports since arriving on campus in the fall of 1993, when Wayne Chrebet was a junior wide receiver wearing No. 3, Butch van Breda Kolff was the men's basketball coach for the East Coast Conference champions and Jay Wright was a little-known yet surely well-dressed UNLV assistant coach. Check out Jerry's book about the 2000 World Series here and follow him on Twitter at @JerryBeach73.