CAA
Towson Responds To Losses & James Madison Wins Home Series vs Charleston
Towson Responds To Losses & James Madison Wins Home Series vs Charleston
Towson head coach Matt Tyner has found out how his team responds as the underdog; now he'll get to learn how the Tigers handle things as a front-runner.
Apr 6, 2021
by Jerry Beach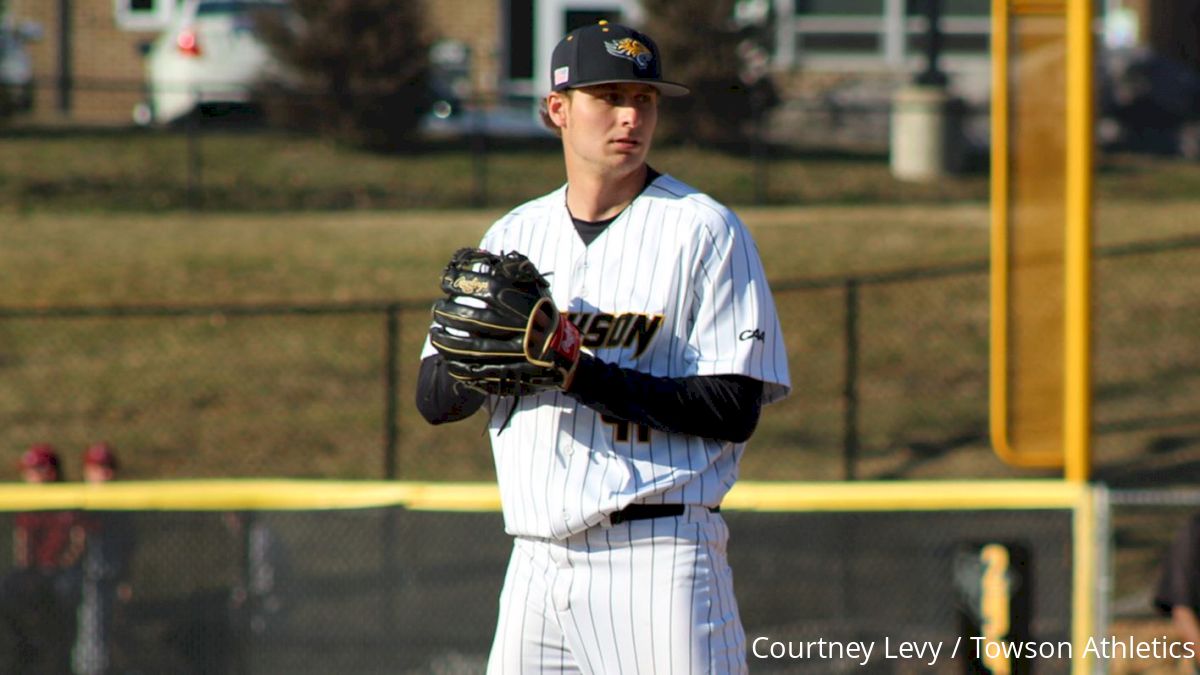 Towson head coach Matt Tyner has found out how his team responds as the underdog. After last weekend, he'll get to learn how the Tigers handle things as a front-runner.
Towson bounced back from a lopsided series-opening defeat against Delaware to take the final three games of the first CAA set of the season. The Tigers, who fell 12-0 Friday, swept a doubleheader Saturday, 10-2 and 7-6, before winning Sunday's finale, 8-3.
The win in Saturday's opener marked the fourth time this season Towson has won immediately after losing a game by at least five runs. The Tigers lost to VCU 14-9 on Mar. 12 before earning an 8-7 win the following day. They fell to Virginia 5-0 on Mar. 17 and beat Massachusetts 8-7 on Mar. 20 before bouncing back from a 10-1 loss to UMass the next day by beating George Mason, 3-2, on Mar. 26.
In addition, after losing to Western Carolina 23-1 and 15-5 in the season's first two games Feb 19-20, the Tigers fell in the final two games, 4-3 and 5-1.
"It's funny, because we had a brief conversation after (Friday's) game — I said, 'Which one stings more: The 12-0 loss or the 10-9 walk-off two-run homer by George Mason the week before?'" Tyner said. "And they're sitting there half said one and half said the other. (He said), 'It doesn't matter. It's still just a loss. So get over it, let's go.' And that was that.
"That's when these guys are at their best — when they're able to have a short memory either way and just come back and play that next day, that next game. These guys are really maturing right in front of us and it is really something to see."
The 3-1 start to CAA play is the best for Towson a 5-1 start in 2016, when the Tigers finished 10-14. They went a combined 19-53 in league play the subsequent three years and are seeking the program's first trip to the CAA Tournament since winning it all in 2013.
"This is a new feeling for us right now — new feeling for me too," said Tyner, who was hired following the 2017 season. "It'll be interesting to see how we handle a little prosperity. Because it seems like so far we've done our best while our backs are against the wall."
The series win was sparked by Towson's bullpen, which allowed an unearned run over 13 innings in the final three games. In Sunday's finale, a quartet of relievers blanked Delaware on four hits over the final six innings.
Towson is scheduled to play five non-conference games before resuming CAA play with a four-game series against Northeastern Apr. 16-18.
Chris Ludman got the series off to an impressive start for Delaware on Friday by tossing eight innings of three-hit ball as the Blue Hens recorded their most lopsided CAA win since a 17-4 victory over Charleston on May 18, 2017.
The Blue Hens (1-3 CAA) are scheduled to host Hofstra in a four-game series beginning Friday.
—It took four tries over eight years, but James Madison has finally won a home series against Charleston.
The Dukes opened CAA play by winning the first two games of a three-game series against the Cougars. James Madison scored eight runs over the first four innings of a 9-3 win Friday before riding a six-run third inning to a 7-4 win Saturday.
A pair of CAA award-winners helped lead James Madison to the long-awaited series win. Senior infielder Fox Semones earned CAA Player of the Week honors by going 7-for-13 with a homer, two doubles and three RBIs in the series. The big weekend lifted Semones' CAA-leading average to .433.
Freshman Chase DeLauter was selected CAA Rookie of the Week after batting .429 and reaching base 11 times in 15 plate appearances out of the leadoff spot. DeLauter, who drew seven walks and was hit by a pitch, leads the CAA in on-base percentage at .551.
James Madison was just 1-8 in three previous home series against Charleston dating back to 2015, the year after the Cougars joined the CAA.
Charleston salvaged the finale of the series Sunday, when the Cougars scored all their runs with two outs in the sixth inning of a 3-1 win. Trotter Harlan hit a solo homer before Tanner Steffy delivered the tie-breaking two-run double. The rally made a winner of Connor Campbell, who allowed one run on four hits over six innings. Zach Williams tossed 2 1/3 innings of one-hit ball for the save.
James Madison is scheduled to host UNC Wilmington in a three-game series beginning Friday. Charleston (5-4 CAA) is slated to play five non-conference games before resuming CAA play with a three-game home series against the Dukes beginning Apr. 16.
—Crooked numbers and some solid pitching in the bookend games helped UNCW win a three-game series from Elon. The Seahawks had a trio of two-run innings in a 6-4 win Friday before busting open a close game by scoring five runs, all with two outs, in the eighth inning of an 8-3 victory Sunday.
Sophomore pitcher Landen Roupp was named the CAA Pitcher of the Week after allowing a pair of unearned runs on two hits while striking out four over seven innings in Friday's opener. He set down the first nine batters he faced and didn't allow a hit until there were two outs in the fifth.
Adam Smith earned saves in both games and allowed just one hit while striking out six over 4 1/3 scoreless innings for UNC Wilmington (4-5 CAA). Brooks Baldwin had a two-run double Friday while Matt Suggs doubled and hit his CAA-leading eighth homer Sunday.
Elon, which was playing its first CAA series of the season, came back from an early two-run deficit and shrugged off a two-run, game-tying ninth-inning rally by UNC Wilmington in the ninth inning Saturday to earn a 5-4, 10-inning win. Alex Iadisernia, who was placed on second to start the 10th, scored on a single by Anthony Galason, who homered earlier in the game and finished 4-for-5.
Iadisernia homered Sunday for Elon, which is scheduled to host William & Mary in a three-game series starting Friday.
—It was the Matt Thomas show Sunday for William & Mary, which received homers from Thomas in both games of a doubleheader split with Richmond and earned a series win in the nightcap, when Thomas came within a double of the cycle in a 10-6 victory. The Tribe missed a chance at a sweep of the three-game set in the opener, when the Spiders scored single runs in the eighth and ninth to record a 5-4 walk-off victory.
William & Mary won the series opener Friday, when Wade Strain allowed two runs over 6 1/3 innings and earned the victory as the Tribe edged the Spiders, 4-3.
William & Mary (3-3 CAA) is scheduled to resume CAA play this weekend against Elon.
—Hofstra's return to action after a coronavirus pause was an eventful one as the Pride parlayed a pair of late-inning homers into a Saturday doubleheader sweep of Rhode Island and a series win in the three-game, two-state set.
Brian Goulard's walk-off two-run shot in the eighth inning of the opener gave Hofstra a 3-1 win while Steve Harrington's solo homer in the sixth inning of the nightcap snapped a tie and sparked the Pride to a 5-3 win. Rhode Island won a wild opener in the Ocean State Friday, when the Rams scored twice in the bottom of the eighth to earn a 12-11 victory in a game that featured five lead changes.
While Austin Gauthier's on-base streak ended at 36 games when he went 0-for-4 in Saturday's first game, Ryan Morash went 4-for-5 with a walk during the doubleheader to extend his on-base streak to 22 straight games dating back to last season.
The games were the first since Mar. 14 for Hofstra, which is scheduled to begin CAA play this weekend with a four-game series against Northeastern. The Huskies entered a coronavirus pause Mar. 30, which caused the postponement of a series against Rhode Island and resulted in the hastily scheduled set between the Rams and Pride.
---
Jerry Beach has covered Hofstra sports since arriving on campus in the fall of 1993, when Wayne Chrebet was a junior wide receiver wearing No. 3, Butch van Breda Kolff was the men's basketball coach for the East Coast Conference champions and Jay Wright was a little-known yet surely well-dressed UNLV assistant coach. Check out Jerry's book about the 2000 World Series here and follow him on Twitter at @JerryBeach73.