CAA
Charleston Edges UNCW In Dramatic Fashion To Seize Control Of CAA South
Charleston Edges UNCW In Dramatic Fashion To Seize Control Of CAA South
Charleston used a chaotic ninth-inning rally to grab control of the top spot in the CAA's South Division.
Mar 30, 2021
by Jerry Beach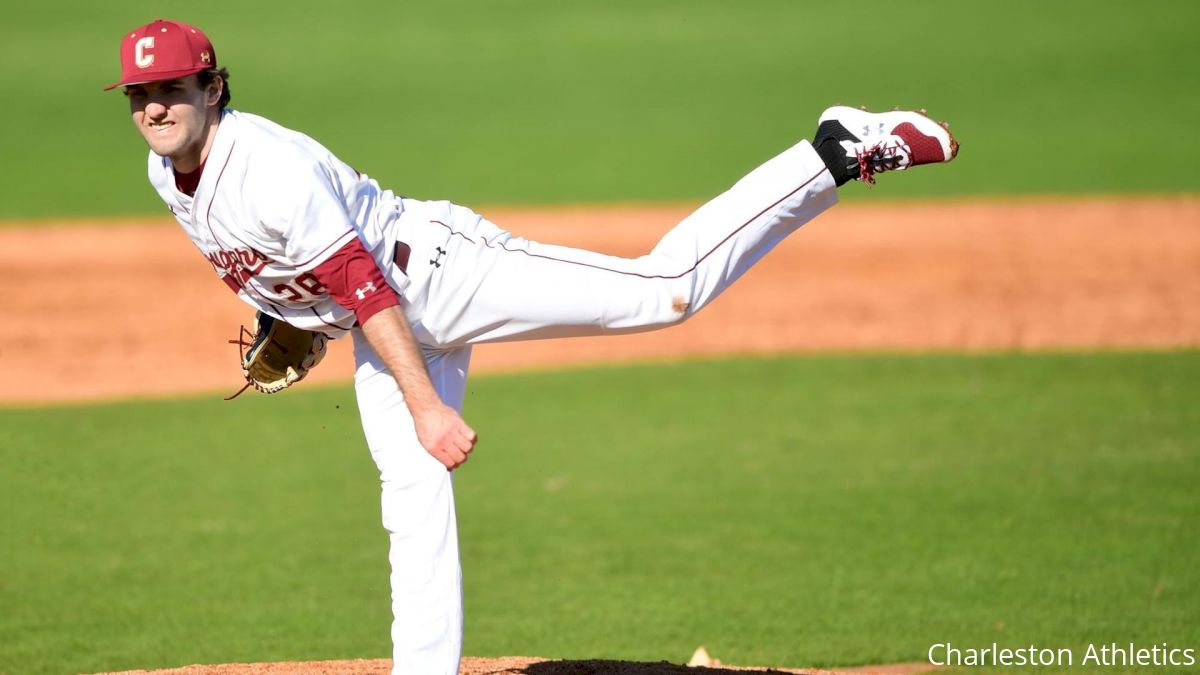 A chaotic ninth inning Sunday was the difference between Charleston enjoying sole possession of first place in the CAA's South Division and UNC Wilmington creating a three-way tie.
UNCW scored four runs in the top of the ninth to tie the score before Charleston built the walk-off run in the bottom half to earn a 10-9 win in the rubber game of a three-game series.
Charleston (4-2 CAA) won the final two games in the series to move past William & Mary (3-3 CAA) into first place in the South, where only three teams have begun league play. The Cougars bounced back from a 6-1 loss Friday with an 11-8 win Saturday over UNC Wilmington (2-4 CAA).
The series win was the first for Charleston over UNC Wilmington since a three-game sweep from Mar. 31-Apr. 2, 2017.
On Sunday, UNC Wilmington scored five runs in the second before Charleston crept back with single runs in the third and fourth, two in the fifth, three in the sixth and two more in the seventh. The Seahawks took advantage of a leadoff error in the ninth by first baseman Ari Sechopoulos to tie the game via a two-run double by Brooks Baldwin and an RBI double by Cole Weiss before Weiss scored on a wild pitch.
Jared Kirven led off the bottom half with a single before pinch-runner Brody Hopkins took second on a bunt and moved to third on a fly out. Hopkins scored when Weiss, playing third base, committed an error on a grounder by Harrison Hawkins.
Ryan Smith got the final two outs in the ninth to earn the win for Charleston, which received seven innings of four-run relief from Connor Campbell.
Hawkins sparked the win Saturday by hitting two homers, including a grand slam, and finishing with six RBIs. Sechopoulos also hit a two-run homer.
Charleston freshman infielder Joseph Mershon went 6-for-12 with two RBIs and four runs scored during the series and hit .500 (8-of-16) in four games overall last week to win Rookie of the Week honors. He is batting a team-high .361 this season.
Landon Roupp earned a share of CAA Pitcher of the Week honors by tossing six scoreless innings to earn the win for UNC Wilmington in Friday's opener, when Trevor Marsh tied a career-high with three hits and laced an RBI triple during a two-run seventh. Matt Suggs hit a two-run homer to spark a three-run eighth.
UNC Wilmington's Kip Bradenburg went 0-for-3 Sunday as his 22-game hitting streak dating back to last season ended.
—Elon salvaged a split of a quickly scheduled two-game series with nationally ranked East Carolina in impressive fashion Saturday, when Nick Cicci hit a two-run fourth-inning homer and Spencer Bauer and Brian Edgington combined on a seven-hitter in a 2-1 win.
East Carolina, which was ranked no. 8 in last week's Baseball America poll, won Friday's opener 15-0.
"Very proud of these guys to take one on the chin like we did yesterday and to bounce back," Elon head coach Mike Kennedy said. "Would have been easy to just roll over and these guys refused to."
East Carolina scored off Bauer in the top of the fourth Sunday before Elon took the lead in a two-pitch span in the bottom half when Cole Reynolds singled and Cicci followed with his first homer of the season
Bauer allowed four hits and struck out eight over five innings of one-run ball before Edgington earned the four-inning save by allowing four hits and striking out six as Elon improved to 6-10. Edgington, who also struck out four in two hitless innings of relief against Wake Forest on Mar. 23, shared CAA Pitcher of the Week honors with Roupp.
The win over East Carolina was the second by a CAA team this season. UNC Wilmington beat the then-no. 7 Pirates, 10-2, on Mar. 17.
The Elon-East Carolina series was added to the schedule Thursday after the Elon-James Madison series was postponed due to coronavirus protocols within the Dukes' program.
—It was a walk-off weekend for Towson, which took three of four from George Mason and bookended the series with dramatic wins.
On Friday, Towson was limited to one hit through eight innings before scoring three times in the ninth to earn a 3-2 win. The Tigers loaded the bases with one out before Matt Arceo scored on a wild pitch and Nate Mills scored on a safety squeeze by Jacob Terao. Javon Fields followed with a bunt single to load the bases before Danny Becerra's game-winning RBI single.
On Sunday, the Tigers scored the tie-breaking run with none out to notch a 6-5 victory. Fields drew a leadoff walk and advanced two bases when George Mason misplayed a bunt by Becerra. After an intentional walk, Nolan Young delivered the game-winning RBI single.
The Tigers pulled off some more ninth-inning dramatics in their lone loss Saturday, when they scored four runs in the top half of the inning to take the lead before a two-run homer by George Mason in the bottom half lifted the Patriots to a 10-9 win. Towson won the nightcap, 5-1 as Danny Madden tossed six innings of one-run ball to earn his first victory since 2018, when he was pitching in junior college for Polk State.
The series win was the first of the season for Towson, which is 7-16.
—The old adage that starting pitchers like to compete with each other paid off for Northeastern over the weekend, when each Huskies starting pitcher set a career-high in strikeouts during a sweep of cross-state rival Massachusetts.
Kris Murphy opened the series Friday by striking out 10 over six innings of two-run ball as Northeastern rolled to an 18-1 victory. Ian Fair went 3-for-6 with three RBIs and missed the cycle by a single for the Huskies, who had 21 hits — the program's most in a single game since a 23-hit outburst in a 23-6 win over Towson on Apr. 28, 2018.
Cam Schlitter earned the win in the first game of a doubleheader Saturday by striking out nine and allowing one run over five innings in Northeastern's 5-2 victory. Sebastian Keane whiffed 10 while allowing three runs on three hits over seven innings in the nightcap, when he was spared a hard-luck loss as the Huskies overcame a two-run deficit by scoring once in the seventh and twice in the eighth to earn a 4-3 win.
Northeastern was also sparked by junior outfielder Ben Malgeri, who earned CAA Player of the Week honors by hitting .600 (6-for-10) with four RBIs and three stolen bases in the sweep as the Huskies improved to 10-5.
—A series against an old conference foe didn't go as well for William & Mary as it did for Towson as the Tribe absorbed a three-game sweep at the hands of VCU.
Jack Cone, the reigning CAA Player of the Week, had four hits — including his first homer — and four RBIs in an 8-6 loss Friday before the Tribe fell 6-3 and 9-4 in a Saturday doubleheader. Matt McDermott homered in the opener for William & Mary, which is 4-12.
—Fordham's first trip to Delaware since 1978 didn't go so well for the hosts Saturday, when the Blue Hens never led in losing a doubleheader. The Rams cruised to a 15-2 win in the opener before winning the nightcap, 8-1.
Fordham scored in each of the first five innings in the first game before scoring twice apiece in the fifth and sixth and three more times in the eighth in the second game.
Kyle Baker and Jack Goan homered in the doubleheader for Delaware, which was playing a hastily scheduled series for the second straight weekend. The Fordham games were added Friday.
The Blue Hens are 3-5.
—Coronavirus-permitting, three more teams are scheduled to begin CAA play in a trio of series this weekend. Delaware and Towson are slated to open the North Division schedule with a three-game set in Maryland while Elon hopes to visit UNC Wilmington and James Madison hosts Charleston. Northeastern (Rhode Island), Hofstra (St. John's) and William & Mary (Richmond) have non-conference series scheduled, with Hofstra hoping to return from a coronavirus pause.
---
Jerry Beach has covered Hofstra sports since arriving on campus in the fall of 1993, when Wayne Chrebet was a junior wide receiver wearing No. 3, Butch van Breda Kolff was the men's basketball coach for the East Coast Conference champions and Jay Wright was a little-known yet surely well-dressed UNLV assistant coach. Check out Jerry's book about the 2000 World Series here and follow him on Twitter at @JerryBeach73.