CAA
CAA Notebook: William & Mary Earns Doubleheader Sweep Of UNC Wilmington
CAA Notebook: William & Mary Earns Doubleheader Sweep Of UNC Wilmington
In another week of CAA baseball, William & Mary scored a pair of much-needed wins vs conference power UNC Wilmington.
Mar 23, 2021
by Jerry Beach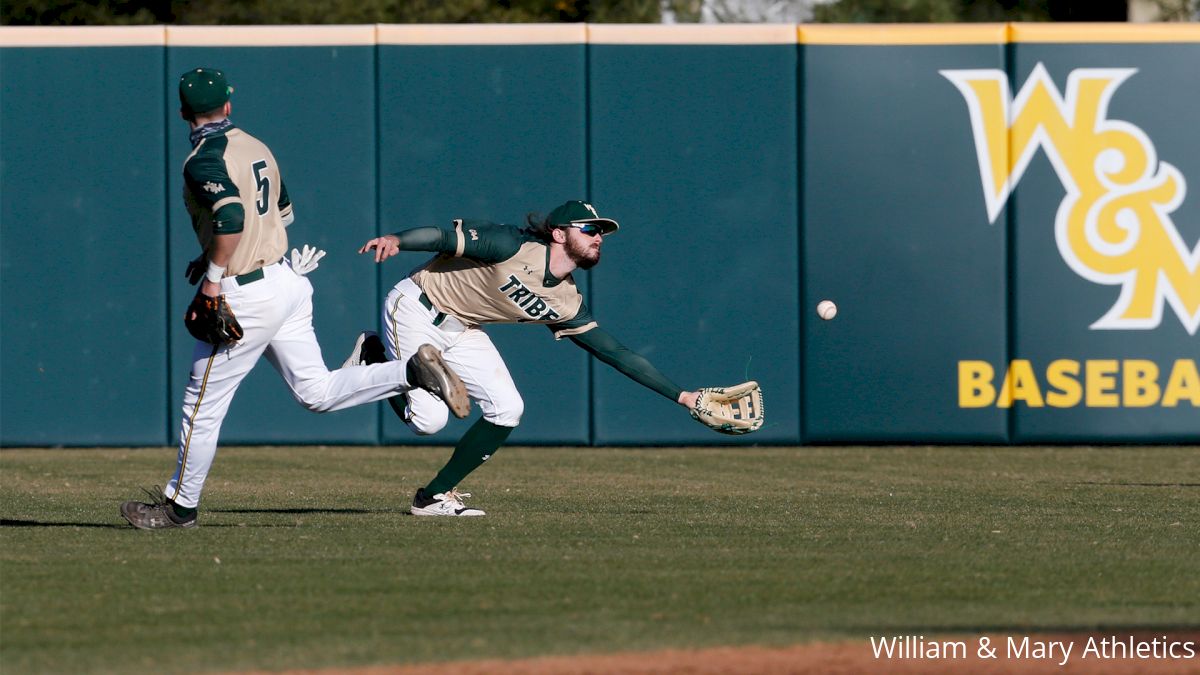 Jack Cone was the finisher for William & Mary on Saturday.
Cone sparked William & Mary's doubleheader sweep of UNC Wilmington by delivering the walk-off single to cap a two-out, three-run rally in a 5-4 win in the opener before he recorded the final five outs to earn the save in a 7-6 win in the nightcap.
UNCW avoided the sweep with a 4-1 win in Sunday's finale. But Saturday's sweep was enough to earn Cone CAA Player of the Week honors and to give the previously struggling Tribe a boost heading into the heart of conference play.
William & Mary is just 4-9 overall but 3-3 in CAA play. No team in the league has a better overall winning percentage than UNC Wilmington, which is 12-5 and entered the series against the Tribe fresh off a 10-2 rout Wednesday of East Carolina, the seventh-ranked team in the country.
"Obviously (UNCW) is a good program and playing really well and either one of the three games could have gone either way," William & Mary head coach Brian Murphy told William & Mary's website. "There's certainly some confidence to be gained from it, to be sure."
UNC Wilmington right-hander Ryan Calvert earned CAA Rookie of the Week honors by allowing an unearned run over five-plus innings and earning his first career win Sunday. Calvert retired 15 straight batters following a leadoff double by Ben Williamson. Hunter Hodges inherited a two-on, none-out situation in the sixth and tossed four hitless innings to earn his first save.
The William & Mary-UNCW set was the only league series played over the weekend. The scheduled three-game series between James Madison and Elon was postponed because of coronavirus protocols within the James Madison program.
—Another struggling team earned a needed doubleheader sweep Saturday, when Towson withstood a six-run ninth inning by Massachusetts to earn an 8-7 win in the opener before recording a 4-0 victory in the nightcap.
UMass responded with a doubleheader sweep Sunday, when the Minutemen won a pair of seven-inning games, 3-1 and 10-1.
The two wins on Saturday matched the total Towson (4-15) had entering the weekend. Josh Seils earned CAA Pitcher of the Week honors by allowing one run and striking out 10 over seven innings in the opener. The win was imperiled when UMass scored six runs with two outs in the ninth before Austin Weber recorded the final out. In the second game, Nick Janowicz tossed a career-high 5 1/3 innings in the second game as the Tigers produced their first shutout since an 8-0 win over Fordham on Mar. 15, 2019.
—Delaware earned a split in a hastily scheduled doubleheader with Lehigh Saturday, when the Blue Hens fell 3-2 in the opener before winning the nightcap, 5-0.
Chris Ludman took the hard-luck complete-game loss in the opener, when he allowed five hits, including the go-ahead two-run homer by Casey Rother with two outs in the eighth.
Joseph Carpenter went 3-for-3 with a homer in the second game, when Dom Velazquez earned the win by striking out eight over five innings as Delaware improved to 3-3. Reece Bolton and Derek Wakeley combined to hold Lehigh hitless over the final four innings.
The twin bill was scheduled just a day earlier. Delaware wasn't scheduled to play last weekend while Lehigh's Patriot League series against Navy was postponed due to restriction of movement regulations at the Naval Academy.
—Hofstra and Charleston each had weekend series canceled due to coronavirus protocols within the programs. Hofstra, which had a positive Tier 1 case, was scheduled to host Rhode Island. The Pride has also canceled this weekend's series against Fordham. Charleston was slated to visit Charlotte.
—Coronavirus-permitting, a pair of CAA series are scheduled to take place this weekend with Elon visiting James Madison and Charleston hosting UNC Wilmington. Delaware (Saint Joseph's), Northeastern (Massachusetts), Towson (George Mason) and William & Mary (VCU) are all scheduled to play non-conference series.
---
Jerry Beach has covered Hofstra sports since arriving on campus in the fall of 1993, when Wayne Chrebet was a junior wide receiver wearing No. 3, Butch van Breda Kolff was the men's basketball coach for the East Coast Conference champions and Jay Wright was a little-known yet surely well-dressed UNLV assistant coach. Check out Jerry's book about the 2000 World Series here and follow him on Twitter at @JerryBeach73.