2021 Northeastern vs Delaware
Northeastern Ace Could Have The Tools To Be The School's Next Major-Leaguer
Northeastern Ace Could Have The Tools To Be The School's Next Major-Leaguer
Redshirt freshman Sebastian Keane has all the tools to be the next pitcher in the Big Leagues coming out of Northeastern.
Mar 17, 2021
by Andre Fernandez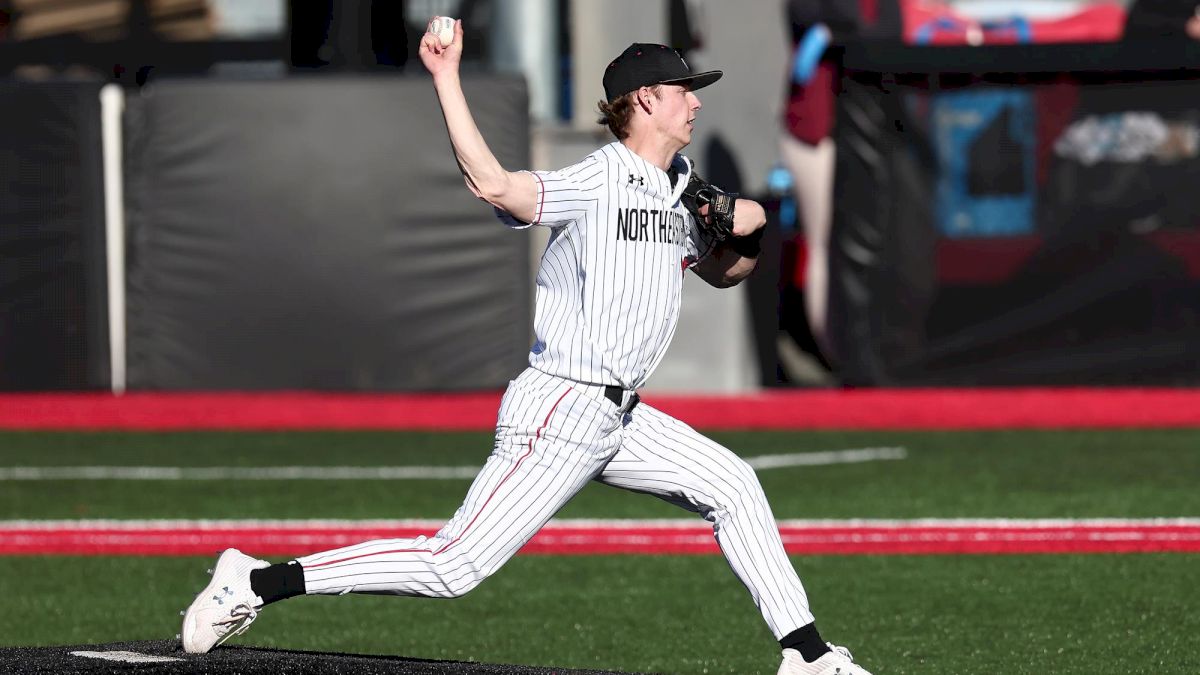 It had been a while since Northeastern – a school with a list of major league alums which includes Carlos Pena and Adam Ottovino – had produced a big-leaguer.
A nearly decade-long drought ended last year when Aaron Civale, a third-round pick in 2016, started 10 games for Cleveland.
Could redshirt freshman Sebastian Keane be next?
Keane, a 6-foot-3, 187-pound righthander, could have been pitching in the Boston Red Sox minor-league system right now had he chosen to sign after being selected in the 11th round of the 2019 draft.
These days, Keane is heading up the starting rotation on Friday nights for the Huskies, a squad with aspirations of winning the Colonial Athletic Association championship and returning to the NCAA tournament for the first time in three years.
Keane, last year's CAA freshman of the year, possesses a 92-95 mph fastball which has touched 96 as well as a deceptive slider, changeup and curveball mix that scouts believe could make him a starter at the next level should he continue to develop his secondary pitches as well as command of the heater.
Baseball America recently named him its CAA Preseason Pitcher of the Year.
Keane picked up his first career complete game shutout last Friday when he threw a two-hitter against UMass-Lowell while striking out nine with no walks.
Keane's performance was the first nine-inning complete game shutout by a Northeastern pitcher since David Stiehl allowed three hits in a 7-0 win over Charleston on Apr. 19, 2019.
Keane's numbers so far this season don't look impressive (1-1 with a 6.06 ERA) after a rough season-opening start against Wake Forest when he gave up six earned runs in 2 1/3 innings.
But his strikeout-to-walk ratio has also been strong with 21 punchouts and only five walks.
"My first two starts of the year didn't go how I wanted, so I was pumped to pick up my first win," Keane said last week.
Keane, who grew up a Yankees fan since his father, Tom, once lived in the Bronx, was a prep star at North Andover High School in Massachusetts. In high school, Keane broke the school record for career strikeouts with 272 and went 21-5 with an 0.66 ERA.
Keane's mother, Marie Dahlen, is from Sweden which allowed him to play for the Under-15 and Under-18 Swedish national teams as well.
Keane was listed among the top 20 freshmen in the country by Baseball America and top 50 by Perfect game last year.
Keane went 3-1 with a 4.50 ERA in four starts during the shortened 2020 season. This included a win over Florida Atlantic in which he allowed two hits over seven innings. Keane struck out 24 and walked six in 20 innings.
In addition to turning down the Red Sox, Keane chose Northeastern over multiple major-college offers.
"He was just electric," Northeastern coach Mike Glavine said after Keane's most recent outing. "He had his three-pitch mix going and didn't work too many big counts. He was dominant and gave us what we needed."
Glavine, the younger brother of Hall of Famer Tom Glavine, played first base briefly in the majors for the Mets in 2003 and is also a Northeastern alum.
Keane isn't the only pitcher on the Huskies staff that has Glavine hopeful they can compete for the conference title this season.
Pitching has been the team's strong suit so far.
The Huskies' rotation also includes 6-6 freshman righthander Cam Schlitter, who allowed one run over seven innings in his latest outing, and 6-5 redshirt junior right-hander Brandon Dufault, who earned the win in a walk-off 2-1 victory against UMass Lowell. Fifth-year senior righthander Kyle Murphy is the most experienced returner with 71 career appearances.
Collectively, Northeastern has a 3.80 team ERA through its first 12 games, but has struggled at the plate hitting just .262 with only four home runs. The team has felt the absence of infielder Corey DiLoreto, a CAA All-Rookie team selection in 2019, who has been out with an injury. DiLoreto, a redshirt sophomore, has hit .379 with three doubles and four RBI in nine games.
Northeastern won 10 of its final 12 games before the season was canceled and has an experienced lineup of solid defenders and speed that could complement their surplus of arms.
Fifth-year second baseman Scott Holzwasser (.231) is off to a slow start at the plate, but leads the team with 11 RBI.
He also had a SportsCenter Top 10 moment in a game against UMass on March 3 when he acrobatically leapt over the tag of the Minutemen's second baseman to stretch out a double.
Outfielder Ben Malgeri has plus speed and power according to Baseball America and fifth-year junior Ian Fair was the conference's preseason player of the year in 2020.
The Huskies improved to 7-5 following their 2-0 victory over Bryant on Tuesday and also have a victory over Wake Forest. They picked up their first series win of the season last week taking 2-of-3 from UMass Lowell.
Northeastern has made eight NCAA tournament appearances all-time, but only once in the past 18 seasons. Their lone College World Series trip was in 1966.
Northeastern has a three-game road trip at Villanova this weekend that was postponed by COVID-19 earlier this season. Their non-conference schedule also includes two games against Boston College and a three-game series vs. Rhode Island before jumping into league play April 9-11 at Hofstra.
"We've continued to get better and really starting to come along now," Glavine said. "We have to continue to use our speed and put pressure on opposing defenses and start driving balls into the gaps and get more extra base hits. I really want to see the offense take that next step."
---
Andre has covered baseball at the high school, college and both minor-league and major-league levels for the past 15 years for multiple publications including the Miami Herald, the Athletic and Baseball America. You can follow him at @FernandezAndreC on Twitter.