CAA
CAA Baseball: Record-Setting Weekend For Hofstra & James Madison
CAA Baseball: Record-Setting Weekend For Hofstra & James Madison
CAA baseball saw a number of records notched over the weekend thanks to the play of Hofstra and James Madison.
Mar 16, 2021
by Jerry Beach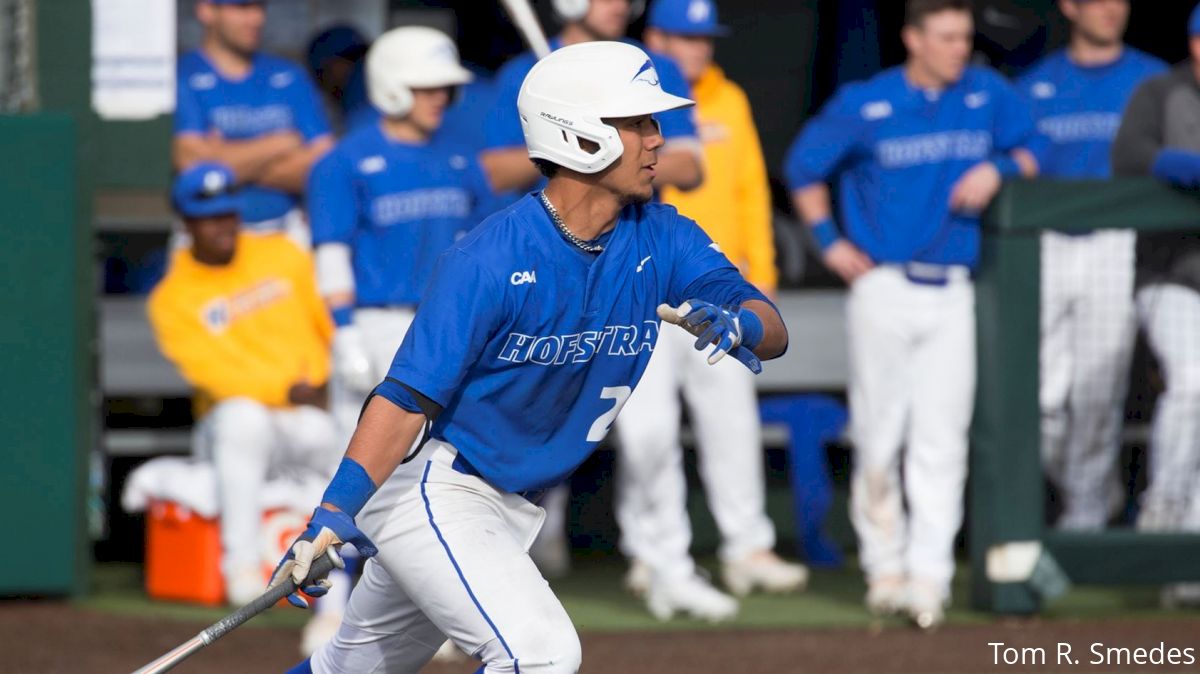 On Saturday afternoon, the Hofstra baseball team matched a 34-year-old school record. On Sunday, the Pride earned a victory that allowed head coach John Russo to break a far older mark.
The Pride completed a four-game win against visiting Sacred Heart by cruising to a 27-7 win in the nightcap of a doubleheader Saturday before recording a 5-0 win in Sunday's finale.
The teams split the first two games, with Hofstra winning Friday's opener 8-5 and Sacred Heart earning a 4-3 win in the first game of Saturday's twin-bill.
The Pride wasted little time bouncing back in Saturday's second game, when it scored in every inning in which it batted and eight players had multiple hits. Hofstra scored six runs in the third, five in the fourth, seven in the fifth and four more in the sixth.
The 27-run outburst was the second in school history. The then-Flying Dutchmen beat Mercy, 27-25, during the 1987 season.
Jimmy Joyce tossed eight scoreless innings Sunday, when the Pride snapped a scoreless tie by scoring three times in the seventh. The win was the 180th for Russo, snapping a tie for the most in school history with Jack Smith, who was the second coach in program history from 1943-62.
The milestone victory was the latest notable achievement for Russo, who took over the program prior to the 2012 season. Ten of Russo's former players have signed with Major League Baseball organizations — six draftees and four free agent signees. Hofstra had nine alums reach affiliated ball between the program's founding in 1938 and 2011.
In addition, Russo has directed Hofstra to a pair of CAA Tournament berths, matching the number of conference tournaments the Pride qualified for in the 15 seasons before his arrival.
The series win over Sacred Heart improved Hofstra to 7-5 this season.
—Russo wasn't the only CAA coach to reach a milestone over the weekend. James Madison head coach Marlin Ikenerry earned his 400th victory Sunday, when the Dukes overcame an early four-run deficit to beat VMI, 12-7. Ikenerry joined the 400-win club against his alma mater, whom he led to 282 wins from 2004-14.
Ikenerry's 400th win was fueled by an impressive power display from redshirt sophomore Travis Reifsnider, who homered in his final three at-bats. Reifsnider is the 11th player in school history to hit three homers in a game and the first since Brett Johnson did so against UNC Asheville on Feb. 25, 2017.
The Dukes took two of three from VMI to improve to 3-6. James Madison won Thursday's opener, 9-5 and fell Saturday, 17-7.
—After 656 days, league play returned to the CAA Friday, when William & Mary and College of Charleston opened a three-game series in South Carolina. The host Cougars won the set by sweeping a doubleheader Sunday, when second-year freshman Trotter Harlan had a combined seven hits in the 7-1 and 6-4 victories. The Tribe won Saturday's opener, 7-3.
Charleston is 5-9 while William & Mary is 2-8.
The league game was the first since May 26, 2019, when UNC Wilmington edged Elon, 6-5, in 10 innings in the CAA championship game. Spring sports were canceled due to the pandemic on Mar. 13, 2020, eight days before CAA teams were scheduled to begin league play.
—The 2019 finalists each had productive weekends as UNC Wilmington swept a three-game set from Appalachian State and Elon took two of three from North Carolina A&T.
UNCW had its stingiest pitching weekend in 15 years by limiting Appalachian State to just three runs — one run in each game. Landen Roupp and Luke Gesell each allowed one run over seven innings in a 6-1 victory Friday night and a 7-1 win Saturday, respectively, before nine pitchers combined on a four-hitter in a 7-1 victory Sunday.
The Seahawks last limited a team to three runs or fewer in a series from Feb. 10-12, 2006, when they outscored Maryland Eastern-Shore 57-3 in a three-game sweep.
Kip Bradenburg had a pair of doubles in Sunday's win and has a 15-game hitting streak for UNC Wilmington, which is 10-3.
—Elon bounced back from a walk-off loss Friday with a pair of 10-run outings to win the series against North Carolina A&T. The Phoenix fell 8-7 in the opener but never trailed in Saturday's 10-4 win nor Sunday's 10-9 victory. Alex Iadissernia went 4-for-4 with a homer and two RBIs on Sunday.
Elon is 5-8 and scheduled to begin CAA play this weekend, when James Madison is slated to visit Latham Park.
—Northeastern received a pair of impressive pitching performances in bouncing back from losing Friday's opener to take a three-game series from UMass-Lowell. The Huskies fell 10-7 in the first game of a doubleheader before Sebastian Keane twirled a two-hit shutout in a 2-0 win in the nightcap. On Saturday, Cam Schlitter allowed one run over seven innings and Brandon Dufault earned the win in a walk-off 2-1 victory.
Keane's shutout was the first nine-inning complete game shutout by a Northeastern pitcher since David Stiehl allowed three hits in a 7-0 win over Charleston on Apr. 19, 2019.
Northeastern built the winning run the old-fashioned way in Saturday's rubber game when Danny Crossen led off the ninth with a single, advanced a base when Kyle Peterson was hit by a pitch and took third on a bunt by Scott Holzwasser before scoring on JP Olson's single. The Huskies are 6-5.
—Towson snapped a seven-game losing streak by scoring three runs in the top of the ninth to beat VCU, 8-7, in the middle game of a three-game series before falling in Sunday's finale, 5-1. The Tigers lost the opener, 14-9.
Noah Cabrera tied Saturday's game before Danny Becerra delivered the go-ahead RBI single. Becerra went 0-for-3 Sunday but drew a walk to extend his on-base streak to 14 games. Brandon Austin's on-base streak ended at 20 games when he went 0-for-4 in the finale.
The Tigers are 2-12.
—Delaware dropped a pair of high-scoring affairs to Villanova, which scored three runs in the bottom of the seventh inning of a 6-5 win Saturday before holding on for an 11-10 victory Sunday.
The Blue Hens trailed 8-3 and 11-6 in the finale before scoring four times in the seventh. But Delaware went hitless in the last two innings as it fell to 2-2. Jordan Hutchins went 1-for-5 with a two-run double Sunday and has reached base in nine straight games.
---
Jerry Beach has covered Hofstra sports since arriving on campus in the fall of 1993, when Wayne Chrebet was a junior wide receiver wearing No. 3, Butch van Breda Kolff was the men's basketball coach for the East Coast Conference champions and Jay Wright was a little-known yet surely well-dressed UNLV assistant coach. Check out Jerry's book about the 2000 World Series here and follow him on Twitter at @JerryBeach73.