NCAA
Perennial CAA Champion UNC Wilmington Is Looking For More In 2021
Perennial CAA Champion UNC Wilmington Is Looking For More In 2021
UNCW has long been a powerhouse in the CAA, but the Seahawks are looking for more in the 2021 season after 2020's disappointing end.
Mar 15, 2021
by Andre Fernandez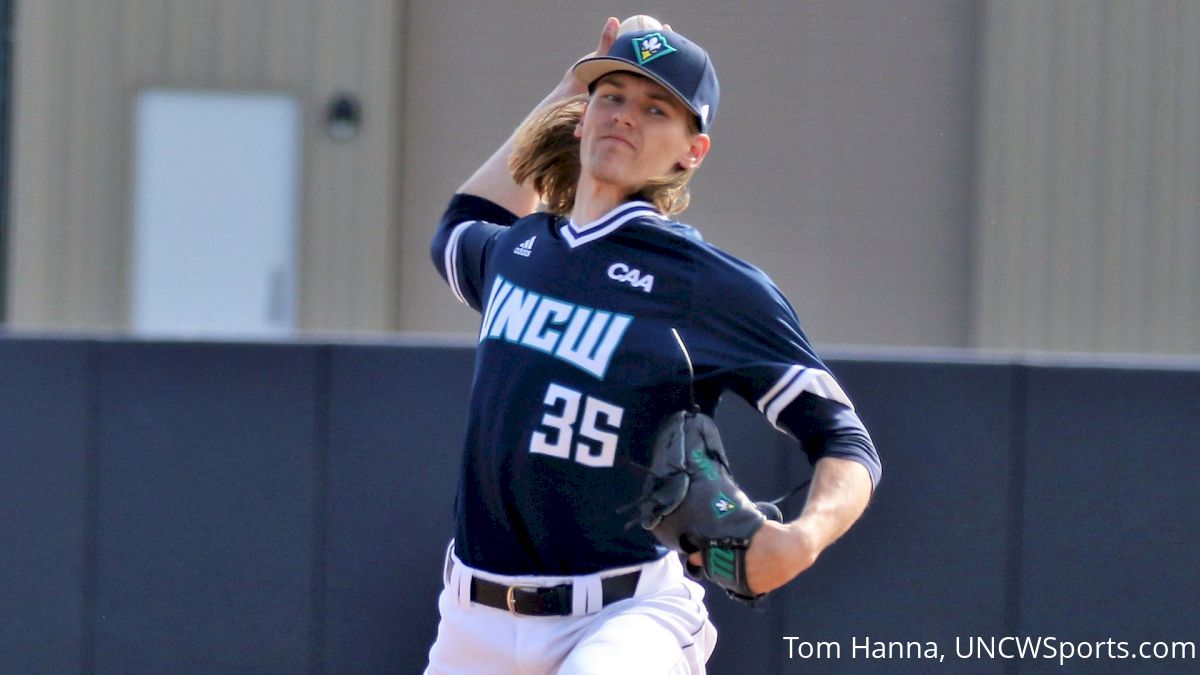 Fifth-year seniors Cole Weiss and Luke Gesell didn't want to leave UNC Wilmington with any regrets.
Although each had experienced winning two Colonial Athletic Association championships during their college careers, the bitter taste of having a promising 2020 season cut short by the COVID-19 pandemic left them wanting more.
So when an extra year of eligibility came available, Gesell and Weiss both felt their choice was pretty clear.
"We wanted to play baseball and none of us were content with how it ended in 2020," Weiss said at the team's preseason media day.
Gesell added: "There was never a question as to whether I wanted to come back."
Weiss is back at the hot corner and Gesell is anchoring the rotation for an experienced UNCW squad which was off to a 10-3 start entering the week.
The Seahawks (11-5 in 2020) are the cream of the crop in the CAA, winning six conference championships since 2004 including the past two titles in 2018 and 2019.
Two years ago – the last time there was an NCAA postseason – UNC Wilmington took a 6-5 lead into the bottom of the ninth against North Carolina in the Chapel Hill regional before losing 7-6.
Before last season was canceled, the Seahawks' non-conference schedule included a win over East Carolina and a three-game sweep at Kentucky.
The core from that squad highlighted by Weiss and Gesell is still on the roster along with a talented group of underclassmen and transfers that make the Seahawks the favorites once again to secure the conference's automatic regionals bid this season.
"There were individual calls to each of them especially when we heard about the draft and how the free agency stuff was going to play out," UNC Wilmington coach Randy Hood said at the start of the season. "In a normal year, we probably would have lost five or six guys. When it all boiled down to it I think you have guys here that wanted to play college baseball and hopefully finish their career the way they dreamed about it playing out."
Hood joined Wilmington's program in 2001 and became the head coach before last season.
In addition to the Seahawks' six conference titles, they received at-large bids to the NCAA Tournament in 2003, 2008 and 2016.
Gesell, who earned All-CAA preseason honorable mention, has been the Seahawks' best starter so far, going 2-0 with a 2.42 ERA, 1.07 WHIP, 19 strikeouts and three walks in 22 1/3 innings. Weiss is hitting .277, but has drawn a team-high 11 walks and has yet to commit an error in 37 chances.
Gesell picked up his second win of the season last week against Appalachian State after allowing one run on six hits over his season-long seven-inning outing. He struck out five and did not walk a batter.
The Seahawks returned 28 players overall and one of Hood's reasons for excitement is redshirt junior righthander and CAA preseason player of the year Landen Roupp, who leads them in strikeouts (24) over his first four starts.
Roupp, Weiss, junior outfielder Noah Bridges and right-handed pitcher Adam Smith were UNC Wilmington's four preseason All-CAA first-team selections.
UNC Wilmington is about to face two of their toughest tests of the season over the next two weeks starting with a midweek home matchup against East Carolina, ranked No. 9 by Baseball America, on Wednesday. The Seahawks will then play the first of two games this season against N.C. State. They also play Coastal Carolina four times this season and play a midweek road game at North Carolina on May 18th.
"We've got a lot of guys in our program that have gotten better every year whether it's junior or senior it's time to step up and take on a bigger role and we have several guys that are in those types of situations," Hood said. "There's no doubt in my mind. I think the core of what we have back is the same reason I felt the way I did last year. I'm excited and I don't have any doubts that this group can be special."
Roupp has attacked the strike zone well early on, but is 1-2 with a 4.91 ERA with nine walks and has given up three home runs.
"It's going to be hard with so many experienced hitters (on other teams) coming back," Roupp said. "You just have to stick with what we've all learned, but I think with our rotation and our bullpen we're going to be pretty good."
First baseman Kip Brandenburg leads the Seahawks' lineup, hitting .408 with a 1.136 OPS, seven doubles, a home run and seven RBI. Shortstop Taber Mongero is hitting .342 with five RBI.
Right fielder Brooks Baldwin has provided the power, hitting .316 with a team-high five home runs and 13 RBI. Bridges and second-year freshman Ron Evans figure to be other sources of power in the Seahawks' lineup this season.
The bullpen has been led by Adam Smith, Bryce Cota and Cody Benton closing games so far with each picking up a save. Freshman Hunter Hodges has opened his career with 13 strikeouts in his first 10 innings pitched.
The weekend rotation also includes 6-5 freshman righthander Ryan Calvert, who is armed with a low-90s fastball, slider and changeup.
"We have a lot of different arm side guys that are going to be crucial keeping hitters on their toes," Seahawks catcher Matt Suggs said recently. "We have some solid young guys that are going to stand out and help us. I like how we're going to be able to attack hitters."
---
Andre has covered baseball at the high school, college and both minor-league and major-league levels for the past 15 years for multiple publications including the Miami Herald, the Athletic and Baseball America. You can follow him at @FernandezAndreC on Twitter.