2021 East Carolina vs UNCW
A Durable Gavin Williams Could Propel East Carolina To New Heights
A Durable Gavin Williams Could Propel East Carolina To New Heights
East Carolina's Gavin Williams has faced tough injuries, but when the 6-foot-6 pitcher is healthy he's one of the hardest-throwing guys on the mound.
Mar 12, 2021
by Andre Fernandez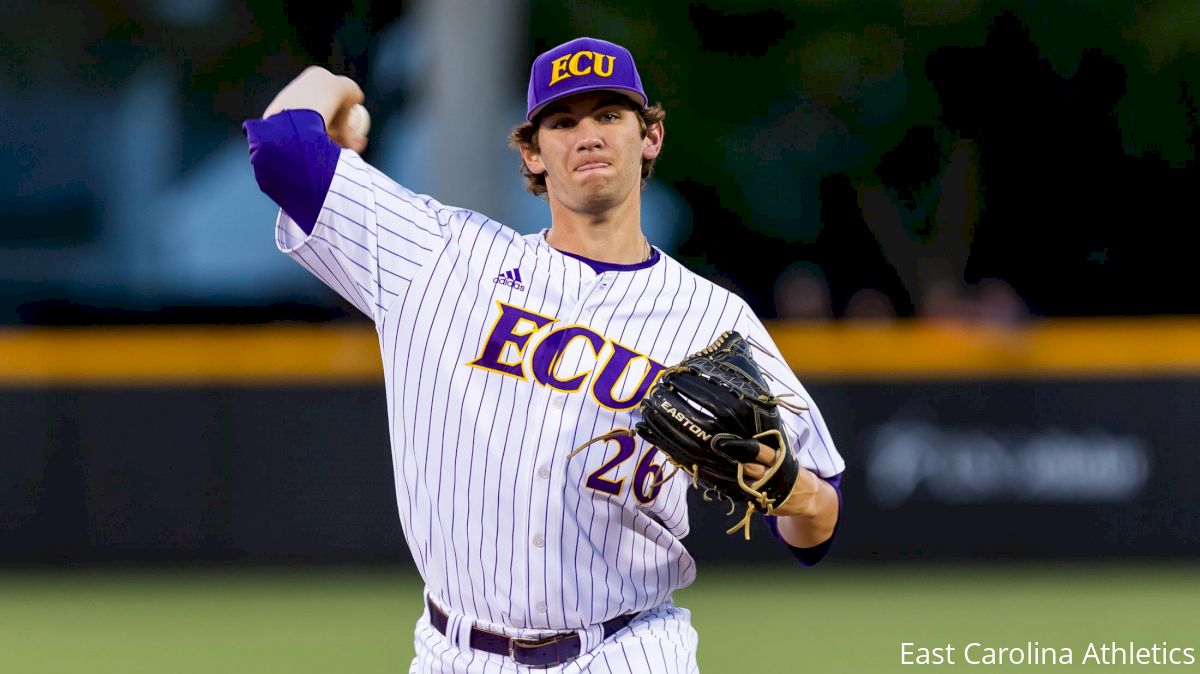 Gavin Williams was really jacked up to be on the mound last week.
All East Carolina coach Cliff Godwin needed to know that was a look at the radar gun.
"His adrenaline was so high and it's been so long since he's been out there, his first warmup pitch was 97 (mph)," Godwin said.
Over the past three years, Godwin has appreciated whenever he's had the imposing 6-6, 283-pound junior right-hander firing near triple-digit heat to the plate.
Williams, now in his fourth season pitching for the Pirates, has spent a fair amount of time during his career at East Carolina dealing with injuries which have limited him to 73 total innings.
But when he's been on, Williams has touched 101 mph and consistently in the upper-90s on his fastball.
"Of course you guys saw it was 96 to 99 mph every pitch," Godwin said after Williams threw four hitless innings on March 6th against Appalachian State while striking out three with two walks. "I thought he got squeezed on the 3-2 walk, but that's what happens on the road. He yanked a pitch and hit a guy, which I feel sorry for that guy, I'm sure he's sore. But just to have him out there was an adrenaline boost for our team. Look, he's special."
Williams also touched 96-99 mph consistently in his first relief appearance this season according to reports.
A healthy Williams with solid command of that offering plus his curveball-changeup mix could prove to be a huge difference-maker for East Carolina's hopes of finally reaching Omaha this season.
East Carolina (10-2 following a midweek win over Duke) entered the week ranked as high as No. 9 by Collegiate Baseball. They are also ranked No. 14 by Baseball America, D1Baseball.com and the NCBWA.
The Pirates won the American Athletic Conference in 2019 and advanced to the Super Regionals before losing to Louisville. But East Carolina's 30 NCAA tournament appearances are the most of any Division-I program that has never advanced to a College World Series.
The Pirates have made strides in recent years, advancing to super regionals twice in the past five seasons.
The plan for Williams entering the season was to head the Pirates weekend rotation. Williams has primarily pitched out of the bullpen during his college career, making only five career starts and 40 overall appearances. He's compiled a 3.33 ERA with 76 strikeouts, 35 walks and a .198 opposing batting average.
Last season, Williams suffered a finger injury and made only two relief appearances before the season was canceled due to COVID-19. He also dealt with arm soreness throughout his career and minor injuries also crept up his senior season at Cape Fear High School in Fayetteville, N.C. and his freshman season at East Carolina.
"Gavin has had some misfortune and he's dealing with some misfortune right now," Godwin told reporters recently.
Williams, who was picked in the 30th round of the 2017 draft by the Tampa Bay Rays, has tossed five shutout innings in two appearances so far since returning from what Godwin described as a "minor issue." He is currently building back up to potentially rejoin the rotation at some point this season.
"I don't know what his role is going to be moving forward," Godwin said last week. "We can't just start him right now because his pitch count is not where it needs to be. But he feels great."
Williams, ranked No. 44 among 2021 college draft prospects by Baseball America, is one of the hardest throwing pitchers overall in this year's class. A strong and durable season would go a long way toward proving his value as a possible future major-league reliever or perhaps even starter if he continues to develop his three-pitch mix.
According to Baseball America, Williams "gets to that velocity with ease in the delivery and has good natural feel to spin a breaking ball with flashes of an above-average changeup."
"With the draft only being five rounds and Gavin not getting picked, that's something we benefited from and it's something that helped put a chip on his shoulder to come back hungry," East Carolina pitching coach Jason Dietrich told 247Sports.com. "We all know he has huge potential and upside. I think it's helped him and drive him to get better and grow. He's a guy we're going to count on."
The Pirates, who host UNC Wilmington on March 17th in a midweek game to be televised on FloSports, are off to a solid start in terms of pitching. East Carolina pitchers have compiled a 3.24 ERA so far with freshman lefthander Carson Whisenhunt (1.72 ERA in 3 starts, 15 2/3 innings) leading the rotation along with junior lefty Jake Kuchmaner, sophomore righty Carter Spivey and senior righty Tyler Smith.
"I tell our guys all the time, we're good, we're probably deep as we've ever been, but we're not the only team saying that," Godwin said. "There's a lot of teams out there saying that because the draft was shortened. I think college baseball's product that you will see and the talent level will be the highest you've ever seen."
---
Andre has covered baseball at the high school, college and both minor-league and major-league levels for the past 15 years for multiple publications including the Miami Herald, the Athletic and Baseball America. You can follow him at @FernandezAndreC on Twitter.