2021 Frisco College Baseball Classic
Dallas Baptist Seeks Balance After Wins At Frisco College Baseball Classic
Dallas Baptist Seeks Balance After Wins At Frisco College Baseball Classic
Dallas Baptist won three out of four games at the 2021 Frisco College Baseball Classic and is one of the most stable programs in the country.
Mar 8, 2021
by Andre Fernandez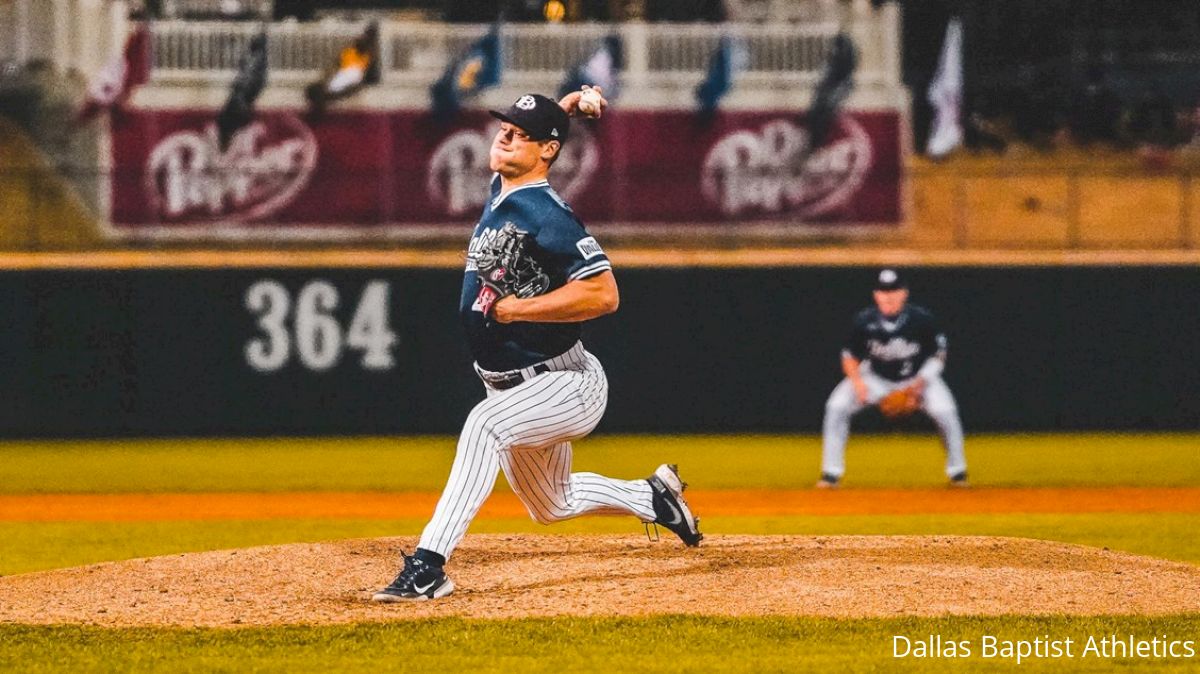 Dallas Baptist is the only team from a mid-major conference that played in the 2021 Frisco College Baseball Classic over the weekend, a tournament in which they won three out of four games including a matchup against a ranked Oklahoma team.
But guess who is the only squad among the group — which also included Oklahoma, Arizona and Missouri — that made the NCAA tournament the last time it was played in 2019?
In fact, the Patriots made it to regionals six consecutive seasons before last season when there was no postseason due to COVID-19.
Dallas Baptist has been one of the most consistent baseball programs in the nation, making nine NCAA Regionals appearances over a 12-year span from 2008-2019.
Since joining the Missouri Valley Conference in 2014, the Patriots have won either the regular season or conference tournament championship in four out of the past six full seasons played.
Dallas Baptist, which is off to an 8-3 start after sweeping a three-game series against Austin Peay and splitting a four-game series against Gonzaga, performed well in their first significant test of the new campaign.
The key for the school that produced multiple major leaguers including Ben Zobrist and Freddy Sanchez has been acquiring a solid mix of hitting and pitching talent on a consistent basis.
Hitting has not been an issue so far for the Patriots, who have scored seven or more runs in every game so far, and are batting .327 so far as a team with a 1.061 OPS.
But pitching overall has been an issue, which is surprising considering the arms Dallas Baptist has on its roster.
The main is ace junior righthander Dominic Hamel, a preseason pick as the conference Pitcher of the Year. Hamel, who can throw a fastball on average around 94-95 mph and a deceptive curveball with bite. Hamel has struck out 17 in 10 2/3 innings so far and has a 2.53 ERA and a 0.75 WHIP.
Hamel, a junior college transfer from Yavapai College in Arizona before the 2020 season, took a no-hitter into the eighth inning last year against North Carolina.
Jared Pettitte has a 1.35 ERA in two brief starts that totaled 6 2/3 innings, but walked seven and struck out six. Beyond them, the rotation has struggled so far with one of its veterans, fifth-year junior righthander Ray Gaither, giving up nine earned runs in 6 1/3 innings so far.
The bullpen has had to work a lot early as no starter besides Hamel has tossed more than 6 2/3 innings so far. Kyle Rich (second on the team with eight strikeouts) and Cole Reeves have each been solid strike throwers and could step into bigger roles as the Patriots look to fill the void left behind by 2020 second-round pick Burl Carraway. Sophomore righthander Luke Trahan and senior Kragen Kechely are also expected to handle high-leverage roles.
On the hitting side, junior shortstop Blayne Jones possesses some exciting raw power that could turn out a consistent offensive effort in 2021.
Jones, a Collegiate Baseball preseason second-team All-American, could be the next talent the Patriots produce. Jones leads Dallas Baptist in home runs with four so far this season, which earned him Collegiate Baseball's National Player of the Week honors after the first weekend.
Jones' average dropped to .286 and was held without a home run, however, after struggling against Gonzaga.
Before the Frisco Classic, Jones had made 138 starts during his collegiate career and made only six errors in 263 chances during the 2019 season earning Missouri Valley All-Defensive Team honors.
After playing at multiple positions throughout his career, Jones took over the everyday shortstop duties this year from Jimmy Glowenke, who was picked 68th overall in last year's draft by the San Francisco Giants.
Outfielders River Town and Austin Bell are each hitting .429 and second baseman Jackson Glenn also has three home runs while hitting .387.
Third-year freshman right fielder Ryan Wrobleski has a powerful arm and a big bat the Patriots are counting on to heat up. Last week, Wrobleski showed signs of doing so with his RBI walk-off single in an 8-7 victory over Gonzaga. Wrobleski will also split time at catcher with Christian Boulware.
Outfielder Jace Grady is also off to a hot start, hitting .409 with a home run, three doubles and 12 RBI, matching Jones for the team lead so far.
---
Andre has covered baseball at the high school, college and both minor-league and major-league levels for the past 15 years for multiple publications including the Miami Herald, the Athletic and Baseball America. You can follow him at @FernandezAndreC on Twitter.