2021 Alabama vs Charleston
Pitching Prospect Tyler Ras Is Ready To Step Up In Alabama's Rotation
Pitching Prospect Tyler Ras Is Ready To Step Up In Alabama's Rotation
Junior Tyler Ras is ready to play an important role for the Crimson Tide as the MLB prospect assumes a larger role in the rotation.
Mar 4, 2021
by Andre Fernandez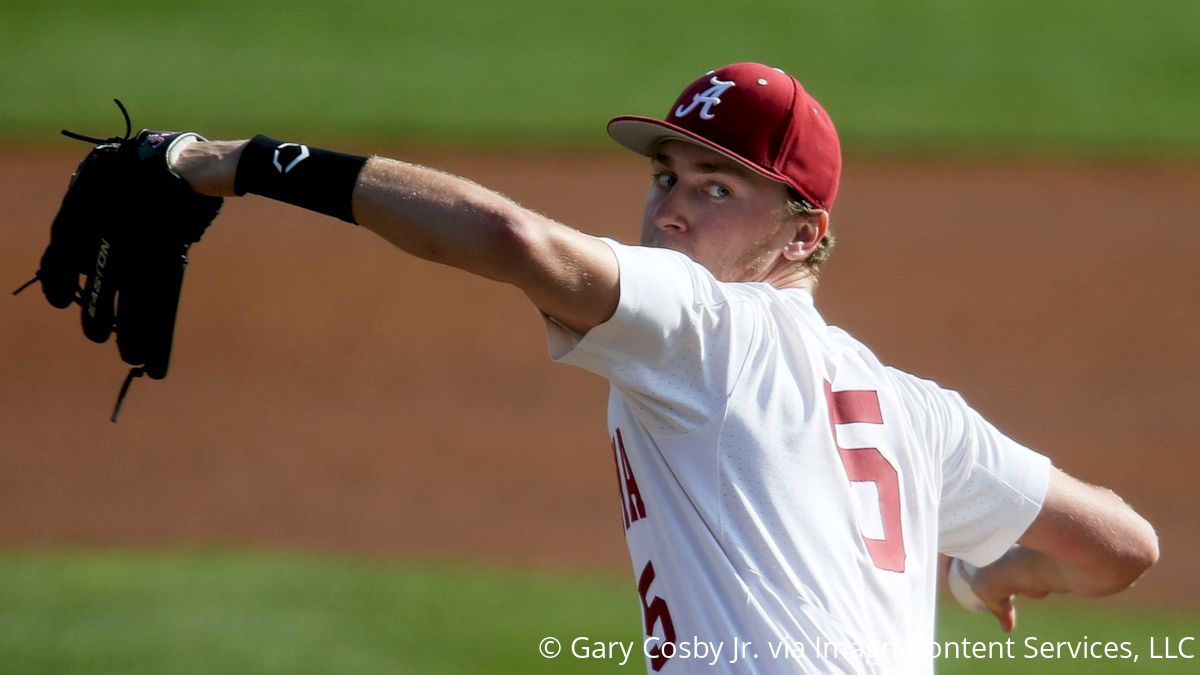 Alabama coach Brad Bohannon had a clear ace heading into the season.
Sophomore lefthander Connor Prielipp, a first-team All-American by Collegiate Baseball as a freshman in 2020, has not allowed a run yet in his college career spanning 26 innings.
After throwing five shutout innings in the Crimson Tide's opener Feb. 19 against McNeese State, Prielipp was sidelined with what Bohannon referred to as a medical condition. It's unclear when Prielipp will return to Alabama's rotation, but Bohannon doesn't believe it's a long-term issue.
Watch Alabama Baseball LIVE on FloBaseball
Bohannon said recently that he and his staff were "splitting hairs" on how to line up his starters after Prielipp this season.
Junior Tyler Ras, the Crimson Tide's top pitching prospect in the 2021 class, didn't make a good case for himself after a poor showing in a piggyback appearance behind Prielipp on opening night.
But it was his response in his next start that impressed Bohannon.
After giving up six runs on seven hits in three innings in a piggyback appearance that followed Prielipp's start in their season opener, Ras rebounded by tossing a career-high six innings, striking out five and allowing one run on one hit and two walks.
"Wow what a first inning," Bohannon said referring to a quick scoreless frame that he said set the tone for an 8-4 win over Wright State and Alabama's three-game sweep of the series. "It was a great lesson to our young pitchers of how when you're pitching or you're on defense you can create momentum for the offense. Ras came out – awesome body language and presence – attacking the strike zone with his fastball.
Ras could cement a place at the top of the rotation while Prielipp is on the mend if he can keep the momentum going in his start Friday in the first game of a three-game series against College of Charleston.
"He's pitched a lot of big innings for us in his career and we have a lot of confidence in his ability," Bohannon said. "He's going to be a big part of whether we succeed or fail this year."
Ras, a 6-4, 210-pound righthander, has pitched in a multi-inning relief role primarily until this season at Alabama. A switch hitter, Ras has played in the outfield also as a freshman and hit .255 with two home runs and seven RBIs in 20 games.
"It's a little different than starting, but I started all the time in the fall so I've gotten used to it," Ras said. "It's just a matter of dominating the zone and giving my team the best chance to win. From the first pitch, I came out really well and pounded the zone early. That was a big reason for the success early on was getting ahead of the counts and putting up zeroes."
A former 33rd-round pick of the Cubs in 2018, Ras is ranked 83rd by Baseball America among its top college draft prospects in this year's class.
"I'm a powerful pitcher and confident guy," Ras told reporters after his most recent start. "I'm going to give you my best stuff every pitch. If you happen to get one, I know I'm giving my best stuff so I brush it off and keep attacking and keep going at them and that's what I did."
As a freshman, Ras posted a 4.14 ERA in 37 innings with 25 strikeouts and 10 walks. Last season, Ras showed much stronger command of his 93-95 mph fastball and changeup as he tossed 11 1/3 scoreless innings. Ras has also tried to work on consistency with his curveball and slider.
"He was noticeably better last time out," Bohannon said. "I expect those pitchers to be better every time out."
Following Ras in the rotation for the series at Charleston will be junior righthander Dylan Smith and sophomore lefthander Antoine Jean. Smith struck out a career-best seven over 5 2/3 scoreless innings in his first start against Wright State. Jean, a Collegiate Baseball freshman All-American last season, struck out five and allowed two earned runs in his first outing last week.
Junior righthander Connor Shamblin is a mid-week starter who pitched four scoreless innings on March 3rd in a win against Troy, but could figure into the rotation if a spot opened up.
---
Andre has covered baseball at the high school, college and both minor-league and major-league levels for the past 15 years for multiple publications including the Miami Herald, the Athletic and Baseball America. You can follow him at @FernandezAndreC on Twitter.