2021 Frisco College Baseball Classic
Top Players & Prospects At The 2021 Frisco College Baseball Classic
Top Players & Prospects At The 2021 Frisco College Baseball Classic
Another weekend, another great tournament on FloBaseball with the 2021 Frisco College Baseball Classic. Here are some guys you should watch out for.
Mar 3, 2021
by PJ Potter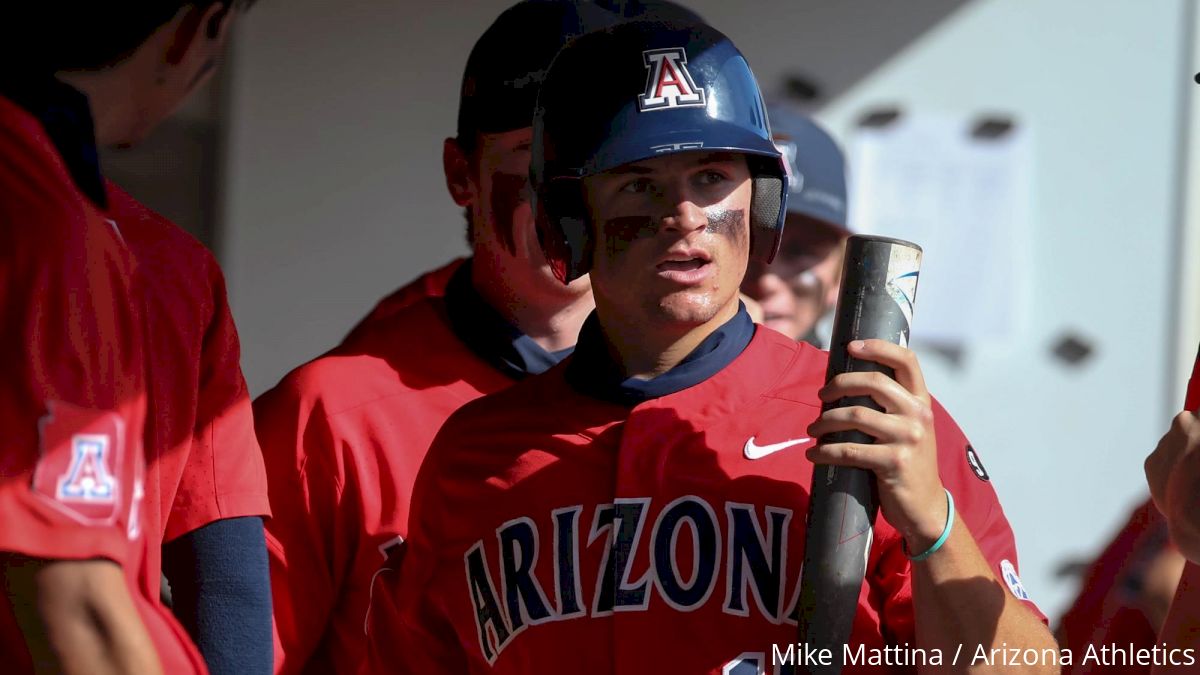 With tournaments happening all around the country, the college baseball season is off to a booming start. To keep the momentum flowing, FloBaseball will be home to another high-stakes tournament down in Frisco, Texas, this weekend.
The Frisco College Baseball Classic kicks off March 4 and runs through March 7, featuring No. 24 Arizona, No. 25 Oklahoma, Dallas Baptist, and Missouri (rankings per Baseball America).
Watch Frisco College Baseball Classic LIVE on FloBaseball, March 4-7
Many players are off to a hot start, so let's get acquainted with the players to be on the lookout for this coming weekend.
Arizona Wildcats
With the irreplaceable loss of Austin Wells to the MLB draft last year, there are major shoes to fill in the lineup. So far, Coach Johnson's squad has lived up to the challenge, hitting .328 as a collective, which is 12th best in Division I baseball.
Here are some of Arizona's blistering bats so far:
Branden Boissiere: 8 G, .483 AVG, 13 R, 2 HR 10 RBI, 1 SB
Boissiere capped off his 2020 campaign riding an eight-game hitting streak with 11 runs batted in over the span. The 6-foot-1 sophomore continues his red-hot hitting, as he is on a separate six-game hit streak with 14 total hits and 13 runs scored, which is tied for third-most in the nation.
Ryan Holgate: 8 G, .452 AVG, 6 R, 1 HR, 11 RBI, 3 2B, 1 SB
Holgate, who led the Wildcats hitting .377 last season, sits atop the lineup with 11 RBI to start off 2021. The sophomore outfielder has a hit in all eight contests, including multi-hit performances in all but two.
Chase Silseth: 12.1 IP, 2.92 ERA, 2-0, 17 K, .186 BAA
Silseth has allowed just four walks and eight hits combined in his two starts against Southeastern Louisiana and Ball State.
TJ Nichols: 11 IP, 2.45 ERA, 2-0, 9 K, .238 BAA
Nichols looked sharp in each of his starts, holding his opponents to just one and two runs each.
Side note: Arizona's bullpen has also pitched lights out. Four relievers (Vince Vannelle, Preston Price, Randy Abshier, Trevor Long) have a combined 12 appearances this season, and none have surrendered a run.
Oklahoma Sooners
Despite the bumpy start, the Sooners were able to snag two wins in their three-game set at the Round Rock Classic this past week with victories over Auburn and Baylor. Below are the early bright spots so far for Oklahoma.
Jimmy Crooks and Conor McKenna have powered their way to two home runs each, along with eight hits apiece through seven games. Peyton Graham and Tyler Hardman also have matched their teammates with eight hits.
On the mound, Jake Bennett has been as good as advertised. With 12 strikeouts in his first two starts and just two runs allowed, OU will rely upon Bennett a little more as his fellow starters progress to midseason form.
Leading the charge out of the bullpen are returners Carson Carter and Jaret Godman. With a combined 15 punchouts in 14.1 innings, the two right-handers have walked only three opponents.
Dallas Baptist Patriots
The Patriots are off to an interesting start. Sitting at 5-2 — in an all-or-nothing effort — Dallas Baptist is outscoring the opposition 57-15 in games that they win.
As a team, DBU sits 14th in the country with a .327 batting average and it really is a team effort. Here are some early standouts:
River Town: .429 AVG, 12-for-28, 11 R, 2 HR, 7 RBI, 1 2B
Austin Bell: .429 AVG, 9-for-21, 1 HR, 4 RBI
Jace Grady: .409 AVG, 9-for-22, 1 HR, 12 RBI, 3 2B
Jackson Glenn: .387 AVG, 12-for-31, 10 R, 3 HR, 7 RBI, 3 2B
Andrew Benefield: .364 AVG, 8-for-22, 1 HR, 6 RBI, 3 2B
Blayne Jones: .286 AVG, 4 HR, 12 RBI
Dominic Hamel: 10.2 IP, 2.53 ERA, 2-0, 17 K, .139 BAA
Hamel especially shined in his most recent outing, coming against Gonzaga. The junior right-hander fanned 10 batters and plated just one run across 5.2 frames. Through two starts, he's walked only three batters and scattered five hits.
Missouri
Joshua Day: 7 G, .400 AVG, 4 R, 1 HR, 5 RBI, 1 SB
Transfer Joshua Day has looked great to begin his Division I career. He has a hit logged in all seven games to go alongside five runs driven in and seven walks.
Chad McDaniel: 7 G, .385 AVG, 5 R, 1 HR, 5 RBI
McDaniel continues to be one of the strongest hitters for Missouri the last few years. Just like Day, McDaniel has a seven-game hitting streak to start off the season (10 total hits), on top of three multi-hit ballgames.
Mark Vierling: 8 G, .367 AVG, 6 R, 1 HR, 6 RBI
Vierling is also aboard the train of notching a hit through all games for Missouri this season. Knocking in six RBI over his last four contests, Vierling's been a steady bat in the middle of Missouri's lineup.
Spencer Juergens: 8.1 IP, 2.16 ERA, 1-0, 5 K, .207 BAA
Juergens has been their best arm through two weeks. In two starts, he's allowed just two runs, including a scoreless outing against Omaha this past Sunday.
Make sure to check out all eight games in the Frisco College Baseball Classic on FloBaseball, starting with an Arizona-Oklahoma matchup March 4!
---
PJ has played and worked in baseball for over 20 years as a pitcher, broadcaster, writer, and editor. A former Cape Cod League and Coastal Plain League broadcaster, his favorite time of the year is during the College World Series to see former players he worked alongside.