2021 Frisco College Baseball Classic
Loaded Slate Set For Frisco College Baseball Classic
Loaded Slate Set For Frisco College Baseball Classic
Arizona, Dallas Baptist, Missouri and Oklahoma head to the Frisco College Baseball Classic.
Mar 1, 2021
by Brady Vernon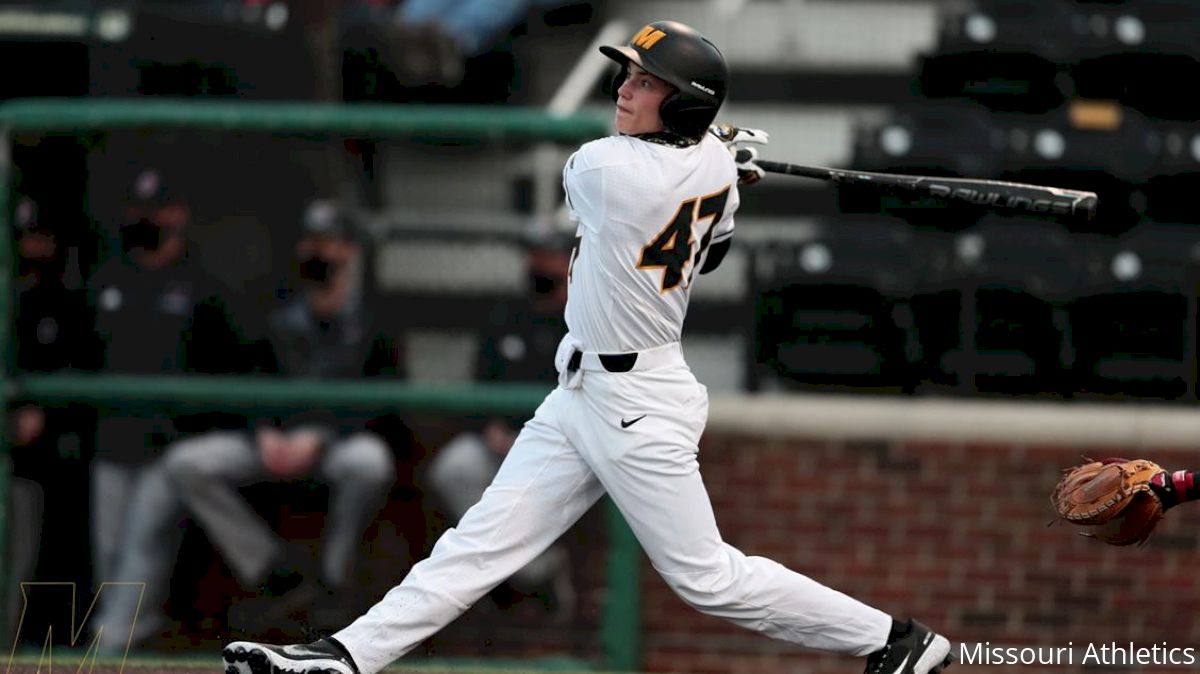 More talented college baseball returns to Texas on March 4-7. Arizona, Dallas Baptist, Missouri and Oklahoma head to the Frisco College Baseball Classic. All eight games of the event can be seen here on FloBaseball.
Let's dive into this loaded bracket for a team-by-team preview of what's to come.
Watch Frisco College Baseball Classic LIVE on FloBaseball, March 4-7
Arizona
The ceiling of Jay Johnson's 2021 team will be determined by its pitching. Johnson brought on associate head coach and former longtime Oregon State assistant Nate Yeskie to handle the pitching coach duties. There's a lot of talented arms and it's just seeing how well they perform.
Arizona's Friday night guy is Chase Silseth, a transfer from Southern Nevada. He made an excellent debut against Ball State. Over 5.2 innings, he allowed no runs on three hits and struck out seven. The issue behind that is the rest of the weekend against Ball State after a shutout on Friday, the Wildcats allowed 18 runs over the next three games.
While Garrett Irvin and Quinn Flanagan have experience, right-hander Chandler Murphy might be the most talented starter behind Sileth. The Wildcats have plenty of bullpen arms to pick from as well. Fifth-year Vince Vannelle leads the group with freshman Dawson Netz and senior Preston Price showing promise as well.
The offense will generally always keep Arizona in games. Designated hitter Ryan Holgate has gotten out to a fast start in the middle of the order. Outfielders Mac Bingham and Donta Williams will also play a big part in the lineup. Meanwhile, freshmen Daniel Susac, brother of former Oregon State standout Andrew, will fill the void of Austin Wells and local product Jacob Berry seems to have earned a spot at third base.
Dallas Baptist
Through seven games, the Patriots have scored at least seven runs in all of them. Outfielder Town River sets the tone at the top of the lineup. He enters the classic with a .429 batting average and a pair of home runs. The middle infield duo of Blayne Jones and Jackson Glenn have brought the power as they are the only two hitters that have homered at least three times thus far. Austin Bell matches River's team-led at a .429 batting average as well.
Despite all the runs that Dallas Baptist has scored, it has also had pitching problems. In the pair of losses to Gonzaga this past weekend, the Patriots surrendered 10 and 19 runs in those games. Luckily, the rest of the Frisco College Baseball Classic field aren't exactly loaded on the mound.
However, Friday night starter Dominic Hamel has been solid thus far. In his team leading 10.2 innings against Austin Peay and Gonzaga, Hamel has only allowed three runs and struck out 17. No other Dallas Baptist arm has thrown seven innings. Jared Pettitte has been solid in his two starts, but has thrown more than 3.1 innings in an appearance. Kyle Rich has shown the potential to create some whiffs in his two appearances as well.
Missouri
Missouri has averaged nearly seven runs per game so far in 2021 without a ton of home runs. Shortstop Joshua Day led the team at the top of the lineup with a .400 batting average and a team-high seven walks. In terms of hits, designated hitter Chad McDaniel and second baseman Mark Vierling both have 10-plus. Outfielder Andrew Keefer has also hit well this season, but outside of those four, Missouri doesn't have anyone hitting over the mendoza line.
Last season, Brandt Belk got out to a hot .457 batting average. However, he's only appeared in three games this season. Third baseman Luke Mann has started every game this season. Although, the redshirt sophomore's inexperience has shown after his first two seasons were cut short. The Tigers will be looking for another bat to help stabilize the order.
The sample sizes are still small, but the pitching numbers haven't been great for the Tigers either. Of the five pitchers who have tossed more than six innings this season, only one has a ERA under three currently. Spencer Juergens, who has been that one solid arm thus far, has given the Tigers two solid relief appearances. In eight-plus innings, he's allowed two runs and earned a win. Seth Halvorsen and Ian Lohse did combine for a three-hitter against Omaha this past weekend.
Oklahoma
After a strange first week to the season, the Sooners saw better results in the Round Rock Classic. A gutty extra inning win against a ranked Auburn team and an offensive onslaught versus Big 12 foe Baylor should have Oklahoma back on the right track.
Outfielder Tanner Tredaway has gotten out to a slow start, nevertheless, the Sooners have been fine on offense. Catcher Jimmy Crooks has a pair of homers and currently leads the team in batting average. A lot of people expected talented freshman Cade Horton to slot into the second base role but a preseason injury delayed his collegiate debut. Instead Conor McKenna has been good in the middle of the order. Third baseman Peyton Graham has matched his successful freshman season, but he missed the final game of the Round Rock Classic, so something to watch.
The Sooners will always feel confident in the backend of their bullpen with all-conference closer Jason Ruffcorn. They've also gotten a couple of quality starts from left-handed redshirt freshman Jake Bennent. The real hope for Oklahoma is to get more from Juco transfer Dalton Fowler. He showed a mid 90s fastball against Texas A&M, but just lacked control walking four and allowing seven to score in the first inning against the Aggies.
---
Brady Vernon has covered various collegiate sports for the past five years. His work has been seen in SBNation, Baseball and Softball America.