2021 Frisco College Baseball Classic
Pitching Newcomers Could Make Arizona Legit Contender
Pitching Newcomers Could Make Arizona Legit Contender
The strength on the mound could make the Arizona Wildcats a legit contender in Omaha this season.
Mar 1, 2021
by Andre Fernandez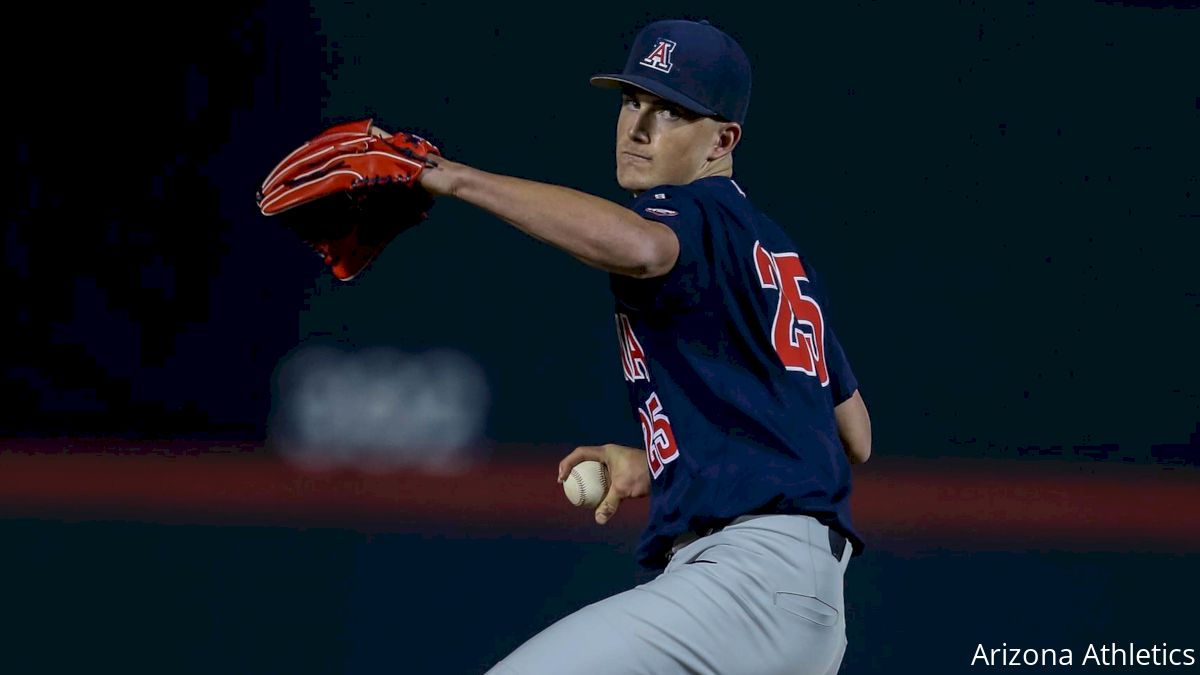 Arizona coach Jay Johnson remembers the warnings he got when he first was offered to coach the Wildcats.
Watch Frisco College Baseball Classic
Mar 4 - 7, 3:00 PM EST
"I had a few people tell me when I was first offered this job not to take it because the pitching was in such bad shape," said Johnson, who is in his sixth season.
Johnson spent his first five seasons trying to turn one of the best hitting teams in the nation into a squad that could also pitch.
The Wildcats led the Pac-12 Conference in hitting three times and finished in the top three two other times since 2015.
But their pitching was a different story after some initial success in Johnson's first season (2016) when Arizona finished second in the conference in team ERA. Arizona finished seventh or worst in the conference in team ERA three times over the next four seasons.
The Wildcats hit .326 in their last full season in 2019 and led the conference in on-base percentage (.432) and slugging (.533) as well. But their pitchers compiled a 6.21 ERA, which ranked 10th in the conference and finished ninth in strikeouts (409).
"That first year it was essentially five guys carrying the bulk of all the innings," Johnson said. "We added three of those six guys after I was hired. Then they all left because they were older. I remember looking at the recruiting dynamic and thinking we may not be able to line this up as quickly as we'd like to. But having some early success allowed us to win some of those recruiting battles eventually and that's the makeup of the staff we have now."
Arizona now has 15 scholarship pitchers including some newcomers which have added depth to both its starting rotation and bullpen.
But perhaps the Wildcats' biggest acquisition came in the summer of 2019 when they hired ex-Oregon State pitching coach Nate Yeskie, who spent 11 seasons with the Beavers and helped them to a national championship in 2018.
The pandemic shortened 2020 season didn't allow for a large enough sample size, but Wildcats pitching began showing some results.
Watch Frisco College Baseball Classic
Mar 4 - 7, 3:00 PM EST
While Arizona's bats remained consistent, finishing second in the conference in hitting behind UCLA, the Wildcats finished seventh in ERA (3.87), but second in strikeouts per nine innings (10.8) again behind only UCLA.
The Wildcats, who went 10-5 in 2020, hope their arms will carry them through one of their toughest early-season tests in next week's Frisco Classic when they take on Oklahoma twice, Dallas Baptist and Missouri from March 4-7. Arizona's Pac-12 slate looms soon after beginning with a huge three-game set March 19-21 at conference favorite UCLA.
Through Thursday's games, the Wildcats led the Pac-12 in strikeouts with 54 and ranked third in strikeouts per nine innings (10.34) among teams that had played multiple games.
Acquiring consistent strike throwers has changed the whole makeup of Arizona's pitching staff.
One such arm is 6-foot sophomore righthander Chase Silseth, a transfer from the College of Southern Navada, who has already picked up two wins in two starts while striking out 17 and walking four over 12 1/3 innings.
Silseth compiled a 2.10 ERA in five starts last season with 46 strikeouts in 25 2/3 innings.
"He mixes really well and locates in the zone and throws really hard," Arizona outfielder Ryan Holgate said recently. "He has good stuff."
Another is 6-4, 178-pound fireballer TJ Nichols, who made his collegiate debut throwing five innings last week in a win against Ball State.
"I thought he had really good composure," Johnson said. "TJ stayed present pitch to pitch. He has a tremendous amount of ability and executed pretty well. He'll do a lot of great things for us and I think that's the first of great starts for him for sure."
Watch Frisco College Baseball Classic
Mar 4 - 7, 3:00 PM EST
Nichols was ranked among Baseball America's top 100 prospects coming out of Oakmont High in Roseville, California where he also played shortstop and was ranked the No. 4 righthanded pitcher in California by Perfect Game.
Nichols, who touched 98 mph in an intra-squad game per Johnson, can throw his fastball consistently in the 94-96 mph range.
"I was composed out of the stretch the whole time which is something I've been working on," Nichols said after his start. "I just know I had to compete and make every pitch count. A lot of the veteran guys talked to me and said there was no pressure to go out there and pitch my game."
Freshman righthander Chandler Murphy (team-best 2.70 ERA last season) and lefthanded junior Garrett Irvin, a JUCO transfer before the 2020 season who had a team-best 28 strikeouts last season, round out the rotation. Junior lefthander Ian Churchill transferred from Santa Barbara City CC before last season and joined the Wildcats bullpen where he threw 15 strikeouts in 11 2/3 innings.
Another newcomer in the bullpen is junior Austin Smith, a 6-3, 198-pound righthanded JUCO transfer from Southwestern University in Georgetown, Texas. Smith struck out 179 over 134 2/3 innings in his three seasons prior to Arizona. Smith gives the Wildcats another power right arm to the relief group along with senior righthanders Preston Price and Vince Vannelle.
"Everyone has a lot of trust in those guys and any of the ones we have coming into the game behind us," Silseth said. "It's nice when you can hand it off to veteran guys like that and learn from them."
---
Andre has covered baseball at the high school, college and both minor-league and major-league levels for the past 15 years for multiple publications including the Miami Herald, the Athletic and Baseball America. You can follow him at @FernandezAndreC on Twitter.