2021 Frisco College Baseball Classic
Ryan Holgate Improves Arizona's Offensive Power Threat
Ryan Holgate Improves Arizona's Offensive Power Threat
Even after two years in Arizona's lineup, Ryan Holgate can still impress with his power.
Feb 25, 2021
by Andre Fernandez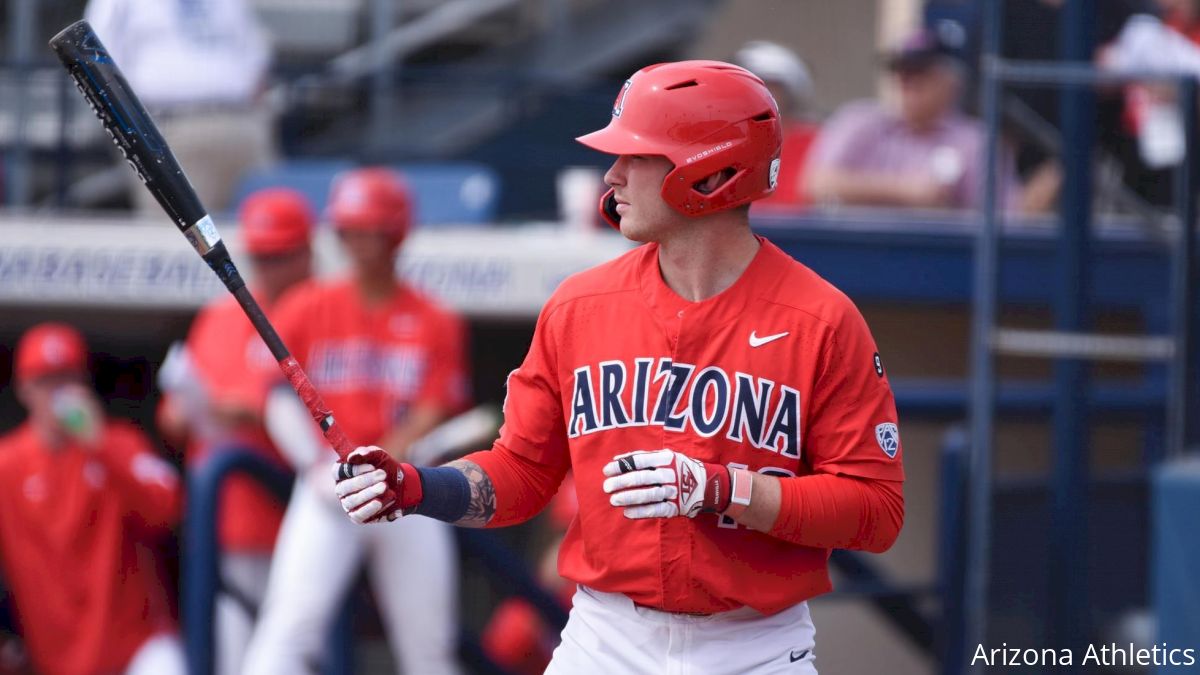 Even after two years in Arizona's lineup, Ryan Holgate can still impress with his power.
Frisco College Baseball Classic
Mar 4 - 7, 3:00 PM EST
Despite a crossing wind that reportedly was gusting inward over 15 miles per hour, Holgate crushed a majestic three-home run during the Wildcats' opening weekend series against Ball State that left his coach Jay Johnson awestruck.
"Unbelievable, huh? With the way the wind was blowing in, wow," Johnson told reporters after the game. "It just shows you his strength and his power."
The Wildcats hope to be better on the mound this season behind several newcomers. But Arizona should once again have the bats to contend for the Pac-12 title and perhaps make a push for Omaha.
And Holgate is one of the primary reasons.
Holgate's presence in the heart of its lineup was already felt during Arizona's first four games as the Wildcats' 6-2, 193-pound sophomore lefty outfielder went 6-for-14 with that home run, a double and seven RBI. Holgate also showed a good approach at the plate drawing five walks and striking out four times in the four-game series.
The Wildcats, who split the series with Ball State last week, are hosting another four-gamer against Southeastern Louisiana before playing in the Frisco College Baseball Classic March 4-7 in Frisco, Texas. In that event, Arizona will take on Oklahoma, Dallas Baptist and Missouri.
Holgate, ranked No. 70 among college draft prospects by Baseball America, will undoubtedly be one of the marquee hitters to watch in that series.
Frisco College Baseball Classic
Mar 4 - 7, 3:00 PM EST
A strong season at the plate with more power displays like last weekend could propel Holgate into first or second round projections for this summer's MLB draft.
Holgate, who will also serve as Arizona's designated hitter, returns as part of an experienced group of outfielders that also includes junior Donta' Williams sophomore Branden Boissiere and freshman Mac Bingham. The quartet are the top four returning hitters from last year's Arizona lineup and each hit .327 or better during the shortened 2020 season.
Holgate hit a team-high .377 (20-for-53) with a 1.006 OPS, six doubles, a home run and 12 RBI in 15 games.
While it was a small sample size due to the pandemic cutting the season short, Holgate vastly improved from a freshman season in which he hit seven home runs and drew 35 walks, but slashed .240/.378/.437 and struck out a team-high 55 times. Holgate also struggled in the field with a .891 fielding percentage and made six errors.
Holgate opened his freshman season with three home runs in his first four games, but hit .203 until April 26, 2019 before going 16-for-49 to finish that season.
Holgate went to work on his plate discipline and his swing over that summer and impressed while hitting 13 home runs in the Northwoods League where he hit .297/.392/.554 and drove in 53 runs in 222 at-bats.
Holgate showed progress when he returned to collegiate action as a sophomore, cutting down his strikeout rate, drawing seven walks and striking out 12 times last season.
Frisco College Baseball Classic
Mar 4 - 7, 3:00 PM EST
He also showed improvement in terms of his fielding skills, committing only one error in right field in 13 starts and finished with a .963 fielding percentage.
Despite the pandemic, Holgate was able to keep playing this past summer for the Santa Barbara Foresters and helped them on a run to the National Baseball Congress World Series Championship. Holgate played in 32 games and hit .295 with four home runs and 20 RBI.
Holgate had the raw power that caught the attention of scouts since his high school days at Davis High in California. Holgate was picked in the 32nd round by the Twins but chose to attend Arizona.
Since his freshman season, Holgate has gradually lost nearly 40 pounds adding strength and muscle as well as more agility and speed, which has given him more range in the outfield.
"I'm going to do whatever I can to help the team," Holgate said recently. "I'm going to stick with the plan and the approach I work on every day."
---
Andre has covered baseball at the high school, college and both minor-league and major-league levels for the past 15 years for multiple publications including the Miami Herald, the Athletic and Baseball America. You can follow him at @FernandezAndreC on Twitter.