2021 Round Rock Classic
Baylor's Luke Boyd Has Proven To Be Elite On The Mound
Baylor's Luke Boyd Has Proven To Be Elite On The Mound
As Baylor's Luke Boyd delivered his devastating slider to LSU's Alex Milazzo, the Tiger hitter had no chance.
Feb 21, 2021
by Brady Vernon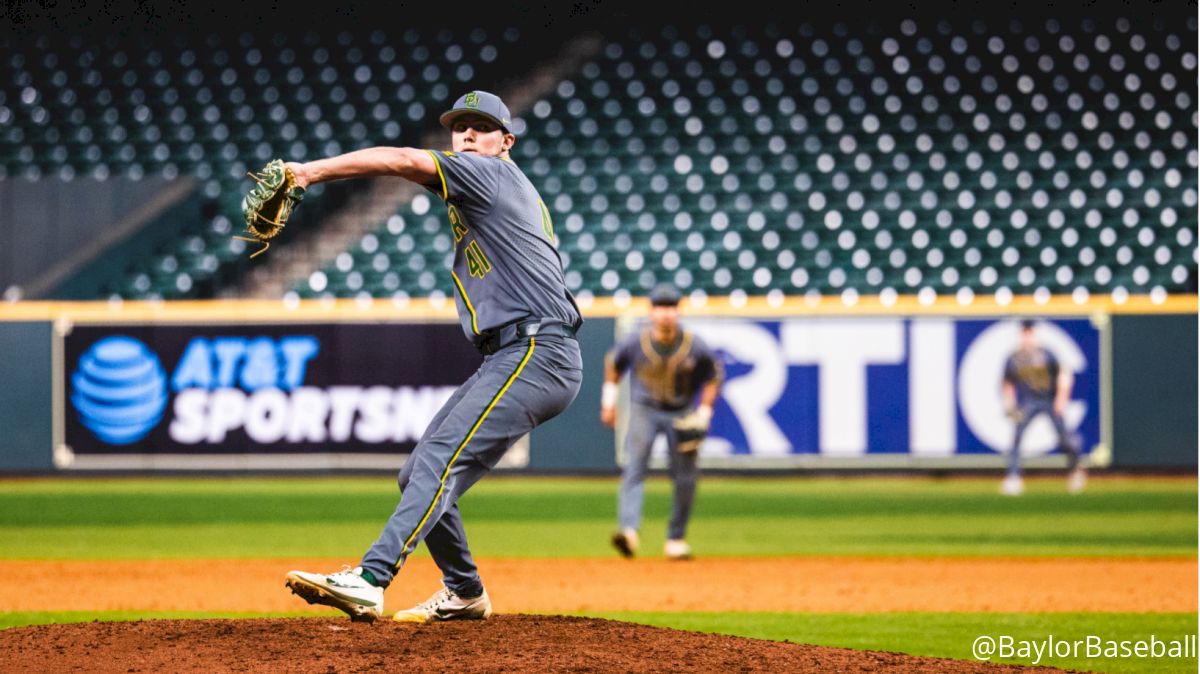 As Baylor's Luke Boyd delivered his devastating slider to LSU's Alex Milazzo, the Tiger hitter had no chance.
After the whiff finalized Baylor's 6-4 win over 11th-ranked LSU at the 2020 Shriner's Hospitals for Children College Classic, Boyd roared and pounded his chest on the Minute Maid Park mound. The moment cemented that the torch had been passed.
Watch the 2021 Round Rock Classic Live!
Feb 26 - 28, 12:00 PM CST
Boyd, tabbed as a National College Baseball Writers Association (NCBWA) Preseason First Team All-American, established himself as the Baylor closer last season. He follows the footsteps of previous All-Americans Kyle Hill and Troy Montemayor as elite door stoppers in Waco. The Bears' undefeated weekend in Houston last season against LSU, Arkansas and Missouri put Boyd on the map as a top reliever in college baseball.
"Those wins were huge. We were the underdogs that weekend...We just need to use those as a stepping stone for this year," Boyd said. "It's a huge honor to be the closer here. I've had a lot of help along the way watching those guys ahead of me. Working with coach (Jon) Strauss and figuring out the type of pitcher that I am."
The 2020 resume for Boyd included an impressive 0.82 ERA, 16 strikeouts to one walk and .179 batting average against opposing hitters in 11.2 innings. That reliable arm on the backend of the bullpen makes life a lot easier for pitching coach Jon Strauss. He's been there for the development of Boyd, Hill and Montemayor. Strauss also understands how much harder it is for a team to be successful when those last three outs seem harder to come by.
"It's everything. We've had some pretty good success the last four or five years," said Strauss on the importance of the program's closer situation. "It has all come from the backend. We've had two All-American closers since we've been here and now Luke Boyd would've probably been another one if we had a full season last year. It's good when you know how to finish a game and I've been at places where you didn't know how you didn't know how you were going to get those final three outs. When you have a guy like Luke it makes a world of difference from a planning standpoint."
From a performance standpoint, Boyd made quite the leap from his sophomore season to his junior year. In his first 22 innings at Baylor, Boyd struggled and allowed a combined 23 runs in his first two seasons. Once he became the setup man to Hill in 2019, Boyd had something clicked mentally on his way to a 2.14 ERA over 33.2 innings.
Watch the 2021 Round Rock Classic Live!
Feb 26 - 28, 12:00 PM CST
"I've come a long way from my freshman and sophomore year," Boyd said. "It was my mentality, I didn't really change anything in my mechanics. It was not letting the previous pitch affect my next one. I really do live by that saying, 'one pitch at a time,' I know it's a cliche but I live by that. All my focus goes into that one pitch and once I release it, I have no control over it and I'm just a defender on the field."
It's also easier to move onto the next pitch when Boyd has the elite slider that he possesses. The Baylor closer has also worked a lot on his changeup over the long offseason. Strauss chuckled at that because he mentioned when Boyd first came to a Baylor camp, he thought the changeup was Boyd's best pitch. Strauss certainly thinks the changeup can add another element to Boyd's arsenal but at the end of the day when he just needs three outs, he'll go to the nasty slider.
"It's one of the better sliders I've had on a pitching staff," Strauss said. "It's one of those pitches that people know are coming but he's able to throw it so well with that high spin rate and locate it anywhere in the zone that it doesn't matter. It's a fun pitch to throw and it's great to have that kind of weapon."
A 38th-round pick by the Los Angeles Dodgers in 2019, Boyd most likely would've been selected in a normal draft year in 2020. He will have the opportunity to improve his draft stock but more importantly, Boyd wants to use his fifth-year to be that veteran presence that others were for him and possibly the next great Baylor closer.
"I've watched two All-Americans before me. I've had that experience of being on the other side of not being the veterean and learning from them," he said. "Coming back I definitely want to take advantage of teaching these guys the way to do it around here because I want to keep that legacy going in the Baylor bullpen."
---
Brady Vernon has covered various collegiate sports for the past five years. His work has been seen in SBNation, Baseball and Softball America.