2021 Round Rock Classic
Auburn Shortstop Ryan Bliss Embracing Leadership Role On & Off field
Auburn Shortstop Ryan Bliss Embracing Leadership Role On & Off field
From a young age, people noticed Ryan Bliss' slick glove, quickness on the bases and bat-to-ball skills.
Feb 21, 2021
by Andre Fernandez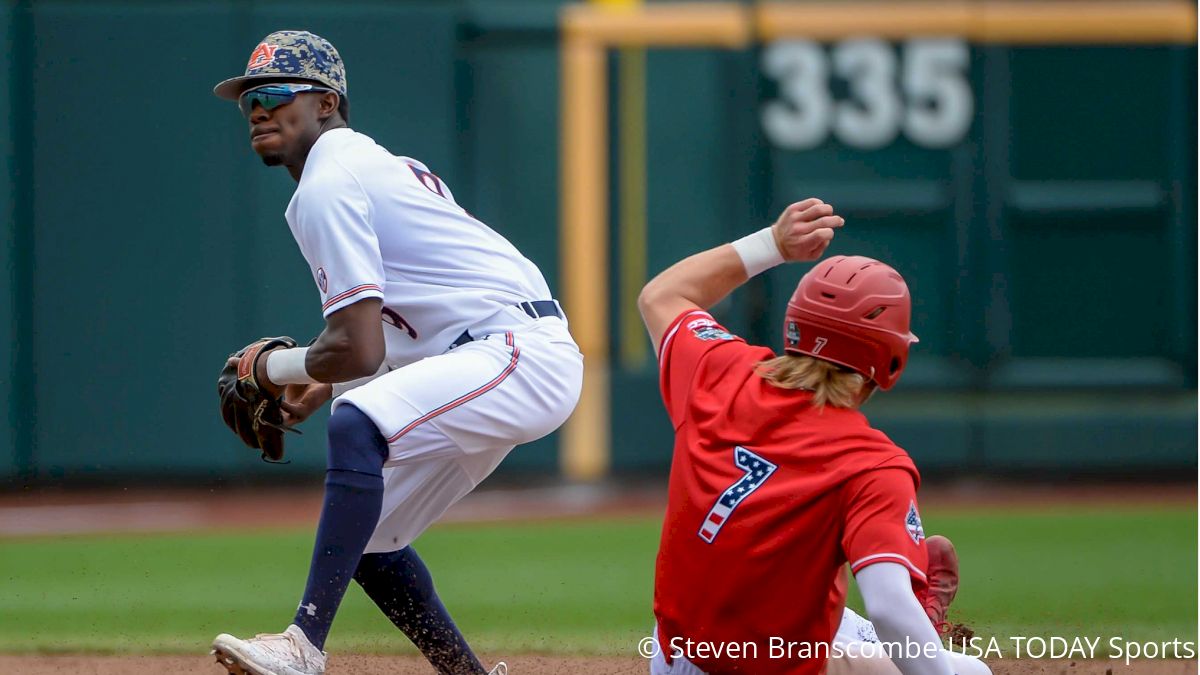 From a young age, people noticed Ryan Bliss' slick glove, quickness on the bases and bat-to-ball skills.
Watch the 2021 Round Rock Classic Live!
Feb 26 - 28, 12:00 PM CST
Those tools have helped Bliss become a preseason All-American shortstop heading into his junior season at Auburn University.
As Bliss grew up playing baseball though, his willingness to teach and lead were qualities that really left an impression on his coaches and peers.
"Ryan Bliss is a consistent person, and Ryan Bliss is a coach on the field," Auburn coach Butch Thompson said. "(Ryan)'s just not being an All-American, he's trying to make somebody else an All-American. That's uncommon, that's refreshing, and that's pretty amazing."
But this summer, Bliss felt honored when he was presented with an opportunity to be a leader in a different way.
In a year when advocating for social justice became such an important task, Bliss didn't hesitate when asked to serve on Auburn Athletics' Advisory Task Force on Inclusion and Race Relations.
"It was an honor to be on that committee," Bliss said. "I felt like it was my calling. One thing I've learned is how to teach. I'm the only African-American and only minority player on my team so I've been to help guys when they come to me with questions and been able to address theirs and show them what it's like to be on this end of the spectrum. I've been able to use my platform and what I've learned in the community to go out and help the community be one."
Bliss, the only African-American player on Auburn's 2021 roster, was one of five student-athletes at the school that served on the panel, which helped formulate action items and ongoing plans for education and conversation.
Bliss hopes to do even more over time to promote race relations as well as the game of baseball among young African-Americans.
Bliss embraces being a role model for kids as well as a mentor to younger players on his team.
"I remember how I was at that age, and how much I looked up to college guys at that age," Bliss said. "I'm trying to set a good example for them. You want them to enjoy the game. I feel like my generation has a big responsibility when it comes to that."
When Bliss was a kid growing up in LaGrange, Alabama, he could have gone the basketball route or even played football like his father, a two-time All-American at Jackson State University.
Watch the 2021 Round Rock Classic Live!
Feb 26 - 28, 12:00 PM CST
But baseball appealed to him like no other sport.
"As a kid, I loved how complex the game is," Bliss said. "So many aspects go into it and I know how hard it is. If you're successful, it makes you feel really good about yourself."
The pandemic cutting short the 2020 season made Bliss appreciate the chance to play baseball even more.
The gym where he typically trained closed. Bliss had to get creative working out virtually with friends and Auburn trainers for the first few months of quarantine.
Eventually when restrictions eased, Bliss hit in the batting cages and started working on being more consistent with his swing. Bliss also added some bulk, gaining 11 pounds, which he said has helped him generate more power at the plate.
Bliss already got off to a good start on Friday in Auburn's season opener, going 2-for-4 with an RBI and a walk.
"It was more of a mindset thing," Bliss said. "Same consistent swing every time and not take an at-bat off. I feel more grounded in my swing and I feel like I'm hitting balls harder and farther. I think it's going to help me produce more."
Bliss grew up a fan of Hall of Fame shortstop Derek Jeter and more recently of L.A. Dodgers phenom Mookie Betts.
Two years ago as he began his college career, Bliss spent some time in Florida working out with and learning from another star shortstop, Francisco Lindor.
Bliss, an only child, became the first member of his family to play college baseball, and hopes to become the first to make it to the major leagues.
Bliss (5-9, 165-pounds) was drafted in the 30th round by the Boston Red Sox in 2018, but chose to attend Auburn. After hitting .281/.367/.369 with three home runs and 37 RBI his freshman season, Bliss' slugging numbers spiked in 2020 as he hit .377/.412/.597 with two home runs, two doubles and 17 RBI in 77 at-bats.
Bliss showed off his speed tool with 11 stolen bases in 2019 and another five during the shortened 2020 season.
Watch the 2021 Round Rock Classic Live!
Feb 26 - 28, 12:00 PM CST
Bliss began his collegiate career at second base, but moved over full-time to shortstop as a sophomore. He didn't commit an error at shortstop in 18 games in 2020.
"He makes me a whole lot more confident when I'm pitching," Auburn starting pitcher Richard Fitts said. "I was more relaxed when he's back there making plays for me. We're on the same page with our communication and things become a lot easier."
Scouts believe Bliss could end up playing second base as a pro due to his fringe arm strength, which is an area he said he worked on this offseason.
He enters 2021 ranked No. 50 by Baseball America among college draft prospects.
Bliss is tied with Auburn teammate Rankin Woley for the second-most hits among active SEC players (99) since the 2019 season.
Bliss, Woley and Fitts have each earned preseason All-American honors from multiple publications.
"They just show up and they've worked hard since they've come to campus," Thompson said. "It's in their DNA. It's how they were raised. For whatever reason, some guys can just, they rush in and drag out every single day. They can't wait to get to the field. They just have that gene where they love baseball.
"These guys are invested in their craft and what they're doing. Just that investment of all those consistent days has put them in a great position."
---
Andre has covered baseball at the high school, college and both minor-league and major-league levels for the past 15 years for multiple publications including the Miami Herald, the Athletic and Baseball America. You can follow him at @FernandezAndreC on Twitter.