2021 Round Rock Classic
Auburn's Richard Fitts Is In Attack Mode As He Enters The Rotation
Auburn's Richard Fitts Is In Attack Mode As He Enters The Rotation
Auburn's Richard Fitts is stepping into the rotation, and the Tiger is in attack mode as he assumes a starting role on the mound.
Feb 19, 2021
by Andre Fernandez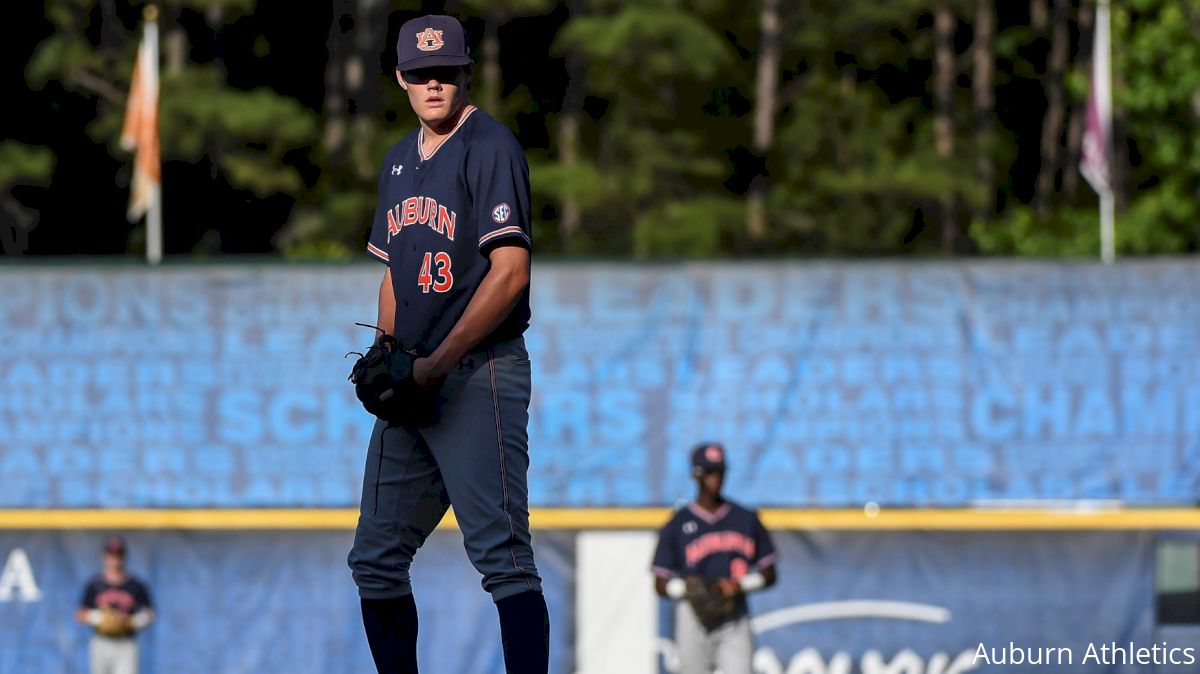 Richard Fitts has had former 4-time All-Star Tim Hudson as his pitching coach for the past year and a half.
And this summer, Hudson arranged for Hall of Famer John Smoltz to chat virtually with him and the rest of Auburn's pitchers.
Smoltz set the bar during his career for pitchers who have succeeded both as a starter and later as a closer.
Watch the Round Rock Classic LIVE on FloBaseball
So who better to offer Fitts perspective as he transitions from one role to the other this coming season.
"It was really cool for me to hear from someone like him and get some good advice from someone we grew up watching is really cool," Fitts said.
Fitts, who has made six career starts and 27 total appearances in his two seasons pitching for the Tigers, feels like he's ready to handle being at the forefront of Auburn's rotation.
Beginning with Saturday's start against Presbyterian College, Fitts is expected to figure prominently in Auburn's rotation.
Fitts, a 6-3, 215-pound righthander from Helena, Alabama, has gone from arriving at Auburn as a walk-on to being named to the Golden Spikes Award watch list.
Fitts was also recently named a second-team All-American by D1 Baseball and a third-team All-American by Baseball America.
"Richard's always known what's in him and he's worked really hard to grow as about as much as any other player maybe since Casey Mize coming to campus and that growth over three years…Richard is on that trajectory," said Auburn coach Butch Thompson, who also coached Fitts' brother, Trevor, when he pitched at Mississippi State.
Fitts pitched primarily out of the bullpen as a freshman in 2019 and struggled with his command at times while compiling a 5.21 ERA in 62 2/3 innings. Fitts struck out 47 but walked 17 and gave up nine home runs and 15 doubles.
But last season in a smaller sample size, Fitts showed improved command with 16 strikeouts and five walks in 13 innings while compiling a 2.77 ERA and allowing only one home run and two doubles.
After the shutdown, Fitts stayed in his apartment for a few weeks and later went back to his hometown where he worked out in his girlfriend's garage trying to keep up his arm strength with the help of Auburn strength and conditioning coach Chris Joyner.
Fitts possesses a low-90s fastball with a slider and changeup that he threw with improved command during an impressive fall season.
"As soon as the season ended, I basically tried to evaluate the best way I could still get my work in and get better every day," Fitts said. "I'm still developing my slider and working on fastball command and the development of my changeup. I was throwing a splitter last year so I'm really excited with how my changeup has come along and looking forward to using it more this season."
But how those pitches play out against the formidable lineups he will face in the SEC week-to-week will be telling. Fitts will have his first tough test in the coming weeks when Auburn plays in the Round Rock Classic on Feb. 26-28 – an event that will also include Big 12 powers Oklahoma, Baylor and Texas A&M.
Fitts said he's been working on the mental aspect of what it takes to be a full-time starter as much as the physical side by developing a consistent routine.
Fitts has also taken a more aggressive approach on the mound, which helped him become more of a consistent strike-thrower.
"Richard and me came in together in the same class and every year he's improved," Auburn shortstop Ryan Bliss said. "It's special to see how his fastball has been playing since the fall. His offspeed pitches are among the best in the country. He has a chance to be among the best pitchers in the SEC, if not the best. We had some great battles. I tell him now, 'I hate hitting off you. It's impressive what you've been doing. Keep it up.'"
Fitts, who grew up a fan of Washington Nationals pitcher Stephen Strasburg, knows all eyes will be on him as he heads into a crucial season both for the Tigers and his own future.
Ranked 91st among Baseball America's top 100 college draft prospects, Fitts is hoping to follow in the footsteps of Tanner Burns, who was selected with the 36th overall pick by Cleveland last season after excelling in the role of Auburn's No. 1 starter.
"It's a lot more mental than the bullpen because of how much preparation goes into that," Fitts said. "I have to be on my A-game every single outing. "This fall was a time where I felt like I proved I could start. I'm ready to turn heads in the SEC not just as a reliever but in the rotation. I want to be an offensive pitcher, attacking every hitter. That's what keeps me going. I have to stay on the attack every time."
---
Andre has covered baseball at the high school, college and both minor-league and major-league levels for the past 15 years for multiple publications including the Miami Herald, the Athletic and Baseball America. You can follow him at @FernandezAndreC on Twitter.