2021 State Farm College Baseball Showdown
There Is No Superlative Too Great For Arkansas' Christian Franklin
There Is No Superlative Too Great For Arkansas' Christian Franklin
Christian Franklin of Arkansas is described as a five-tool, "special" player, and the Razorback should be a first-round pick in the future.
Feb 18, 2021
by Andre Fernandez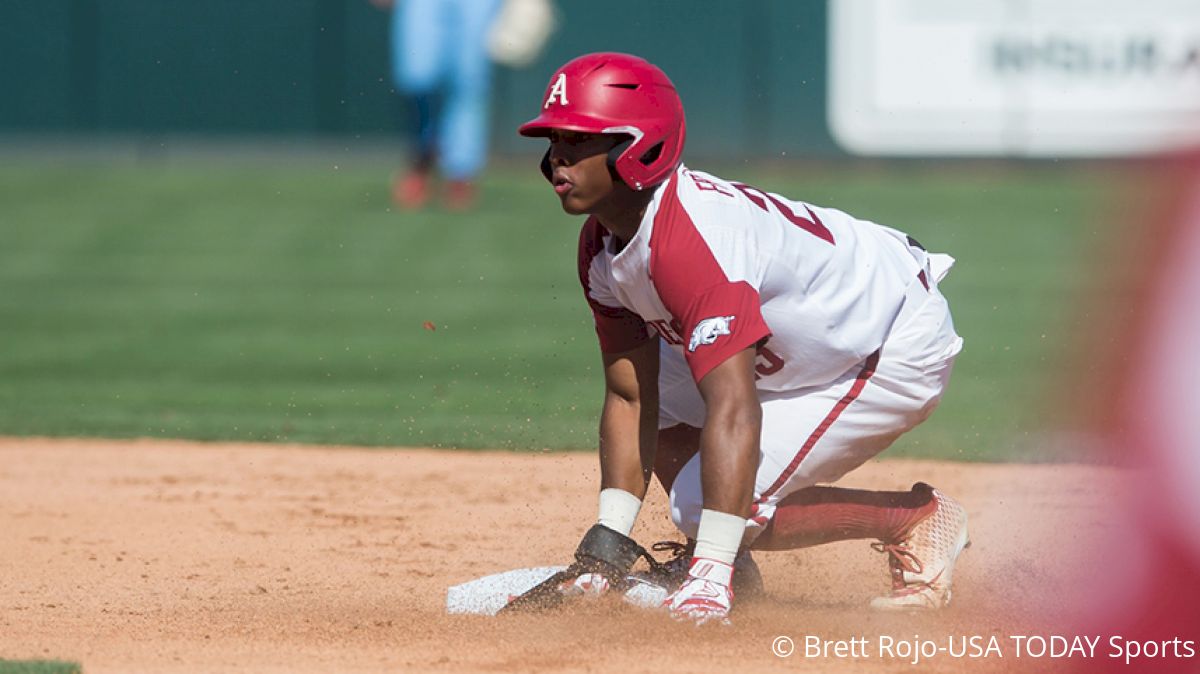 Arkansas watched its star outfielder Heston Kjerstad be selected No. 2 overall in the MLB draft by the Baltimore Orioles last June.
Christian Franklin is likely to be the next Razorbacks first-rounder, but isn't projected to go as high as Kjerstad.
But should he be?
"He's special and doesn't come along very often," veteran Arkansas coach Dave Van Horn said recently. "A guy like that doesn't usually pick to (play in) college. You get graded by the five tools. He's got all of them."
Watch the 2021 State Farm College Baseball Showdown LIVE on FloBaseball
Franklin, a 5-11, 195-pound junior, will begin his second season as the Razorbacks starting center fielder when they open the season Saturday night in Arlington against Texas Tech in the State Farm College Baseball Showdown.
Franklin, who hit .381/.467/.619 with three home runs and eight extra-base hits in 63 at-bats in 2020, is ranked the No. 17 overall college draft prospect by Baseball America.
Kjerstad's impactful power from the left side of the plate and his plus arm enticed the Orioles in the hopes of making him a future middle-of-the-order contributor.
Both Franklin and Kjerstad have strong arms and solid fielding skills.
Kjerstad was more of a pure power hitter with 35 combined in home runs in his three seasons at Arkansas while putting together a career .345/.435/.587 slash line. And he was more of a pure corner outfielder since he was graded by scouts as a below-average runner.
Franklin, who had six home runs as a freshman, combines a mix of right-handed power and plus speed (13 stolen bases during 2019 and the shortened 2020 season).
Prospects Live's Joe E. Doyle recently wrote that he saw elements of Franklin's swing comparable to All-Stars Mookie Betts and Ronald Acuna Jr.
But Franklin's approach at the plate and power continue to develop, as well as his ability to prove himself as an everyday center fielder, will determine whether his draft stock will increase noticeably in 2021.
For now, Franklin said he isn't worried about the draft or the added responsibility of being one of the leaders on a Razorbacks squad looking to make it to Omaha for the third time in four seasons.
"I don't really feel any pressure from being one of the older guys this year," Franklin said. "I'm just doing my same old stuff trying to get better."
Franklin said he spent a lot of time this offseason working with trainers and coaches on developing his arm strength and working on his throwing accuracy.
"I did a lot of long toss and just tried to be more accurate when it comes to my throwing mechanics," Franklin said. "(At the plate), I just tried to be more selectively aggressive and being on time for my pitch."
Franklin possesses solid bat speed and strength, but will have to improve his bat-to-ball skills and discipline at the plate (28 percent strikeout percentage during his freshman year).
"I don't think he feels any pressure to put up big numbers," Van Horn said. "He's level-headed all the time. If you watch him take batting practice now compared to a year ago, he looks really comfortable. His swing continues to get better. He has power to all fields. He can hit a breaking ball over (our) new building in right field or he can pull a ball over 425-430 feet. He's got a lot of talent and is a great person."
Franklin has already earned preseason first-team All-American honors from Perfect Game, D1Baseball and Baseball America, and is among a conference-high four Razorbacks to earn preseason All-SEC honors along with catcher Casey Opitz, second baseman Robert Moore and designated hitter/utility player Matt Goodheart. Franklin has also been chosen to the first team by NCBWA.
He will be a key component on a deep Arkansas squad which should be formidable up the middle with Moore and JUCO transfer Jalen Battles in the middle infield.
"There aren't many teams that could match up with us up the middle," Van Horn said. "I feel like (Franklin) is going to have a tremendous season.
"We may not have all the home run power we had with (Kjerstad) in the lineup, but we've got a lot of guys that can hit a lot of doubles and be in that 10-12 home run range," Van Horn said. "I don't think we're going to miss a beat offensively."
---
Andre has covered baseball at the high school, college and both minor-league and major-league levels for the past 15 years for multiple publications including the Miami Herald, the Athletic and Baseball America. You can follow him at @FernandezAndreC on Twitter.